(4/25/2010) The day has finally arrived for Ringo to further his rehabilitation and be free, once again, out in the desert! We selected an area not known to have much, if any game (hares) as we just wanted to let the dogs all run together, play and exercise without any temptation to over-exert themselves. Plus, it is breeding season for the hares in this area, so best to leave them to tending their proliferation duties so we may have plenty of hares for the dogs to pursue this summer and fall!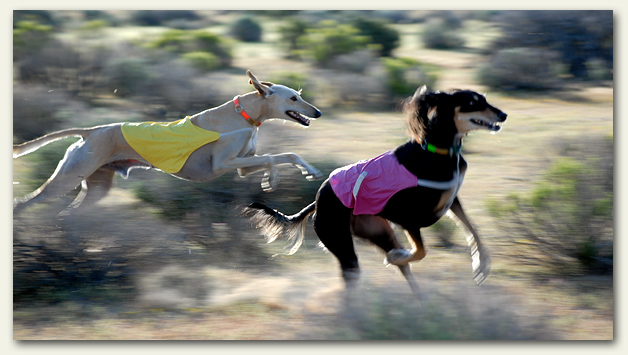 Ringo and Zelia immediately embark on a round of warming up with a game of tag! It is so wonderful watching Ringo out in wide open spaces running with his companions again!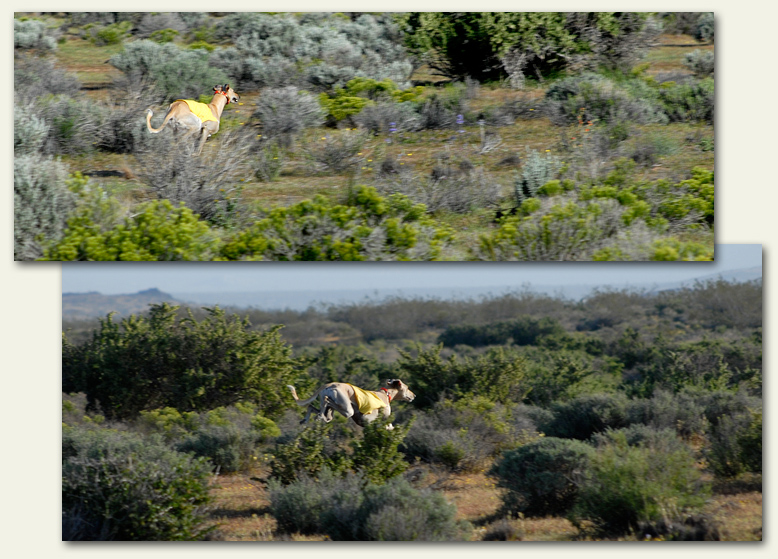 Run, Ringo, Run! And, that he did, even if he only imagined seeing something to chase (like birds!), he was so happy to be out on coursing land again, five months post surgery and NINE long months since he sustained the injury!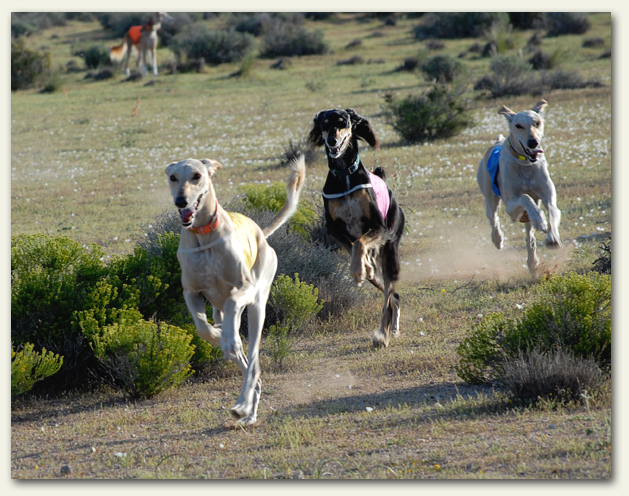 As we thought, this area did not produce any hares this morning, for which we were thankful. Our hounds had plenty enough a grand time just being out, running free and enjoying each other's company. This is a wonderful and beautiful time of the year for the desert if there has been winter and early spring rain, as has been the case this season. It is actually green!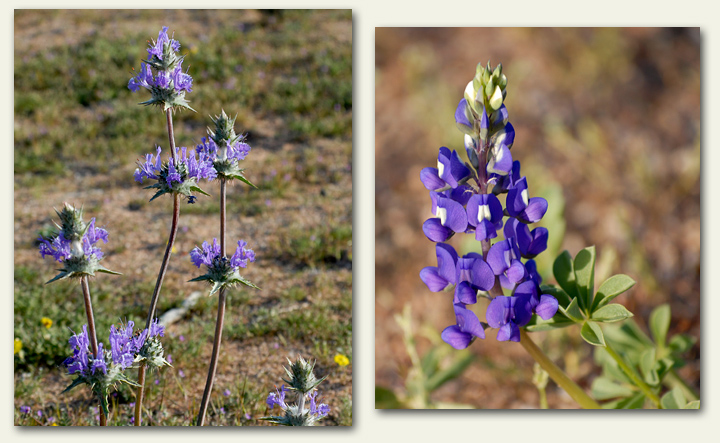 We are always amazed at the resiliency of the desert fauna and flora. There can be many seasons of drought, but if it receives just a little bit of water it seems to magically spring to life if even for a brief display of it's botanical potential.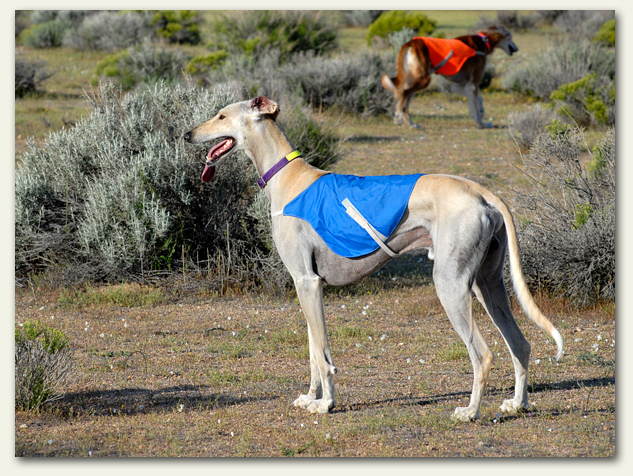 Nova, taking a breather from playing and scouting.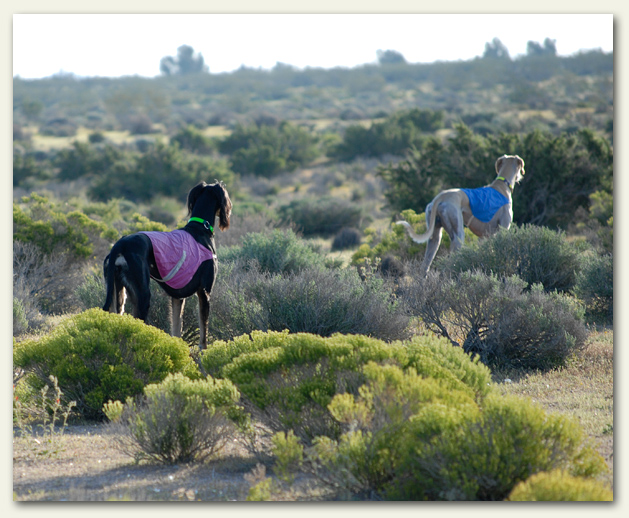 Zelia and Nova looking for anything moving.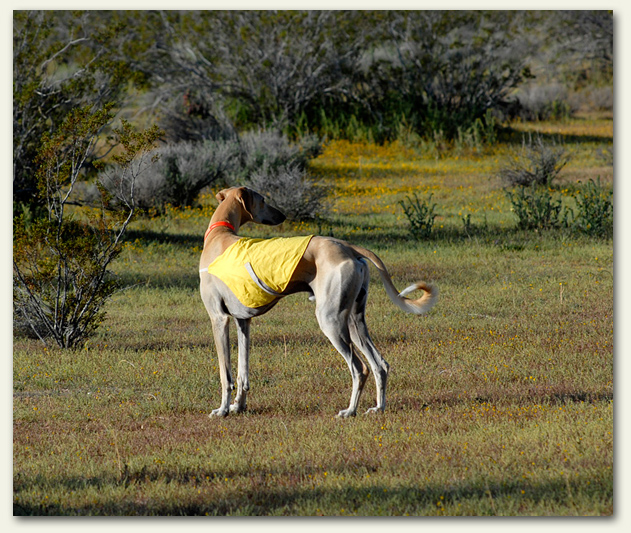 Ringo, also looking for any sign of movement. Our words cannot express our joy in seeing this boy out in the desert again!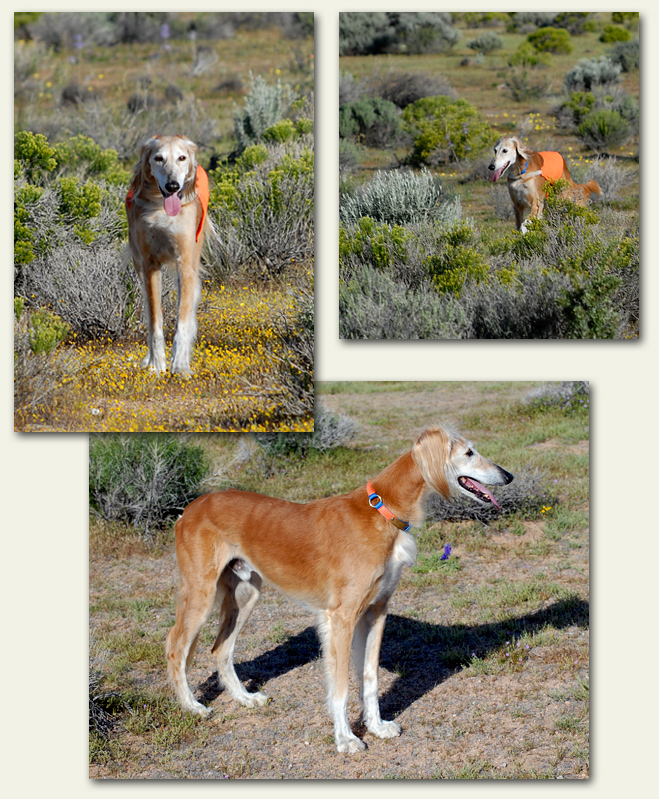 Sky even got to go and enjoy the morning. At thirteen years of age he is still active, very sound and loves to get out with the youngsters!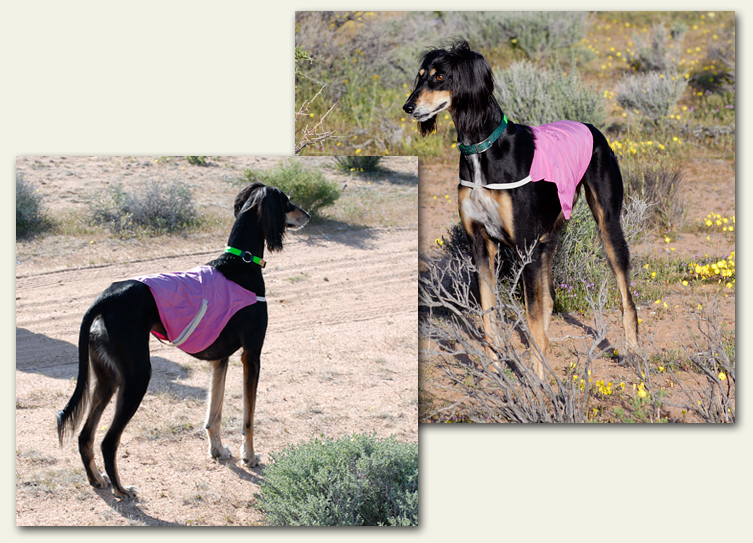 Zelia is still the intense and dedicated huntress she has always been even though she will be eight in July. Nothing will ever stop Zelia from hunting and coursing! Even with not finding any hares this morning, she thoroughly enjoyed the morning of running, breathing hard and staying in shape for "the next time"!
Happy hunting with happy hounds, everyone!