(7/22/2022) At long last I've done a few updates to the site. Our Thriller now has his own page started as does the Nitro x Izzy litter page. All can also be found on the Current Dogs page. More photos and info of this litter coming soon!
**Izzy wins the ASA Mia Cup for a second time!**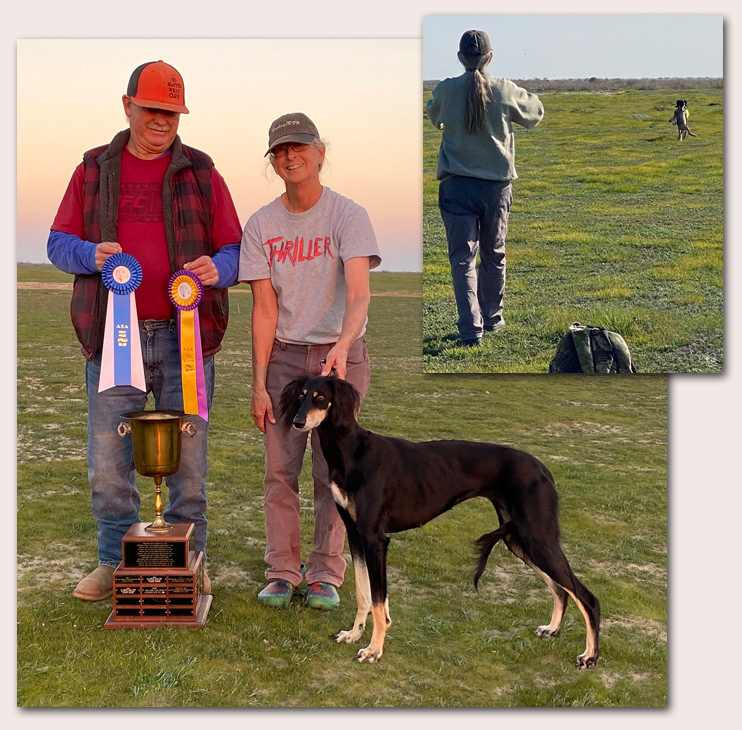 (2/6/2022) We went to only one hunt in the 2021/2022 season, the American Saluki Association's Mia Cup. Izzy presented the only kill on the day and won the cup. Judge JJ Jones presided over this field of top shelf salukis and thanks to him and Karen Hoffman for huntmastering a long, tough day. Second to her mother in the hunt was UK, Moshire RFR She's Got the Jack, at her first hunt ever. Third in the hunt was the fabulous Kullah of Urfa, who we hope to breed Izzy to in 2023!
(Photo of Izzy with cup by Susan Schroder and Izzy packing it in by Lauren Chen)
**Nitro and Izzy's pups have arrived!!**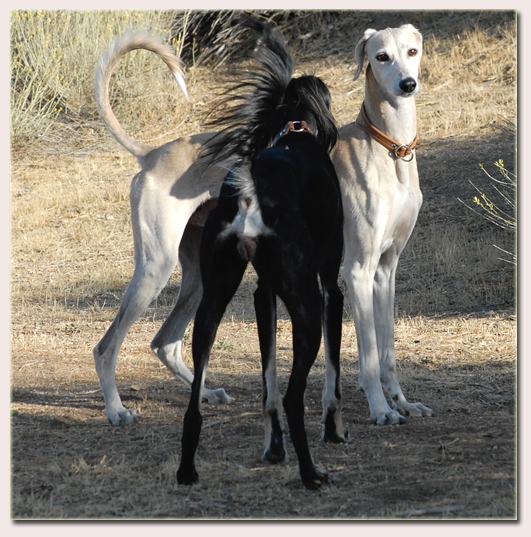 (9/30/2020) It's been a long, hot and smokey summer for us in California this year. Our girl kept us (and Nitro) waiting but finally came in season and she and Nitro were paired this past week. Prayers and fingers crossed for Thanksgiving pups! Nitro came and stayed here, thanks to Sharon Walls dropping him off while enroute with Jane Taylor back to Reno via the central valley. He and Izzy had the first breeding the next day and enjoyed a couple more in the subsequent days. We cannot thank Sharon and Jane enough for delivering him right to us! I can't say enough about the health, vitality and temperament of this eleven and half year old boy and what a delight he was to have visit here! Such an easy boy to work with and is so completely loveable. After the rituals, Tiflah, Nitro and I hit the road on Saturday and delivered him back home to Sharon and Mark. Sally Reigle Paul and I enjoyed an incredible BBQ prepared by Sharon, Mark and Jane that evening. Then, a bit of coursing on Sunday morning with Karen Chapman (Chen), Lauren Thompson, Jan Dawson and Kat Tigan! Beautiful country and blue skies with hunting hounds and fine people. It doesn't get any better! A whirlwind trip that was much fun, despite covid protocols. Now back home for the two month wait.
Fall of 2020, looking up!
**Long time since we've updated!!**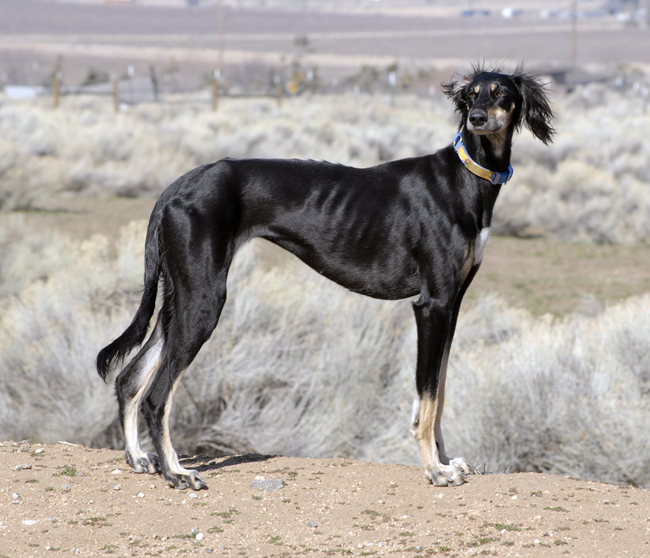 (2/10/2020) So much time has gone by since we've updated our site! Being without internet for about a year is one of the main reasons.
All for good as we are now living in paradise on our mini-ranch in the foothills of rural Tehachapi. We and the hounds are SO happy! In a nutshell, on the dog-front, the main goings on over the past year and half have involved Caz and Izzy. Caz qualified for the 2019 Grand Course in only three hunts and Izzy had a stellar novice season earning her numerous trophies along the way to winning the 2019 Grand Course! The day she won the 2019 Grand course she became Non Serviam Fugo Lepores RFR, CC, CM, GCW as she completed the requirements for both her Coursing Championship and Courser of Merit titles. Caz tied for 8th over all, too! It was a great coursing season.
This 2019/2020 season has been just as great with Izzy doing so well she has earned
TOP SCORING NOFCA HOUND ALL-BREEDS!Run modestly (10 hunts which included the two hunts of last February's GC), she has an impressive 30 points per hunt average this season. We now look forward to spring and some potential, exciting breeding plans for the girl. Look for pupdates on our Puppies page!
**Caz wins again in the ring!**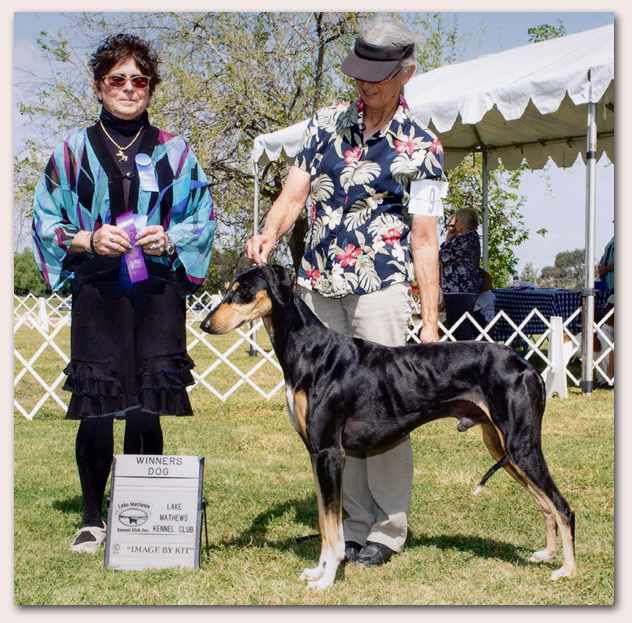 (4/28/2018) Caz earns two more points toward his AKC show championship at the Lake Mathews Kennel Club show under breeder judge Lois Ann Snyder (Impala Salukis)! Lois Snyder has spent time in the field with her own dogs and watching hounds live game course, so this is another win for Caz under an experienced OFC enthusiast. We are very thankful for our judges who have taken the time to study the breed doing what they were bred for, so the win is that much more special. Thank you judge Snyder!
(Photo by Kit Rodwell)
**Izzy wins the ASA Scramble Cup!**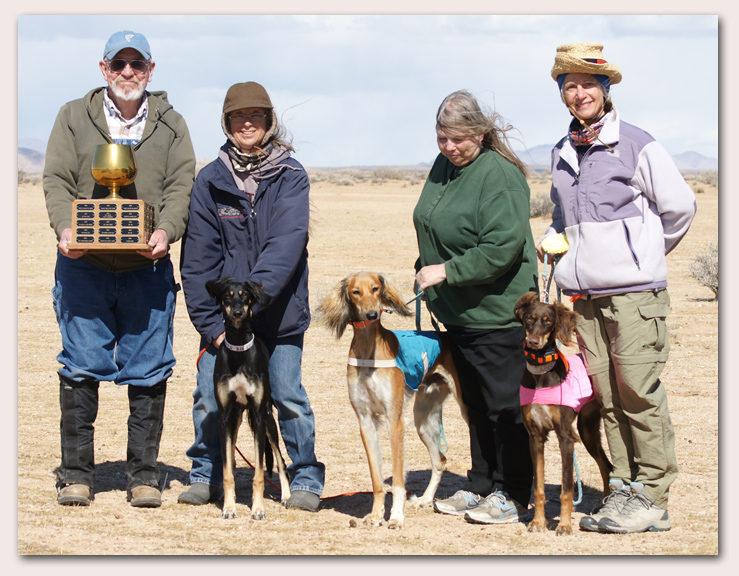 (2/23/2018) On a very blustry day out in the Mojave desert, the puppies met to run the ASA Scramble Cup. The going wasn't easy, but finally there was a hare for a nice jump for the pups. Izzy came out on top that morning with all three pups running so very well for their young ages and the difficult sighting in the desert! Izzy is pictured above with judge Dave Burt and her friends, Lakota (Chapman/middle) and Java (Kinney/right). All three of these youngsters are going to be a lot of fun this upcoming coursing season!
(Thanks to Lakota's owner, Cathy Chapman, for the photo while friend Terry Saunders held the boy.)
**Caz completes his Coursing Championship and Courser of Merit titles!**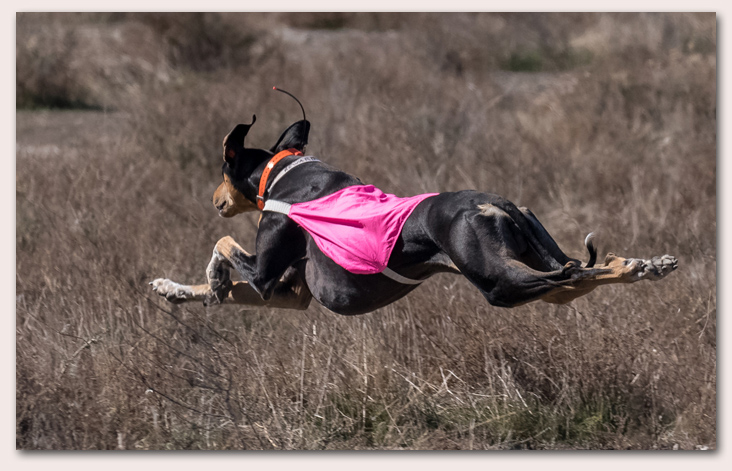 (2/4/2018) It's been awhile since I've updated this site. So much has gone on since May of last year! The progress on our land has been moving along and with any luck (and a lot more hard work) we just might be living there by this time next year. There are some updates on FaceBook (link on the homepage of this site).
In August, Hyde Lappalainen (Non Serviam Salukis, Finland) brought to us a new member for our family: Non Serviam Fugo Lepores RFR. Izzy has been keeping us on our toes and very busy. She shows wonderful potential of living up to her name as "Fugo Lepores" is "chases hares" in latin.
We took Caz to five hunts this season. He completed his Coursing Championship and Courser of Merit titles, won two breed hunt cups, plus won a second place and fifth place at two other cup hunts, earning 115 points for a 23 point per hunt average. He finished out the season as the #4 NOFCA Saluki (those placing above him ran in 16 or more hunts for the season). He's now just three years old and has more than fulfilled his early promise as a fine coursing dog. We hope to take him to some shows this year to see if we can finish his show championship. Izzy's page is in progress and you can visit Caz's page to see a few current photos of him. Happy New Year to all!
(Photo of Caz on the fly by Charles Alexander)
**Caz wins his second major!!**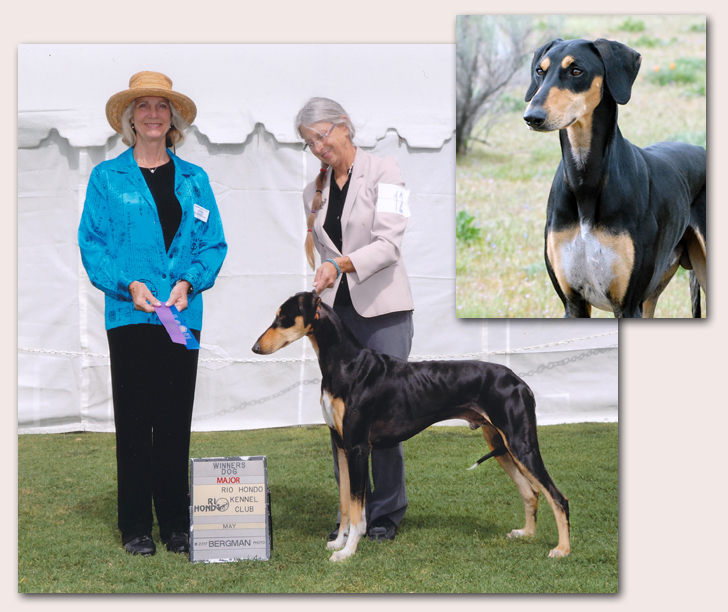 (5/6/2017) Our big goofy baby boy, Caz (Moshire RFR Rock The Casbah) went to his first dog show in over a year and won Winners Dog under fellow breeder judge and coursing enthusiast, Sharon Kinney (Issibaa Salukis)! Caz has only been shown a handful of times and has seven points (four point and three point majors) under breeder judges. His novice season in the field was a very good one for such a young boy. 114.5 points in six hunts with two first placements, one second and two fourth placements. We very much look forward to future events
in the ring and field with this guy. He's quite a character!
**Tilfah becomes an AKC Dual Champion!!**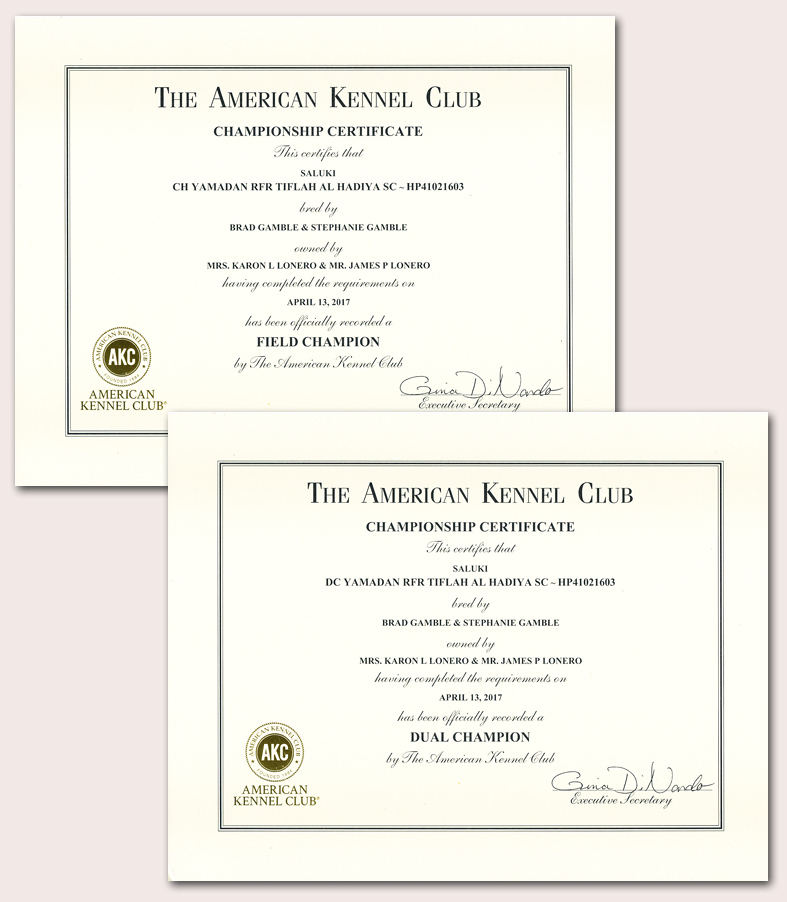 (4/13/2017) Trying to help soften the heartbreaking blow of losing our young girl, Sweetie, her mom, at almost six years of age, went to the San Angeles Saluki Club Specialty AKC Lure Trial and won the open stake for a four point major to complete her AKC Field Championship! We couldn't stay for the cup run-off, but we sure couldn't be more pleased with the girl's performances on the day.
Tiflah is now DC Yamadan RFR Tiflah Al Hadiya, SC, CBC. Way to go little girl!
**Caz wins the hunt on January 15th!!**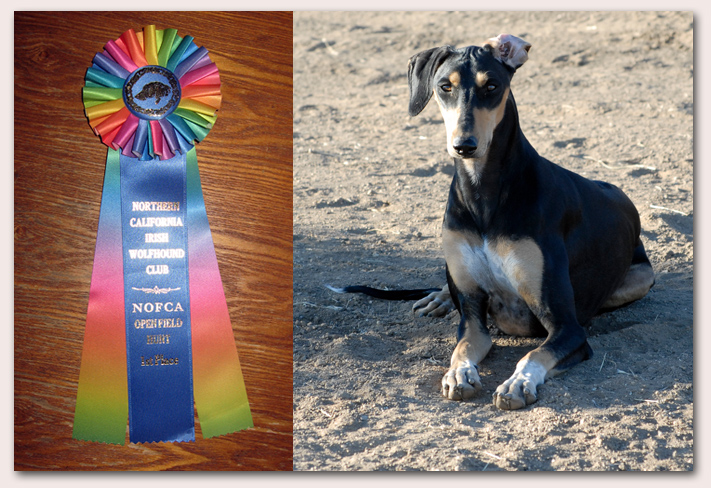 (1/15/2017) Moshire RFR Rock the Casbah rocks the field again with a wonderful course to win the Northern California Irish Wolfhound Club's mixed hunt. Not only did Caz win first place, he also earned an AK on the day! We are very proud of our young boy who now has 114.5 points in only five hunts so far this season (PPH 22.9)! The judge on the day was coursing eunthusiast Al Crume. Thank you, Al, for staying the long, cold day to judge our hounds!
**Caz and Sweetie win at the Christmas Cup hunt!**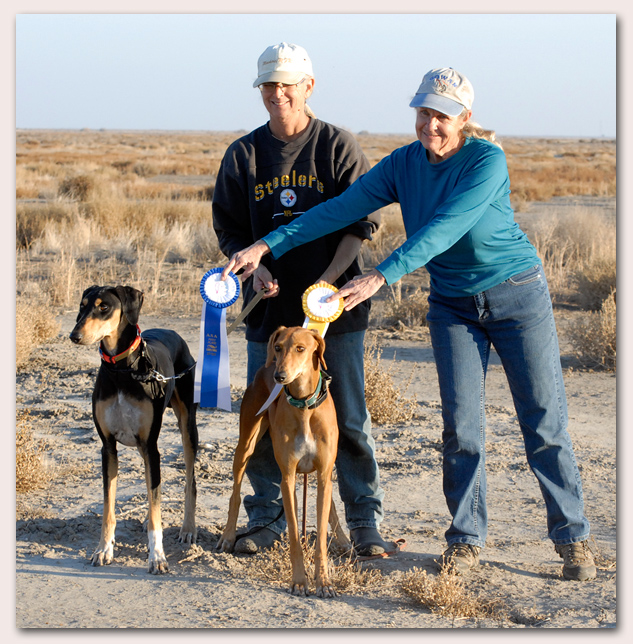 (12/3/2016) Caz went to his second hunt and Sweetie to her first at the American Saluki Association's Christmas Cup hunt and Caz tied for first place and Sweetie was third place. This day was Sweetie's first time in the slips and the girl did great! We are very proud of these Ringo x Tiflah youngsters just starting out their novice seasons in the field! Pictured above with Caz and Sweetie is judge Karen Zydner.
**Caz goes to his first hunt!**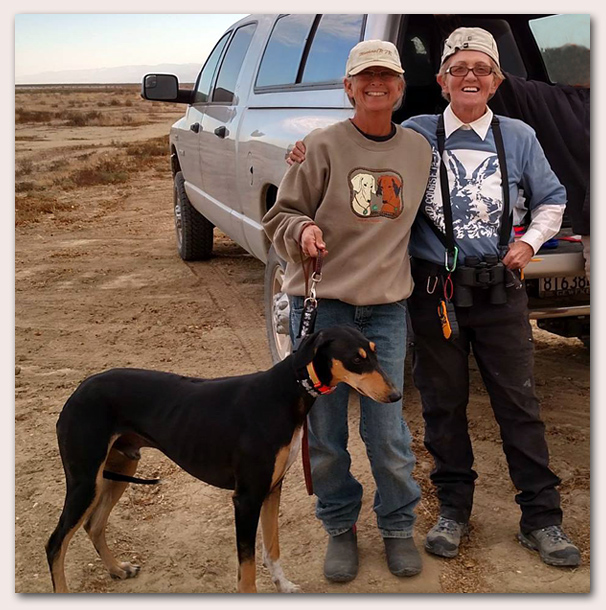 (11/19/2016) At the Saluki Coursing Club's Breed Hunt our Moshire RFR Rock The Casbah won second place at his very first hunt,
first time in the slips!! We are very proud of the boy! Pictured above is Caz with me and judge, long-time coursing enthusiast, Chris Mason.
Chris is the breeder of TSH Salukis, breeder of Sky's sire, TSH Lakota. Chris and I had not seen each other in decades,
so this was an extra fun and special day!
(Photo thanks to Daniel Gold)
**Happy 11th Birthday to Nova and Ringo!!**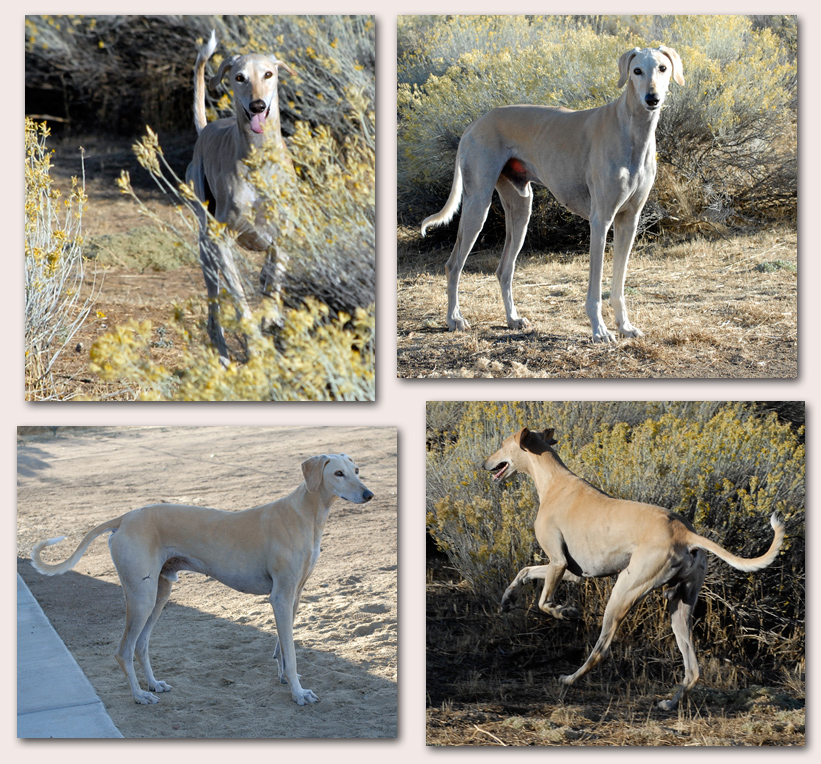 (10/21/2016) Today we celebrated Nova and Ringo's eleventh birthdays! Nova (top) and Ringo (bottom) are both still enjoying running free (and hard!) and have our vet's blessings as to great health with their recent check ups. Due to our raw meat and bones diet, neither have ever required dental work and our vet is always amazed at their teeth and overall fitness. Go boys! We look forward to much more wonderful life with them. They are a tribute to their heritage and we love them with all our hearts.
**Sweetie completes her Junior Courser title!**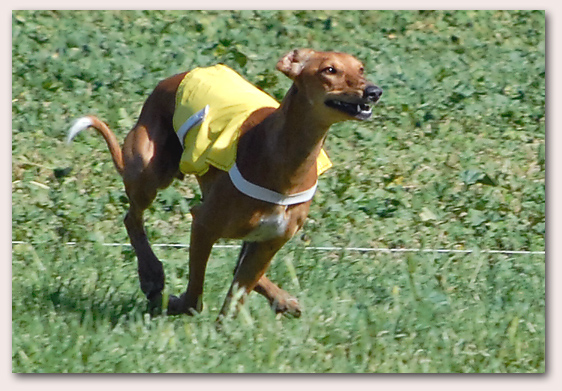 (5/15/2016) Our dear Sweet Potato Pie (lol!) ran the lure very, very well to complete her JC title! She is now Moshire RFR Sweet Emotion, JC. Though we can tell plastic isn't her favorite sport, Taters is happy to comply and give chase. Good girl!!
**Happy Spring 2016!!**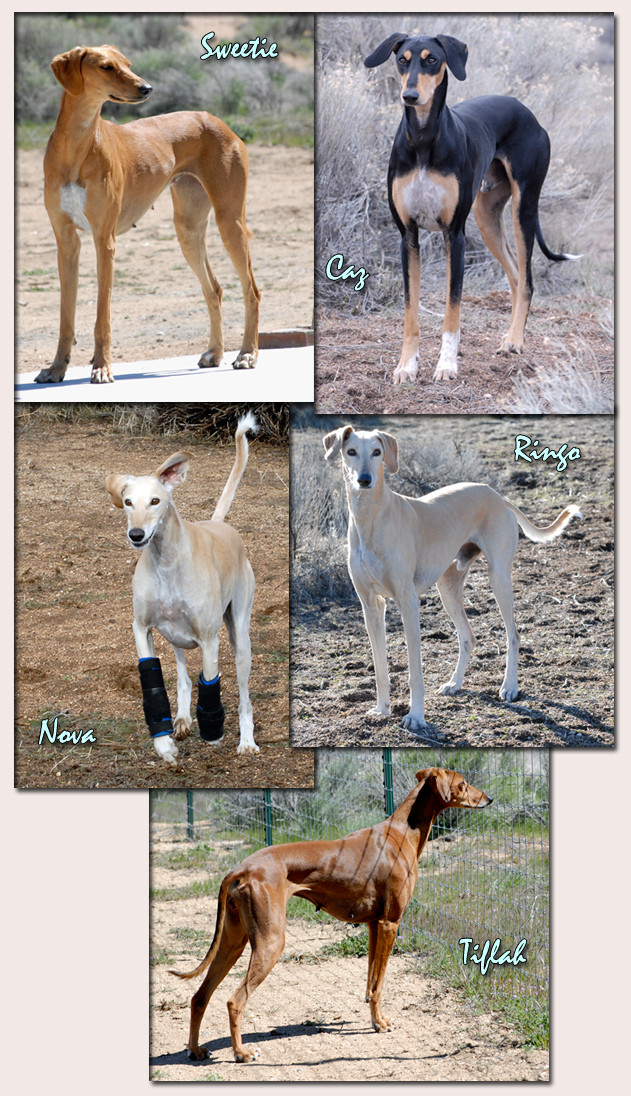 (4/26/2016) It's been awhile since I've updated our website. I have some catching up to do. The pups, Caz and Sweetie, attended their first lure trial in February and both were quite happy to pursue the petroleum hare and earned their first green ribbon towards their JC titles. We've pretty much been busy here with life in general and working up on the property. Our well got drilled end of 2015 and we just got the storage tank and now have access to our beautiful water! One step at a time! While we weren't much busy with organized hunts this past season (pups were too young anyway), we did plenty of coursing on our own and the pups have really come along nicely! They have now taken hares (uh... a good number) between our trips to the desert and up on our property. They've had some real nice, long, hard working courses and we're looking forward to running our pack this upcoming 2016/2017 season, be it out on our own, with friends or at a few hunts. Now, until fall, we'll only frequent the deserts on the rare, cool mornings and spend most of the time on our own land. The hounds can run and play and hunt while we clear an area for the trailer we are hoping to get this spring so we can start spending even more time up at the base of the mountain, enjoying the fresh air, open land and awesome views. Gosh, let's see... pups will be 16 months old in about a week, Tiflah turns 5 years old on May 14th and the ol' boys are now 10 1/2 years. All happy, healthy and lovin' life, as are Jim and I.
**Caz wins big up in Pleasanton and so does Zelda!!**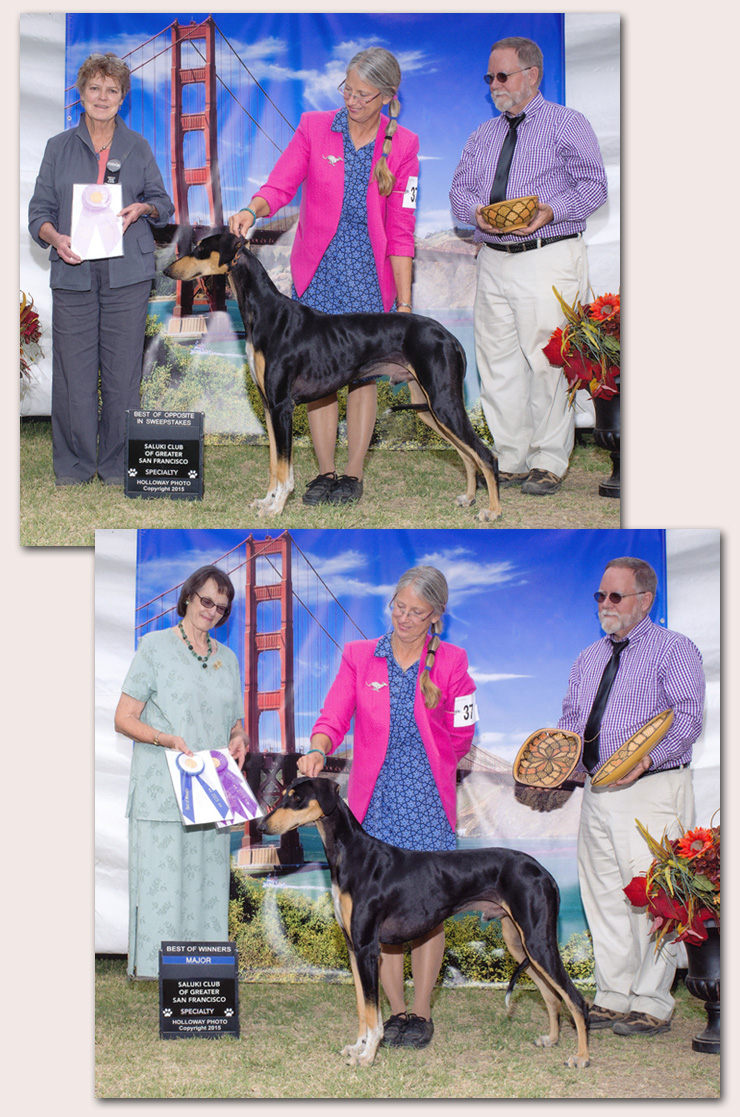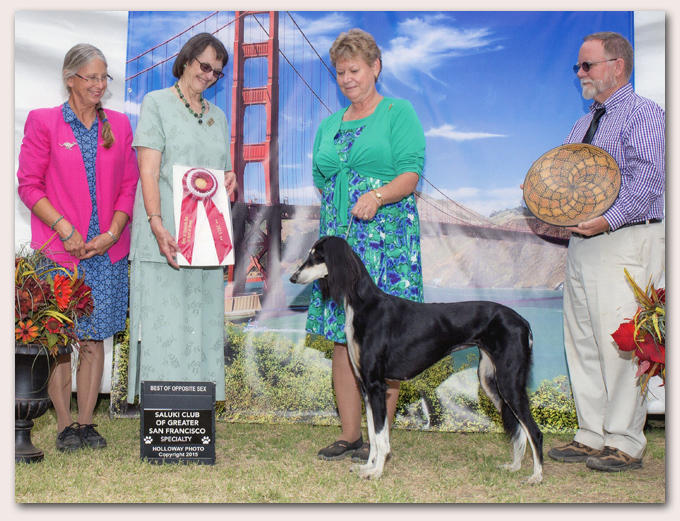 (10/17/2015) Our Moshire RFR Rock The Casbah went on a trip up to the Saluki Club of Greater San Francisco Specialty show and in the morning, started off his day with a lovely Best of Opposite Sex in puppy sweepstakes under breeder Terry Smith (Ramazahn Salukis), shown in the top photo above. Then, from the 9 - 12 months class in the specialty show, not only did he win his class, he went on to Winners Dog for a four point major under breeder/judge Linda Scanlon (Aarakis Salukis)! Later in the day he was also awarded Best of Winners. Wow! What a great day for only his third show! We could not be more pleased and honored that Caz won this day under two long-time breeder judges that have an eye on the performance aspects of our breed. Thank you so much!
Here is a link to some fun photos taken by Jane Hepburn and Sally Curran: Tiflah and her pups up in Pleasanton 2015.
Thank you Jane and Sally for sharing your photographic skills with us!
Later in the day, Sky's daughter, Am Can & MBIS UKC Ch. Desperado PB Lucy at Zrkia not only won her Veteran Bitch class, but went on to win Best of Opposite Sex in specialty show under breeder judge Linda Scanlon! What a lovely win at nine years of age for Zelda! Zelda is always lovingly handled by her owner, Val Bauer. Val was kind enough to have me stand in her win photo as being the breeder and owner of Zelda's sire. What a wonderful honor, thank you Val! Zelda also won Best of Opposite Sex in Veteran Sweepstakes this day under breeder Terry Smith and won Best in Veteran Sweepstakes the day before under Jennifer Fox. In September, Zelda and Val went to back to back UKC shows and won Best Veteran in show and a Reserve Best Veteran in Show! Zelda doesn't look or act her age and still enjoys the ring.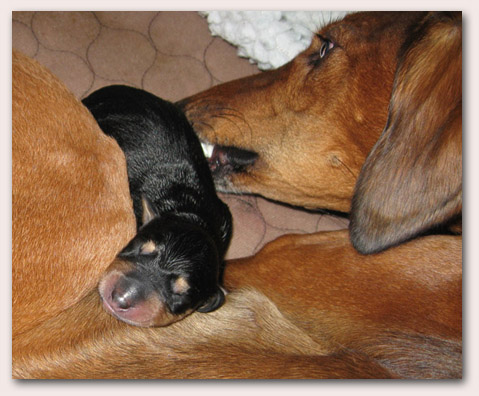 Caz was destined to stay with us before he was ever born, due to a posthumous promise I made to my "other Mother", Diane Srack.
Diane would tell me that I should always keep an eye on the first born in every litter and I should always keep this pup. For almost four
decades I never paid much attention to her advice, but when she left us last year I promised her that we would keep the
first born pup in this litter, regardless of sex, color or coat type, and this pup would stay here as "her" pick.
Thanks, Mom, I'm glad I finally took your advice and I can feel you smiling down on us. :-)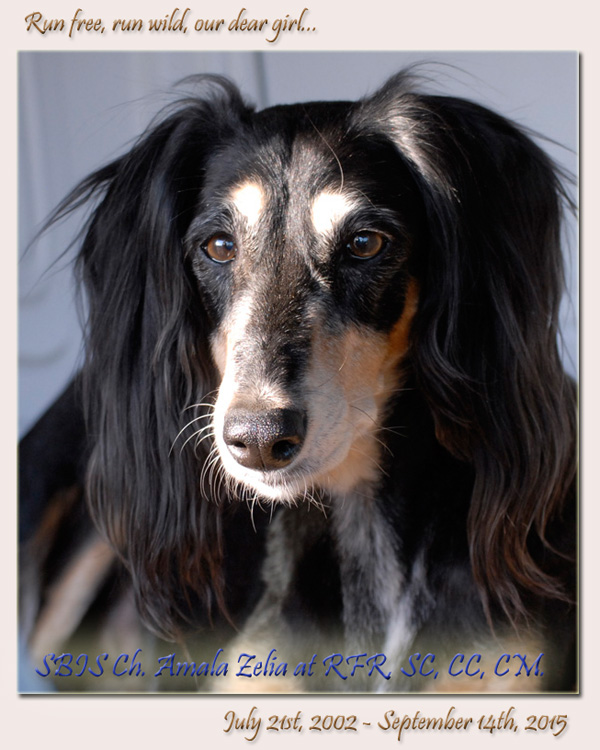 (9/14/2015) We have had to bid farewell to our beloved Zelia this morning. The Lord blessed us with her in our lives for over 13 years, a good stretch for a Saluki. Of course, it is always too soon to lose them. I'm having a hard time imagining our lives without her morning greeting, a lovely chortle of sorts (while the others howl and scream), from our "Peepa Peepa". Her "monitoring" of the pups and her bouncing up and down at dinner time for her meal. It's hard to imagine a trip out to the desert without her. So huge is the void we're feeling. She wasn't a big girl,
but she filled a BIG space here at home and in our hearts. She truly was One in a Zellion.
**Lot's of summer fun and new experiences for the puppies!**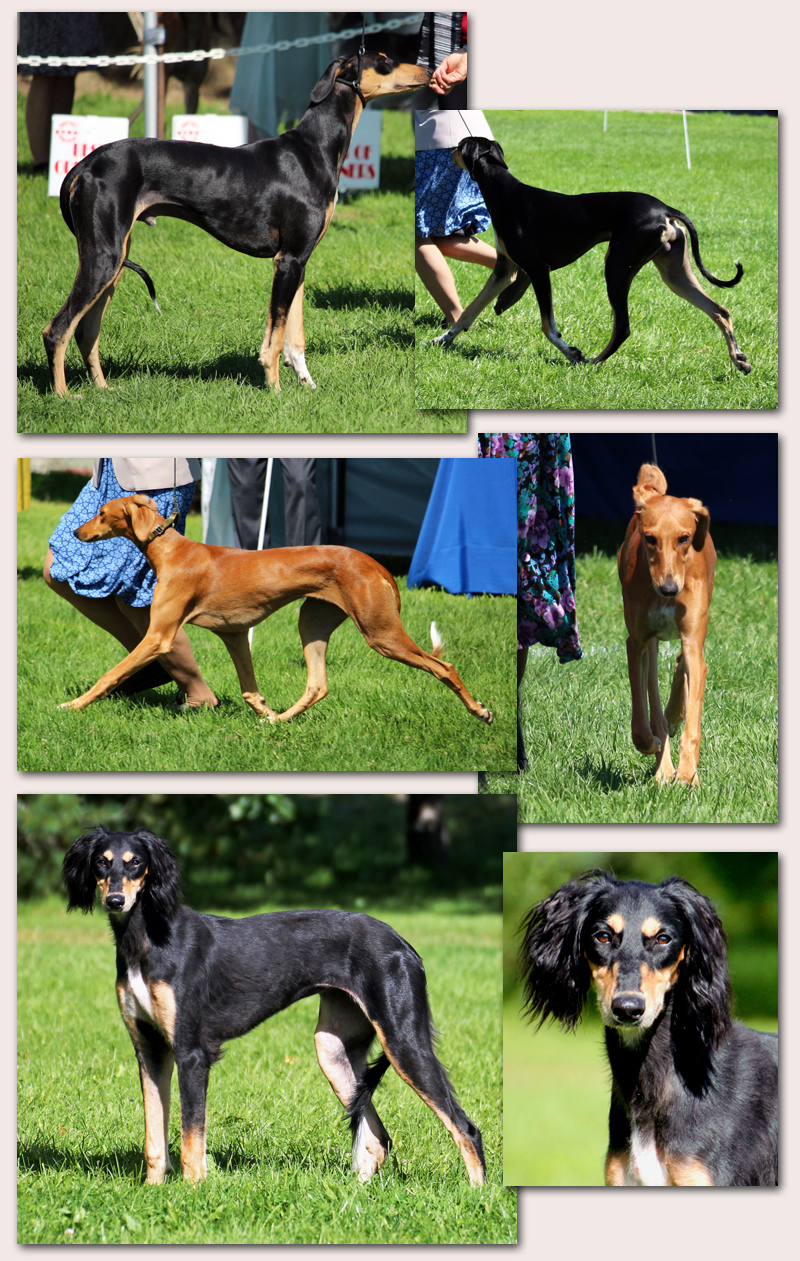 (July and August 2015) During our long, hot summer here the pups and Tiflah have enjoyed some outings to various places and events. On the show front, the trip over to Lompoc the end of July was where we got to relax in some cool, coastal weather. The pups (Caz and Sweetie, aka: "Taters") were shown two of the days and while no big wins were on the table, lots of great socialization and training were at hand. They learned more about travel, motel rooms, traffic and met lots of people and other dogs. The photos of them, top and center, above were taken
by Jane Hepburn. The highlight of our trip to Lompoc was when we went over to the lure coursing field and the pups got to practice on the lure. They ran the entire course together, running well and very clean and received a round of applause from all in attendance!
A couple of weekends later, we went to the LGRA straight races right here in Tehachapi. Momma Tiflah (Ch. Yamadan RFR Tiflah Al Hadiya, SC, CBC) won all three of her races and earned another point towards her GRC title. The pups got to practice twice and although Sweetie bested her brother, Caz, in both heats, both pups ran with great intensity and interest. What a fun day for Tiflah and her babies! Then, just the other day we had a rare, cool morning out in the desert and Tiflah and Ringo went out with their pups and did some excellent schooling on them with a lovely course and gave the pups their first time in on a take. The pups looked marvelous (!) in the course for seven month old babies and we're quite excited about their futures as coursing salukis! This is the venue where Caz really shined brightly!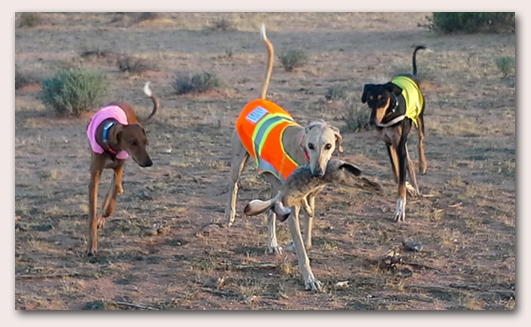 The lower photos above are of Moshire RFR Breakfast at Tiffany's in Finland with Marika Vartaianen. Tiffany has also had a busy summer with lots of travel and going to shows and lure practices. She is growing up so beautifully (and losing her puppy coat!), thanks to Marika, Miiki and Meri's love, training and care! (Photos by Marika). I will post some photos of Maddi (Moshire RFR Love Her Madly) and Zeeba (Moshire RFR Rock You Like a Hurricane) when I receive them, but I know they are doing wonderfully with their loving families.
We wish everyone a continued fun and healthy summer as we look forward to the cooler temperatures of the fall and, perhaps, the arrival of a long awaited El-Nino that should bring us much, much needed rain. Cheers everyone!
**Tiflah wins a Grand Champion major and her pups are six months old!!**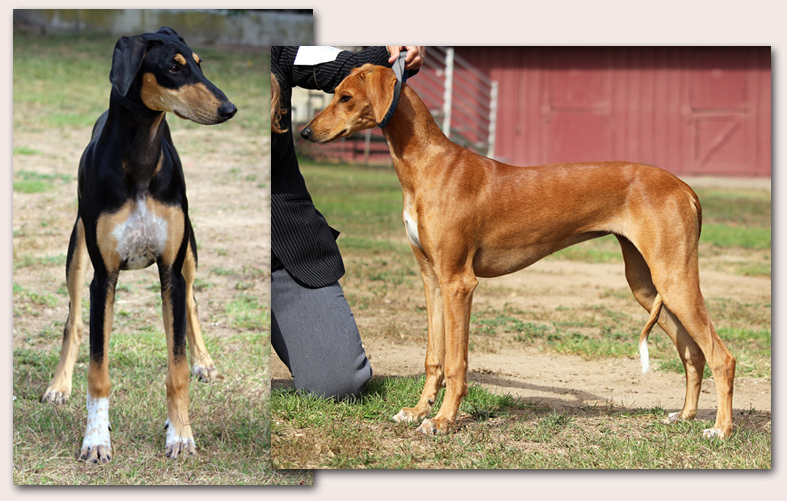 (7/4/2015) At the Santa Maria Kennel Club show held in Ventura, California, our Ch. Yamadan RFR Tiflah Al Hadiya, SC, CBC was shown for the first time as a champion and won the Select Bitch award for a three point major under judge Randy Garren! Tiflah enjoyed being back in the ring! Her puppies, Caz and Sweetie came along for the fun and good friend and fantastic photographer Jane Hepburn took lots of wonderful photos, including those above. You can see them HERE!
(5/22/2015) Our hounds all enjoyed a wonderful morning out in the desert. Click HERE to see some photos of their adventure!
**A VERY SPECIAL THANK YOU!!**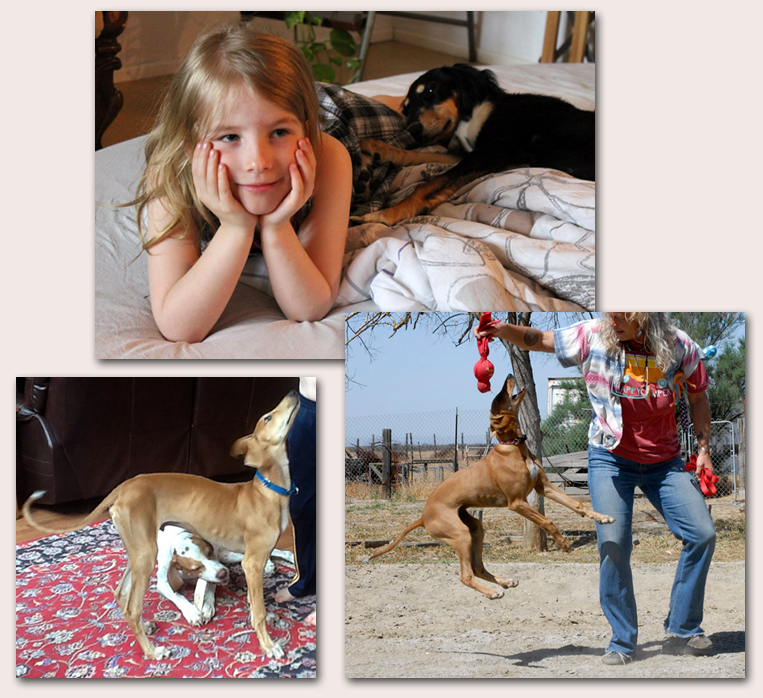 (5/15/2015) We would like to thank the wonderful families who have brought one of our Ringo x Tiflah puppies into their homes and hearts. Tiffany has very successfully made her way to Marika, Miika and Meri in Merikarvia, Finland and is quickly becoming a member of their family! Zeeba is in Chugiak, Alaska with Kourosh, Deanna and Alex and Maddie is home with Rob and Kyle (and Red Sea) near Flagstaff, Arizona. All are doing fabulously and we could not be more thankful for the loving homes these pups have with these special families. From us here, we THANK YOU ALL for giving your pups the best homes we could dream of!
Our very own Caz (Moshire RFR Rock The Casbah) and Sweetie (Moshire RFR Sweet Emotion) are doing great here. Click on their names to see new photos on their pages!
(top photo, Meri and Tiffany, bottom left, four month old Zeeba and bottom right, the ever-exhuberant Maddie with Kyle!)
**She's baaaccckkkkk!!!**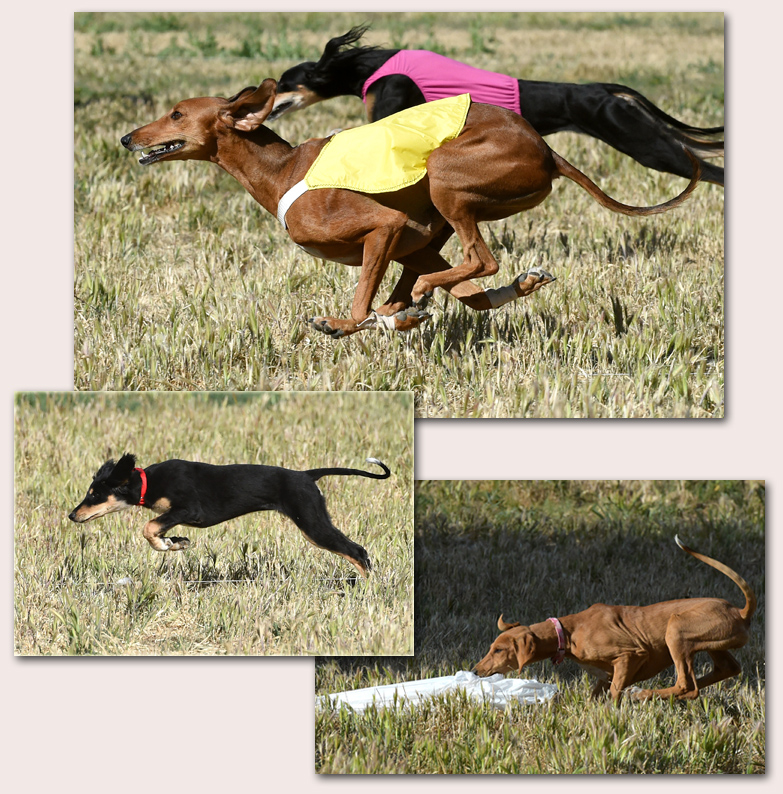 (4/9/2015) After finishing up with her maternal duties over the winter, our Ch. Yamadan RFR Tiflah Al Hadiya, SC, CBC returned to the lure field at the San Angeles Saluki Club's spring AKC specialty trial by winning Best of Breed for a four point major! This gives her eleven points, three majors toward her title. We are very proud of our little momma dog not yet back in full condition, the trial was a great workout for her!
Her three puppies that are here all enjoyed a practice and chased the lure with great enthusiasm. Much fun on the day for the family!
(All photos by Pupparazi)
Click HERE to go to Ringo and Tiflah's puppy page for photos at various ages and video links!
**Happy New Year with PUPPIES!!**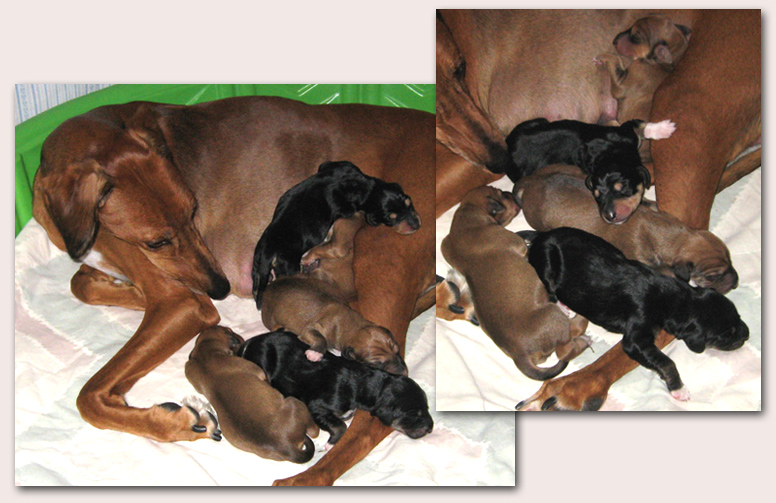 (1/4/2015) Our Ch. Yamadan RFR Tiflah Al Hadiya, SC, CBC whelped her litter of five sired by Santana Hello, Goodbye at RFR, CC, CM from 2:00 am to 4:20 am on Sunday morning! There are two boys and three girls and all are very healthy. They each added four ounces to their birth weight in the first 24 hours. Tiflah is being an excellent (!) mother and we joyfully look forward to their bright futures! For more information about the litter, please visit our PUPPIES PAGE.
**Happy Fall to all!**
(10/25/2014) It has been a long, hot and dry summer for us in Southern California. We have not been active in too many dog events over these months, though Tiflah has tried her paw in LGRA racing and now has her first win towards this title! Other than that, we have focused on staying cool and are slowly developing our new property. Nova and Ringo just turned nine years of age on the 21st of October and I took some new photos of all the hounds. CLICK HERE to see some photos of the hounds and of our new property. Enjoy! Now, on to some cooler weather and turning leaves...
**Jude wins at the Saluki of Arabia Beauty Contest!**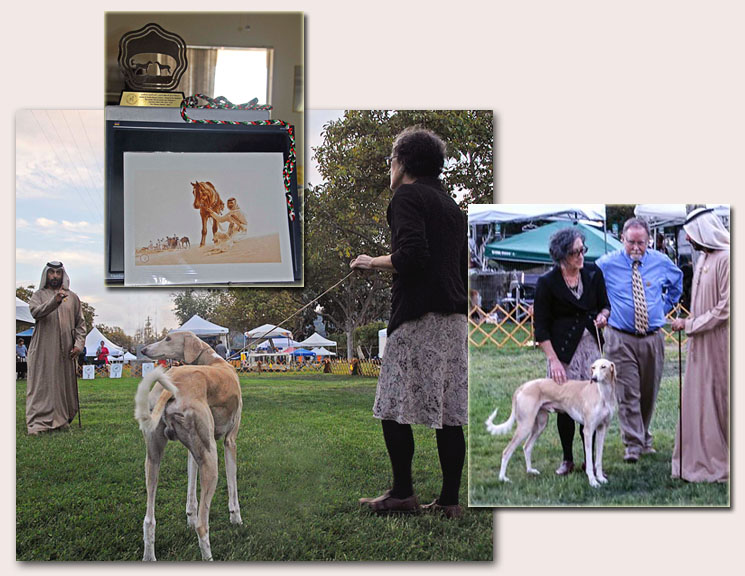 (10/16/2014) At the Saluki Club of Greater San Francisco Specialty after the AKC show there was an event judged by Mr. Hamad Ghanem Shaheen AlGhanem of Dubai. Santana Hey Uziduzit Jude, CC, CM, GCW was selected as Best Smooth Male and also Best Veteran in the class! It is not often we get to enjoy having our Gen II Desert Breds judged in the show ring, so this is a very special honor. As icing on the cake, Jude (Sky x Boushra) easily completed his Coursing Championship and Courser of Merit titles, along with winning the Grand Course in 2008. Beauty and function can go hand in hand! Our congratulations to Vicky Clarke, Jude's owner and handler and to Jude's breeders,
Warren and Victoria Cook!
(Photos counter-clockwise by Jessica Griffin, Vicky Clarke and Christine Lewis)
**Tiflah is now a show CHAMPION!**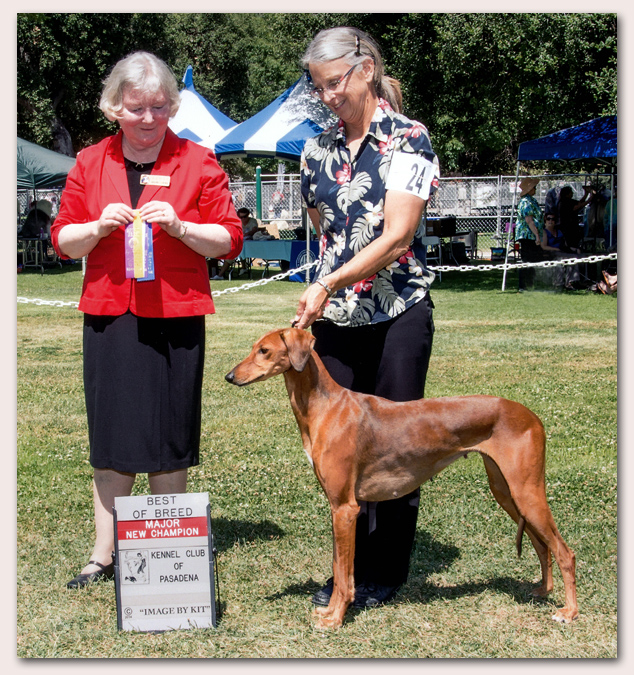 (5/31/2014) Wow! Has our girl been on a roll so far this year and is now Ch. Yamadan RFR Tiflah Al Hadiya, SC, CBC! After winning her second major at the San Angeles Saluki Club Specialty show in April under breeder judge Monica Henderson-Stoner (see photo on her page), she went to the Kennel Club of Pasadena show and won Winners Bitch, Best of Winners and Best of Breed over six specials to finish her title with yet another major! The judge was sighthound specialist Marianne Klinkowski. Tiflah completed her title earning all of her championship points under breeder judges and sighthound specialists. What an honor and we cannot thank them all enough for recognizing Tiflah's
functional conformation and movement.
(Photo by Kit Rodwell)
**Tiflah completes her Senior Courser title!**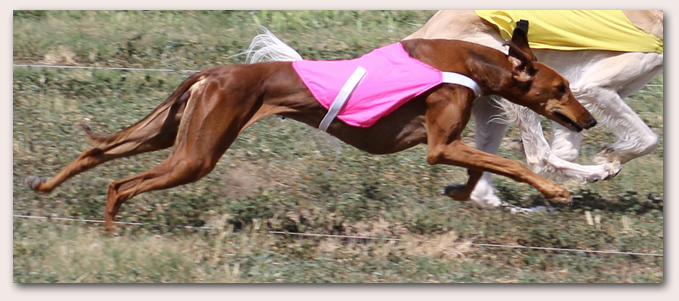 (4/19/2014) The weekend following Tiflah's major win at the San Angeles Saluki Club specialty show, she goes to the Southern California Basenji Fanciers AKC Lure Trial and completes the requirements for her Senior Courser title. She is now Yamadan RFR Tiflah Al Hadiya, SC, CBC and also has seven points and both majors towards her AKC Lure Coursing Championship. Not bad for dyed-in-the-wool hare courser!
(Photo by Jane Hepburn Photography)
**Tiflah wins her second major!**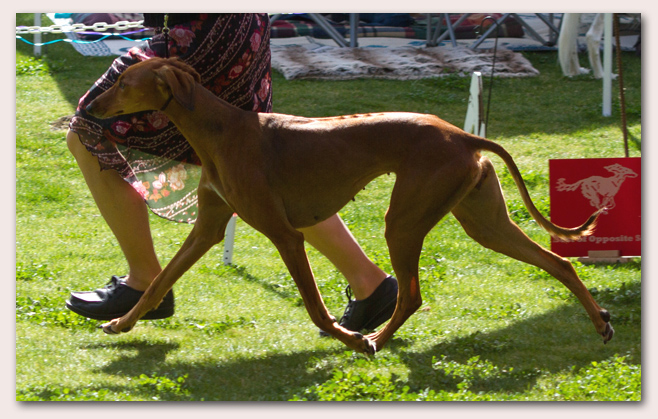 (4/11/2014) Our Yamadan RFR Tiflah Al Hadiya, JC, CBC took a big step towards completing her AKC championship this past weekend by winning Winners Bitch and Best of Winners at the San Angeles Saluki Club specialty show under breeder judge Monica Henderson-Stoner
(Sacre Tyana Salukis)! What a lovely honor to have Tiflah consistenty recognized by yet another breeder judge!
In very limited exhibition, Tiflah now needs but a single point to complete her title. Way to go little girl!
(Photo from Feb 2014 by Desert Rain Photography)
**Dhabi and Tiflah earn the top TCC spots!**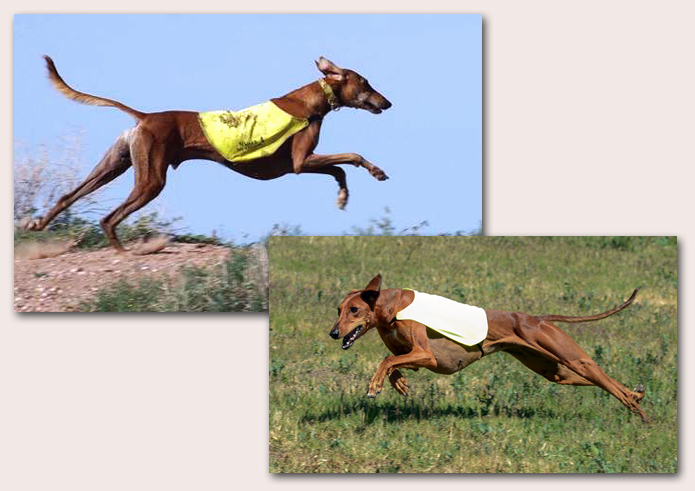 (3/1/2014) The coursing season has come to a close for 2013/2014 and Abaqero Kineahora Dhabi is Number One All Breeds in The Coursing Conservancy standings with our Yamadan RFR Tiflah Al Hadiya, JC, CBC in the # 2 Saluki, # 3 All Breeds position. It was a short season due to the drought and scarce game, but the hounds had the opportunity to shine at the hunts that were held. Congratulations to Frances Zeller, you did a great job training and conditioning Dhabi this season! He ran in three hunts with a 1st and two 2nd placements. Tiflah ran in two hunts, with a 1st and 2nd placement and earned her CBC title at the first hunt with a UK. Well done little girl!
(Photos by Frances Zeller and Clark Kranz)
**Tiflah wins in the ring!**
(1/25/2014) Our little redhead took a break from running hares to attend a dog show and won Winners Bitch and Best of Opposite Sex under judge Rita Biddle, Esq at the Orange Empire Dog Club show held in San Bernardino. This win added two more points to Tiflah's record, so she now has ten points and a major!
(1/18/2014) Dhabi went to the TCC Derby and tied for second place on the day! He now only needs one take credit to complete his TCC mixed coursing championship. Way to go Frances and Dhabi, congratulations!
(1/4/2014) At the NOFCA mixed hunt Tiflah scored in 4th place (4/14). She had two very long courses, one with a take on the hare (although, not seen by the judge, such is open field coursing at times!). A very good showing for her first mixed hunt of the season!
Click HERE for News from 2012 and 2013!