(8/4/2011) Today we welcome our new family member, Yamadan RFR Tiflah Al Hadiya! Tiflah was whelped on May 14th, 2011 and her breeders are Brad and Stephanie Gamble of Odessa, Missouri (Yamadan). She is red, she is smooth and, importantly, she is cute! Watch for updates on Tiflah and her life here with Zelia, Nova and Ringo.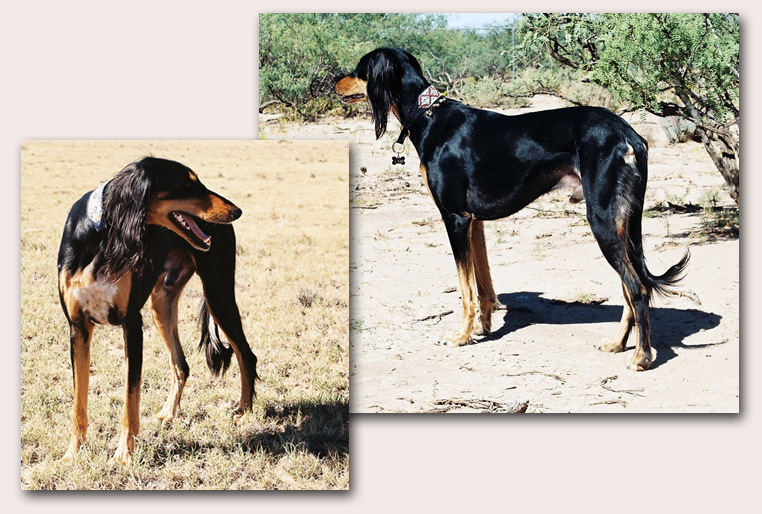 Yamadan Wahlid Kabiir Al Adeed is Tiflah's sire and his breeders are Brad and Stephanie Gamble. He is from their first dual sired litter. Wahlid won Best in Sweepstakes at the 2009 Saluki Club of America National Specialty show under breeder judge Jay Kappmeier.
(More about Wahlid coming soon!...)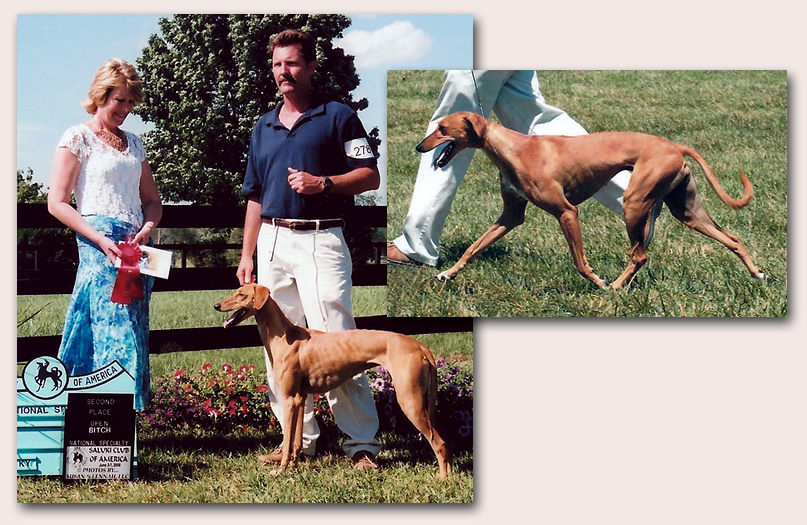 Yamadan's Red Chile of Arabesque is Tiflah's dam and her breeders are Joe Minor and Robert Place of New Mexico (Arabesque). Chile is also an SCOA Sweepstakes winner, in 2007, under breeder judge Lorraine Trenholm (Rataki). Chile's sire and dam happen to be two favorite Salukis of mine, Kalil (pictured with Sky winning the 2006 Archives Plaque on Sky's page) and Gingit. One of my most memorable courses of all time was one between Sky and Kalil at the 2000 Grand Course Saluki Breed hunt where they worked the hare together and put on an awesome display of ability. They placed 1st and 2nd that year in the breed hunt by virtue of their superb performance together. I had the pleasure of judging Gingit at the 2000 SCOA National Specialty in the Sweepstakes and placed her second in a very, very large class. It was so close between her and the first place (and eventual Best in Sweepstakes) winner that day. A glorious bitch, indeed. So, Chile's pedigree was of great interest to me when I learned the Gambles had bred her!
(Photos of Chile by Susan Lennah, left, and Tina Turley, right)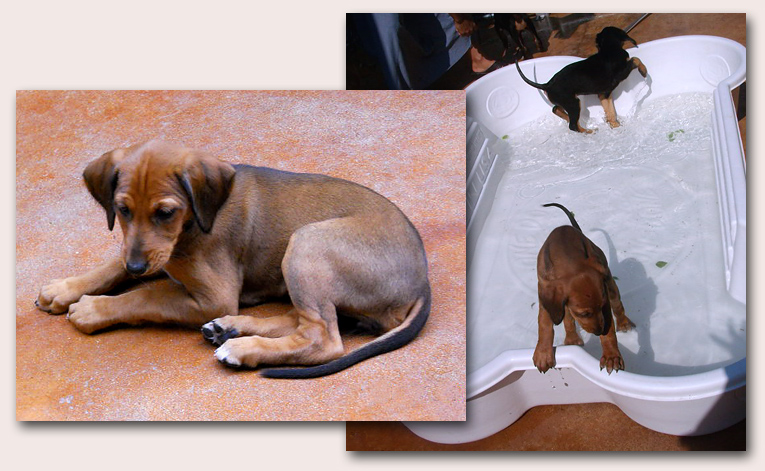 Tiflah at about eight weeks of age. A few of the first photos we saw of her and right away we were hooked! She even loves pools, so Sky will now have someone to share his with.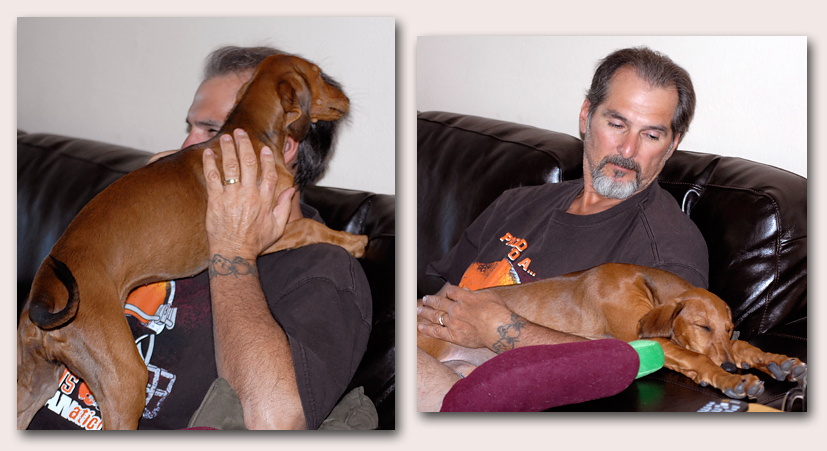 It was an eventful day for Tiflah on her first day here. She flew into Los Angeles where Ringo and I picked her up. She met Ringo and rode home with him, sharing his bed and the two plus hour drive. Once home, she met Zelia, Nova and Sky. The old man took to her right away. Maybe it's a red head thing? But, then, Jim came home from work and it was love at first sight. After giving him many puppy kisses, she fell fast asleep on his lap for the evening.
Tiflah has already tested out chasing the pole lure, and likes it, she does! She appears to have very good agility, speed and visual acuity for her age. She turns around her front like she's an experienced courser and isn't reticent to use her mouth for "the take". This is great, as her life here will involve being a cherished family member and spending much time in the fields, deserts and up on our mountain trails. Perhaps one day she will be bred to one or both Nova and Ringo.
Click HERE to see Tiflah on the pole lure at 12 weeks of age!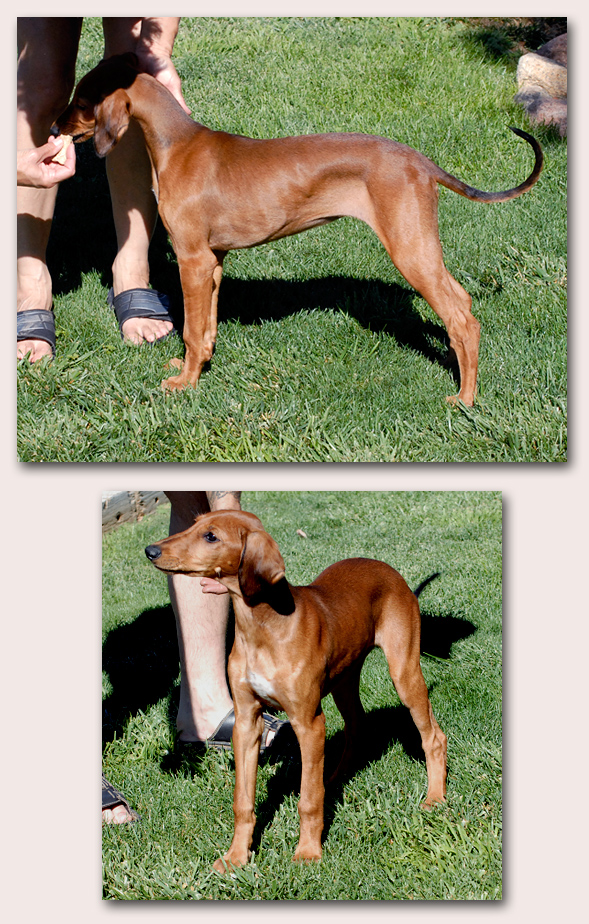 When Jim came home from work he helped me take some photos of Tiflah starting to learn all about bait and being a "show dog". She likes it! She really struts her stuff on the end of the lead (stay tuned for photos of her moving) and enjoys "working for food". She's going to be a lot of fun in the ring as well as training on hares!
(8/9/2011) Tiflah took her first trip out to the desert today to start to learn all about hunting with Nova, Ringo and Zelia! Click HERE to learn all about her adventure!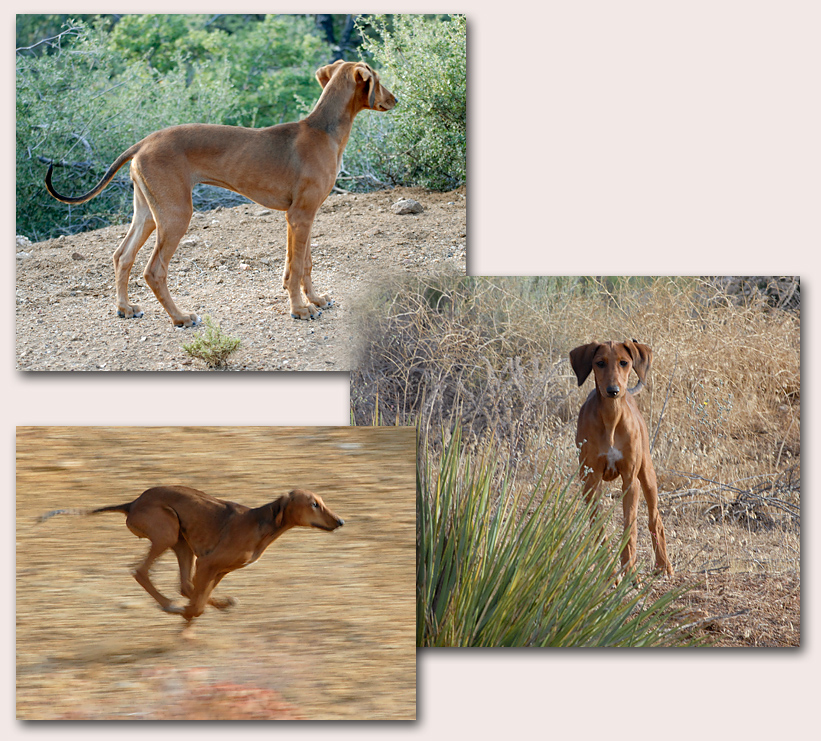 Tiflah is 13 weeks old today! We celebrated by taking her, along with Nova, Ringo and Zelia, up on our mountain trails for a hike this morning. Tiflah now knows the world is not all flat! She had a great time and ventured out further with the big dogs the further we went. She is learning that I have water and treats in my backpack and I'm a pretty good person to check in with from time to time.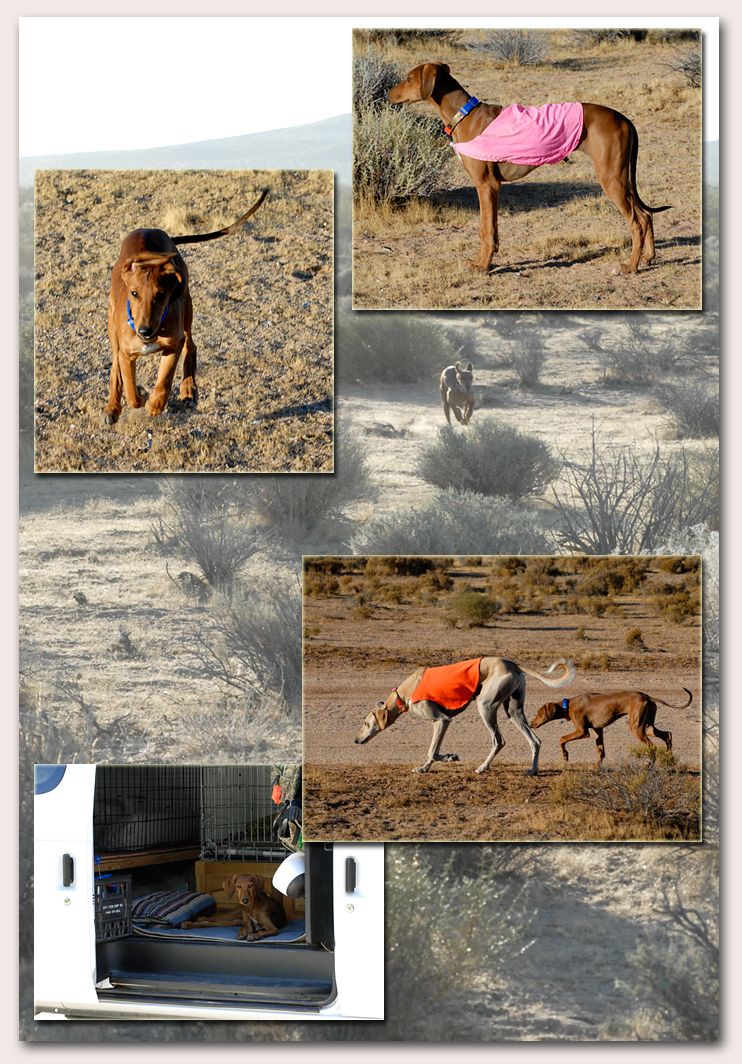 (9/1/2011) It's hard to believe this little newcomer is over 15 weeks old already! She continues to venture and run further and further with each outing to the desert. It was time for her to learn to wear a coursing blanket this time. She did well and actually seemed to strut her stuff after I put it on her! She has also learned that getting in the van usually means going somewhere wonderful. So, when we got home, she didn't want to get out and stayed out there for the next two hours. What a character!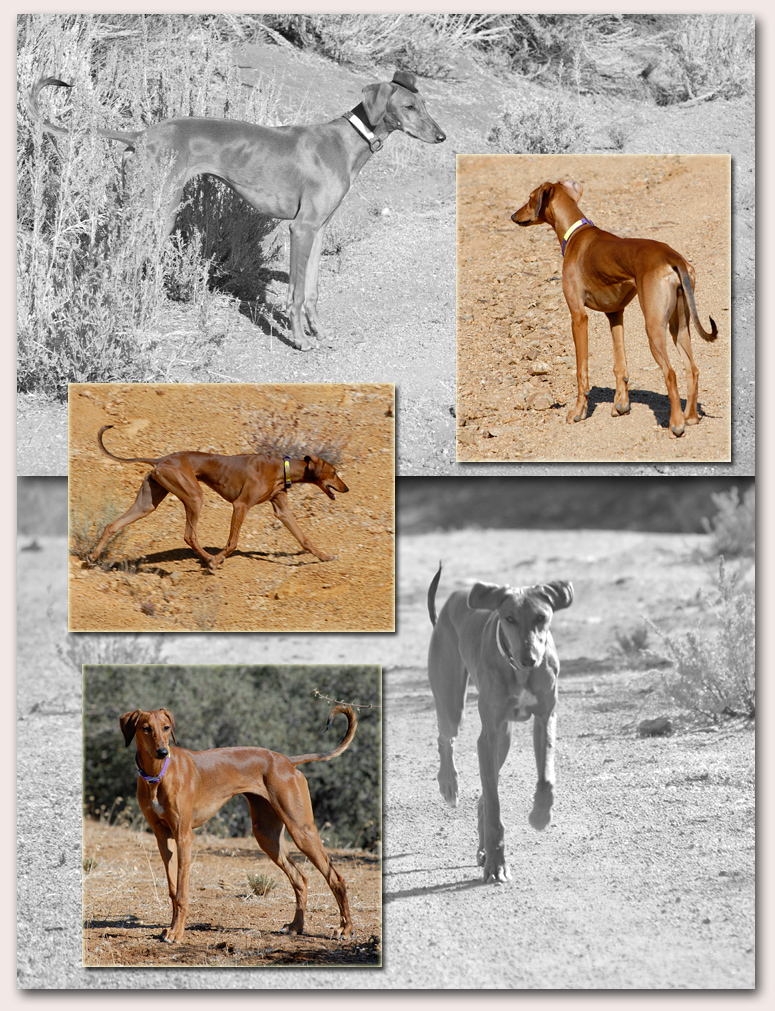 Tiflah is now six months old! Our little girl is getting legs! She is running further and further now when she goes out to the desert to chase hares with the "big dogs". Sometimes she finds her own and leads out and runs far. Ah... the age of innocence will soon be but a fond memory.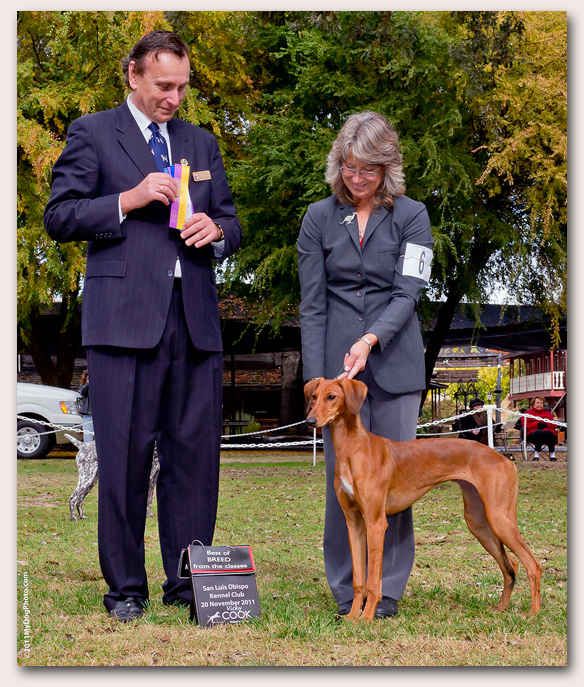 At just six months of age our little girl goes to her first weekend of shows and wins her first points! At the San Luis Obispo Kennel Club show under breeder/judge David Miller she won Winners Bitch, Best of Winners and Best of Breed over specials for her first two points! Tiflah thinks dog shows are fun and plans to enjoy many more in the future. What a wonderful and fun puppy she is. Our thanks to Mr. Miller for recognizing her qualities and rewarding her on the day.
(Photo by Cook Phodography)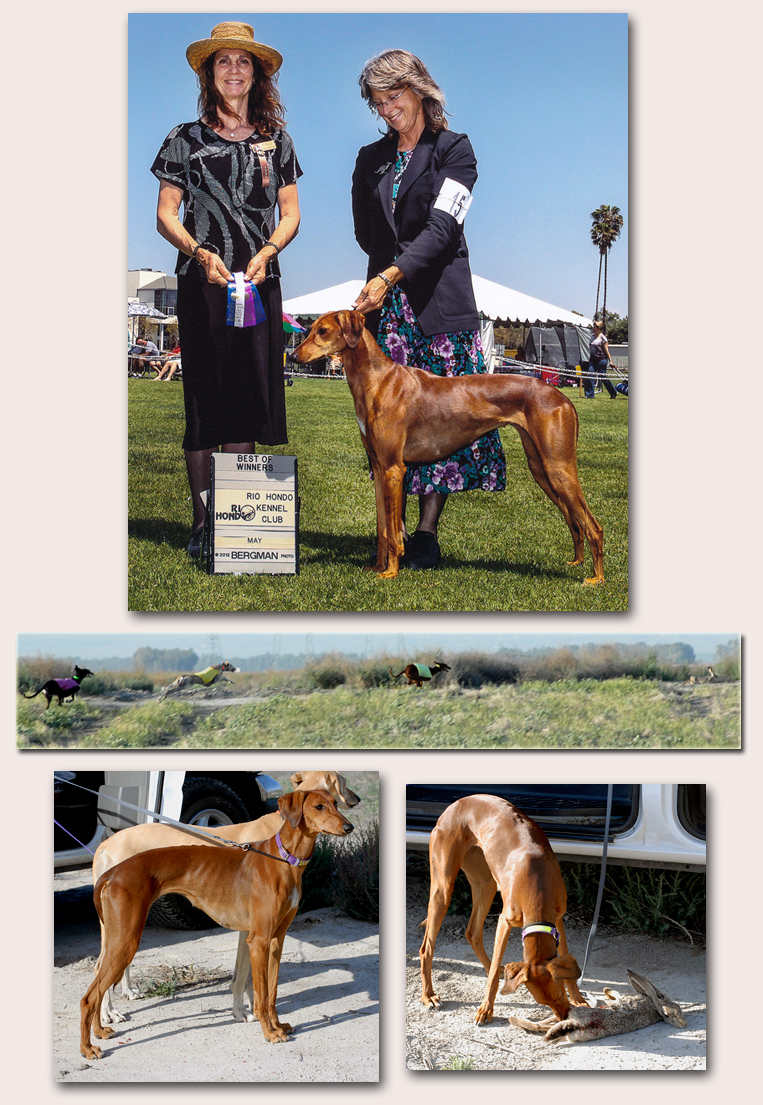 At one year of age our little "Red Zinger" has been a busy girl. Before her first birthday she has won three major Reserve Winners at Specialty shows, one Best of Breed (over specials) and accumulated five points towards her AKC Championship. In the field she is developing very well. She's FAST and has extremely high prey drive. She is working the jacks with the big dogs and is now enjoying the rewards of her maturation and her schooling up in the field. Watch out hares, this little demon is to die for!
(Show photo by Rich Bergman, Tiflah winning Best of Winners under breeder/judge Sharon Kinney ~ Issibaa Salukis,
all other photos by K Lonero)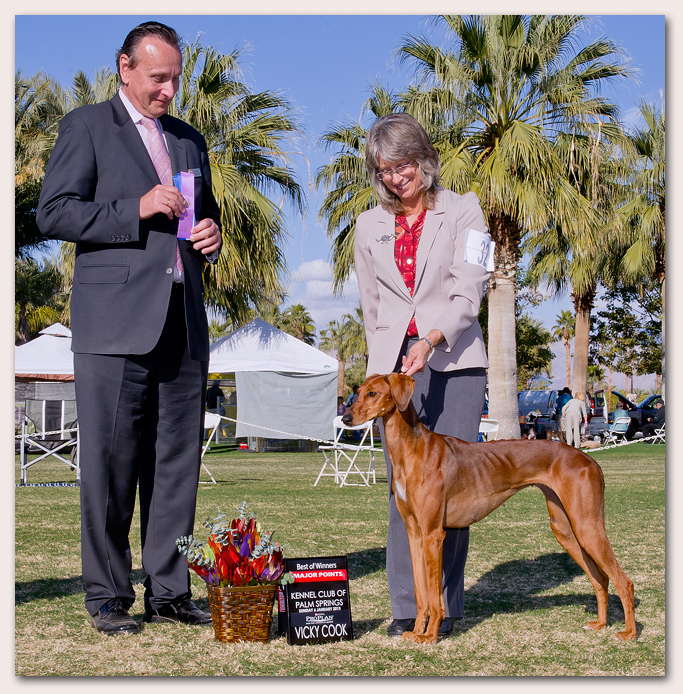 In January of 2013 Tiflah won her first major at the Kennel Club of Palm Springs under breeder judge David Miller. During the rest of the year she won a number of very large specialty and supported entry Reserve Winners Bitch awards in very limited exhibition. She enjoyed a very stellar first season of coursing at the hunts by winning a first and two seconds at her first three TCC hunts, landing her in the Number One Saluki, Number Four All-Breeds spot in the TCC stats for for the 2012/2013 season
(Photo by Cook Phodography)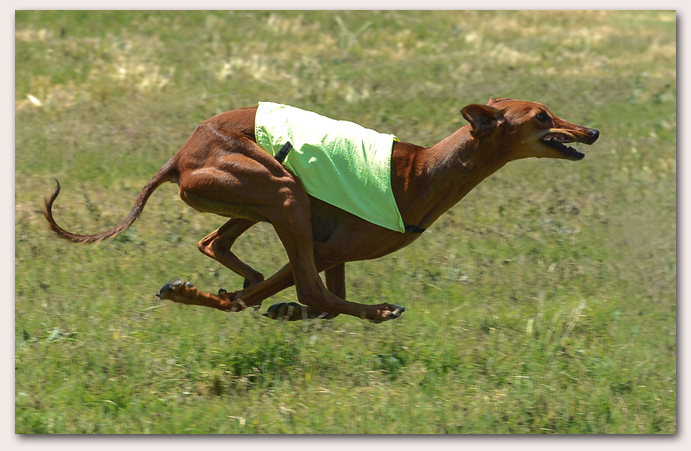 Our little gal also enjoys chasing plastic! Well, she'll just about chase anything just to chase and run. She has earned two AKC Lure Coursing majors and recently completed her Senior Courser title. this past open field coursing season proved very good for her and in the only two hunts she ran in TCC, she won the first hunt with a spectacular course and worked the hare single-handed before making an unassisted take to complete her Coursing Breed Championship! She earned second place in the other hunt and ran in one NOFCA hunt, a tough mixed field, and won fourth place. For us, she truly has it all!
(Photo by clark Kranz)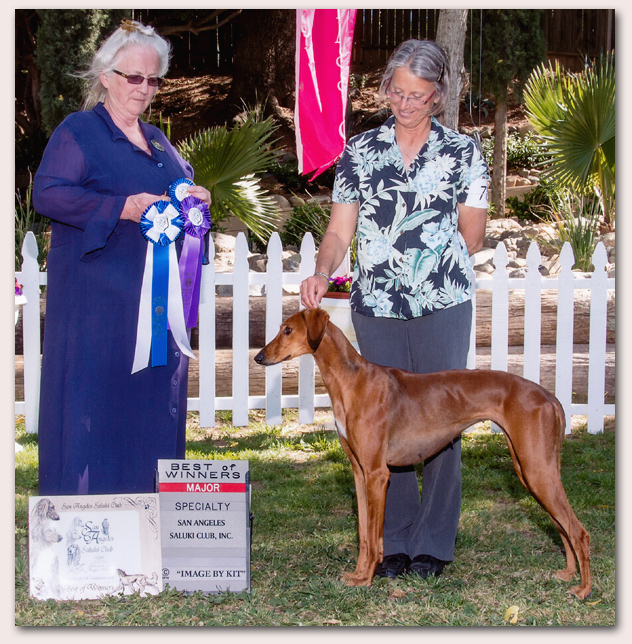 On April 11th, 2014, Tiflah went to the San Angeles Saluki Club Specialty show and under breeder judge Monica Henderson-Stoner (Sacre-Tyana Salukis) was Winners Bitch and Best of Winners for a four point major! This brought her to 14 points and both majors for her show title! On May 31st, 2014, she completed her title with a bang, going Winners Bitch, Best of Winners and Best of Breed over six specials for another major under sighthound specialist Marianne Klinkowski. Our little overachiever just keeps on rolling!
(Photo by Kit Rodwell)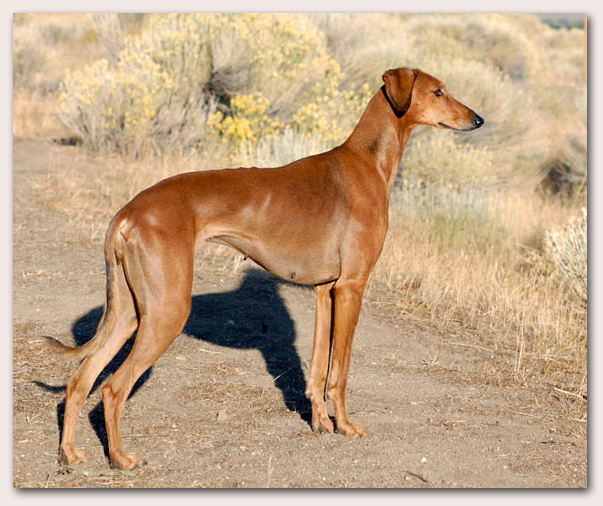 In May of 2014 Tiflah completed her AKC championship at the Kennel Club of Pasadena show under sighthound specialist Marianne Klinkowski by winning Winners Bitch, Best of Winners and Best of Breed over six specials! This little girl has more than achieved all we'd ever dreamed she would on top of being a complete delight to live with. Now she is raising her litter of five, sired by our Santana Hello, Goodbye at RFR, CC, CM, born on the 4th of January, 2015. Once her maternal duties have been completed we know she will very much enjoy returning to the fields and deserts to pursue her first love, pursuing hares! She'll be training her son, the smooth tri colored male,
Moshire RFR Rock The Casbah and daughter, the smooth red sabled Moshire RFR Sweet Emotion,
while she enjoys herself running once again.