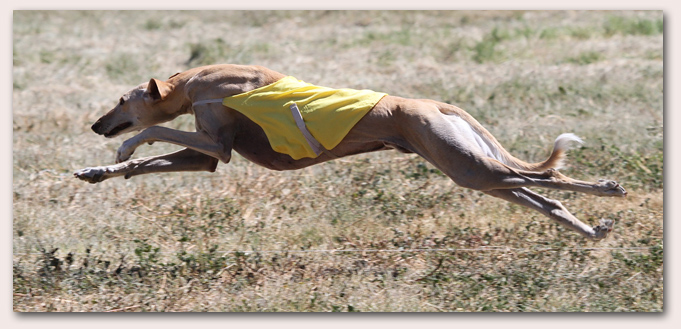 (8/22/2010) Ringo is pictured above at the CCA lure trial running in the singles stake. He enjoyed the day and won first place! He'll be exploring lure chasing more and next time we'll run him to certify for ASFA Open Stakes competition. Fun on the lure is a great way to help keep the hounds in shape for their true passion: Open Field Coursing. To learn more about Ringo and his life with us, please scroll down this page.
(Photo by Jim Wallace Photography)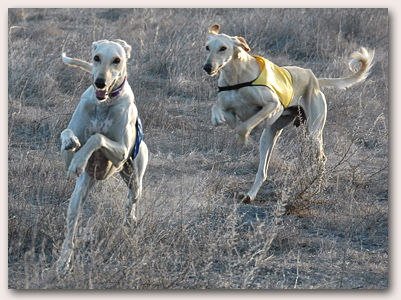 Santana Hello, Goodbye at RFR CC, CM is the second of the Sky x Boushra litter to come share our lives with us. Warren and Vicky Cook (Santana Salukis) were kind enough to bring him with them to Lompoc in July 2007, where he joined us. Such big changes for this little boy! The Lompoc shows were his first dog show experiences and then onto a new family and home.
(Photo by Cook Phodography)
Height: 26"
Weight: 56.5 lbs
SPDBS CRN: 0551-007-2
OFA Thyroid normal: SL-TH23/50M-NOPI
OFA Cardiac normal: SL-CA94/45M/P-NOPI-ECHO
AKC DNA Profile: V539480

After some initial settling in and getting a good look at his new environs and family, Ringo was a tired boy. Being a true Saluki, he quickly found "his" spot on the living room sofa.
| | |
| --- | --- |
| (Early Fall 2007) Ringo really enjoyed his first outtings with his new "pack" high up on the trails northeast of Tehachapi, CA in the southern tip of the Sierra Nevada mountains. He was especially happy and at ease, moving eagerly in and out of the heavy brush and trees, always alert for any sign of game. His first foray out in the Mojave (pictured) was just as enjoyable and he ran with the pack and followed their leads intuitively. | |
Ringo settled into our home quite nicely and watching his personality and individual traits start to express themselves has really been enjoyable. He is quite a handsome hound and he and Nova are our first smooths. Now, we don't know how we lived without them! Ringo is really coming along in the field and the photo on the right is the view we are getting most often as he comes out of the slips! Ringo earned 50 points and a first place, half of what he needs for his coursing titles during the 2007/2008 coursing season. It has been fun watching him go from never having seen a hare to winning hunts in a few short months. Way to go boy!
(Photos by K Lonero, left and by Herb Wells, right)

(March 2008) Ringo still has his spot on the sofa and takes full advantage of it after a morning in the desert. What a great member to the "pack" he has become! We are so thankful Warren and Vicky were willing to let him come to us as we love him dearly, as do Nova, Sky and Zelia.
| | |
| --- | --- |
| | (4/12/2008) Ringo and Zelia taking a water break while hiking on the trails. As Ringo is maturing and getting plenty of exercise, he is filling out and becoming even more handsome. We really look forward to seeing how these boys finish up in another year or so. Meanwhile, we are more than pleased with their progress to date. Ringo is a tribute to his lineage and we couldn't be more proud of him! |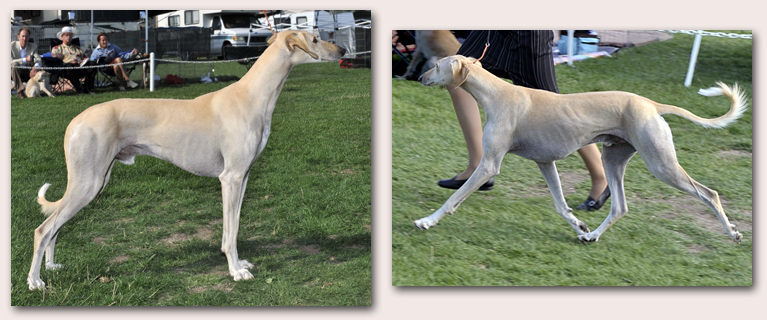 (7/24/2008) Our Ringo has celebrated his one year anniversary with us! These pictures were taken in the ring at Lompoc during the Desert Bred Exhibition sponsored by the Saluki Club of America at their Western Regional event. We'd never put a show lead on Ringo before this moment and we found he is a natural "show dog"!! We could not be more proud of this boy and how he has matured over this past year with us, both as a coursing hound and as a wonderful member of our household. Go Ringo! We love you!
(Photos by Cook Phodography)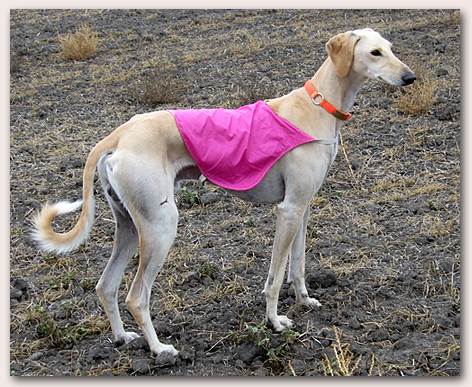 (11/22/2008) Ringo is pictured out in the field at three years of age. He has really come along and is beginning to take command on courses. He was run in only three hunts this 2008/2009 season and earned 20 mixed points and 5 more breed points, bringing his total to 75. Meanwhile, in training and coursing with his housemates, he continues to improve and impress us with his speed, agility and endurance.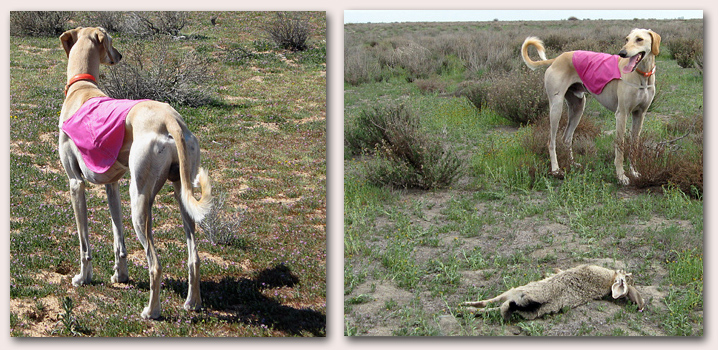 "Ringo", like his brother "Nova" has matured into a very balanced, handsome boy. We are extremely pleased with his progress as a coursing hound. It has been very fullfilling watching him learn about hares and hunting this past year and a half. He runs smooth and low, like his sire and shows great speed and endurance. Now he will be learning how to pick up the hare, the final learning curve to becoming a complete courser! **Flash!** (6/5/2009) Ringo has graduated "school"! He caught his first hare out in the Mojave and proudly packed it all the way back to us. Way to go little boy!!
(Photos by K Lonero)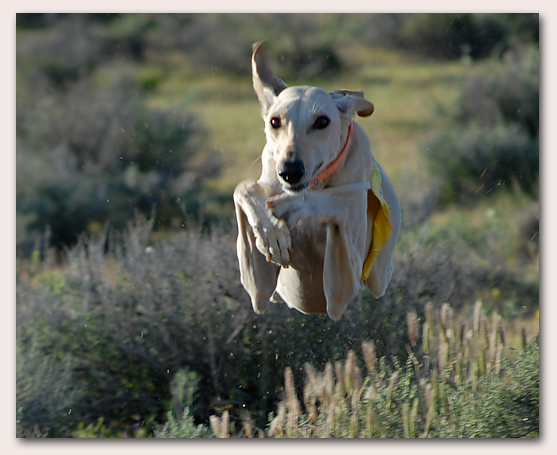 Ringo out in the desert, free once again after his long ordeal with his hock injury! (Click HERE to learn more about the injury, surgery and rehab.) His first time out in the desert after six months of confinement and rehab yielded one very happy boy!
(Photo by K Lonero)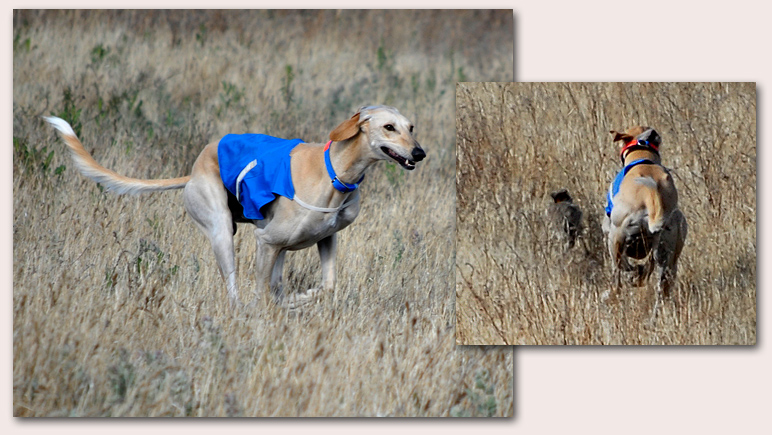 During the summer and early fall, Ringo spent time in the fields getting back to doing what he love best, runnin' hares! He was gradually brought back up to full length courses after being taken to fields where we knew the courses would terminate early, due to high cover and/or escape routes for the hares. His re-conditioning went perfectly and he was ready by fall to get back into competition.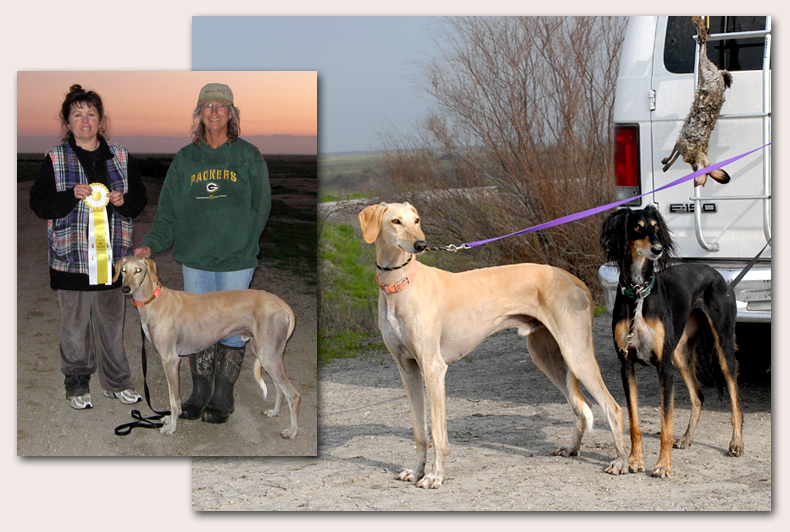 On 11/28/2010, after his spring and summer of rehab and gradually building up strength for coursing, Ringo has returned to the hunts and in his first three hunts earned one 2nd place and two 5th place finishes along with both of his AK credits to finish his Coursing Championship. Two hunts later, he ties for 2nd place in the Mia Cup hunt and completes his Courser of Merit title on 1/22/2011. The little boy has sure come a long way in this past year and we celebrate with him!!
He is pictured on the left, after a long day in the field with judge Merril Woolf (Kentfield Whippets) finishing his CM title, and on the right on 1/24/2011 with our Zelia after enjoying a couple of fine and thrilling courses.