**5/13/2010, final Ringo update!**
It has been five and a half months post surgery and nine and a half months since Ringo injured his right hock on a trail hike in July of 2009. With continued time and luck, this should be the last of our updates to this page! Please click HERE to see the final update!
**4/25/2010 Ringo update!**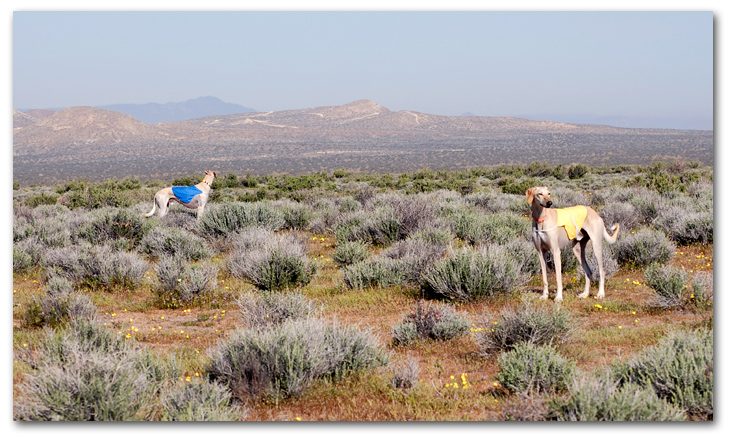 Five months post surgery and Ringo has returned to running in the desert with his friends! Please visit April in The Desert to see more about Ringo's continuing rehabilitation and gradual return to complete function!
**3/22/2010 Ringo update!**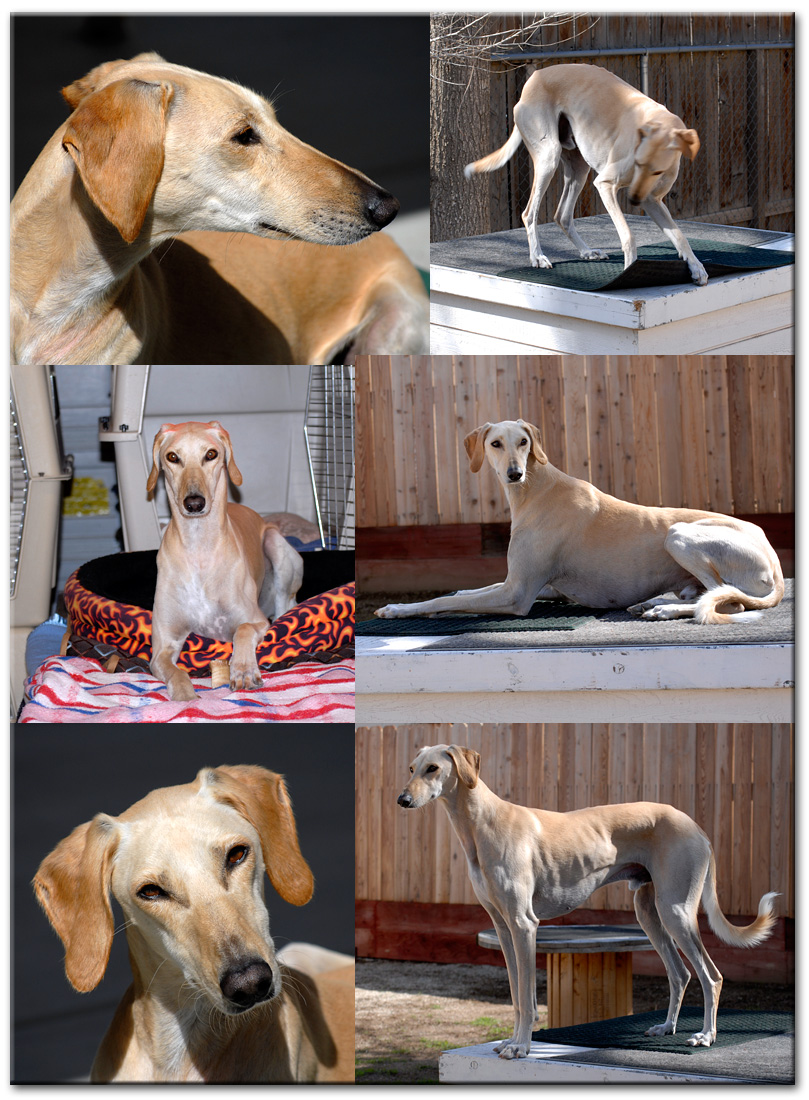 Four months post surgery, Ringo is back up where he belongs! The kennel room has been arranged back to normal and the boy has his bachelor pad back! You can see him in his flame bed, which is up on top of two 500 crates. He is now also allowed back up on the spool and dog house thrones out in the yard much to his delight. The photo at the top/right is of him "sillying-out" on his first ascent back to the top of one of the houses.
He is enjoying his two times per week trips up to run the trails on our spring hikes and life, in general, has returned to normal for him! His next venture will be BACK OUT ON HARES, which we feel he will be strong enough for in another month, five months post surgery!
**Click HERE to see Ringo 15 weeks post surgery running again with his pals!**
**Click HERE to see Ringo 13 weeks post surgery!**
**2/17/2010 Ringo update!**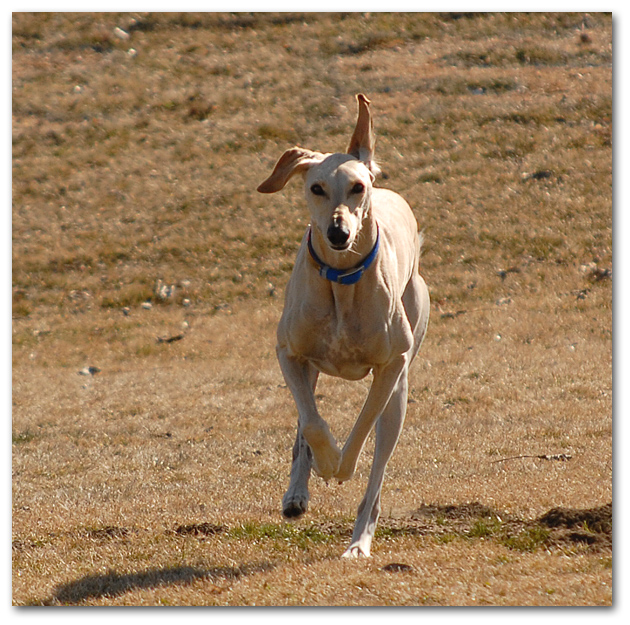 Today was the day! Exactly seven months after the initial injury to Ringo's hock, he was turned loose for his first turn out. We had an unusually warm day for this time of year, and I took him out mid-day, when the dogs are usually napping, as not to encourage too much enthusiasm. As you can see, the special happiness that only shows in the face of a hound when he is running has returned to Ringo's face on this day...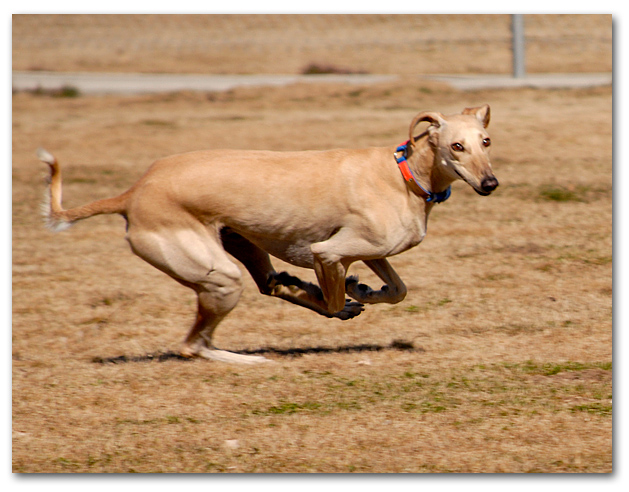 In this photo, not only can you see Ringo's smiling eyes, but you can also see his right hock bearing more of a load and experiencing more flexation and rotation under this mild load than it has to date in his healing and rehab process. It has now been 12.5 weeks since Dr. B did the surgery to correct the avulsion to the superficial digital flexor tendon...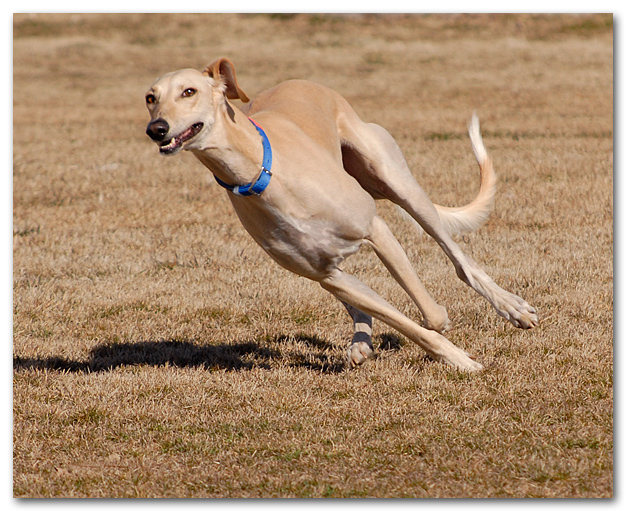 Pure happiness!...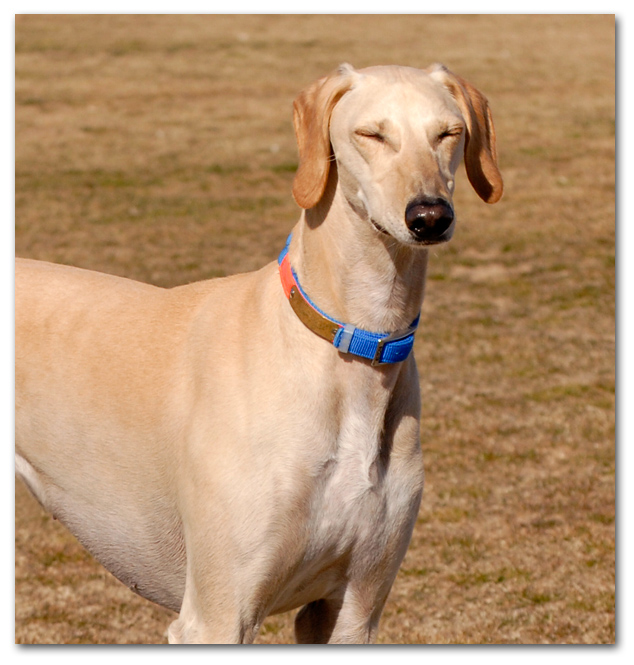 ...and, a brief moment to bask in the glory of the sun. During these next several weeks Ringo will be allowed more time during these turn outs and be encouraged bit by bit to run harder as his strength and flexability return. Meanwhile, today has been a marvelous day and our boy continues on his path towards running free in the hills and on hares once again.
**2/5/2010 Ringo update!**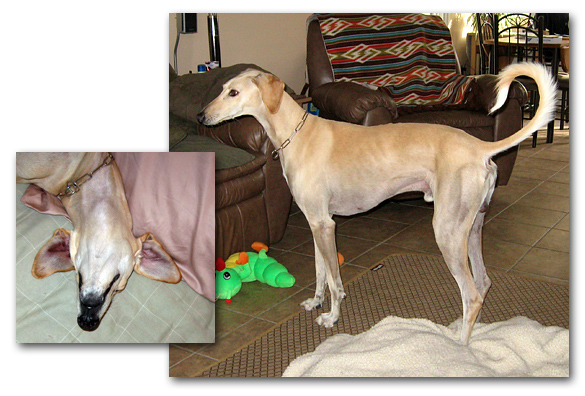 (2/5/2010) It has been almost eleven weeks since Ringo's surgery now! The past several weeks have been quite exciting for our boy. Between his continued progress with his rehab and his anticipated litter on the way, 2010 is looking great so far! In the past couple of weeks, Ringo has built up to walking and/or jogging (trotting) 3.5 to 4 miles per day. Now his morning usually starts out with a 1.25 mile walk with the entire family, including his father, Sky (almost 13 years old). Then, he and his brother, Nova and best coursing buddy, Zelia and myself head out on a 2.5 - 3 mile jog. It is so wonderful seeing him beginning to build his muscle and strength back up again!
In another week we expect the boy to begin some canter work, likely along side me on a bicycle. Between his progress and his upcoming litter (see the News and Puppies pages!) we are looking forward to a very bright and positive spring! Ringo is certainly returning to the bright, happy and often silly boy we love so much.
For a bit of a taste of his sillyness, check him out with a new toy: HERE!
**1/13/2010 Ringo update!**
Ringo visited with Dr. B today and now he is cleared to begin jogging with me again! It is time to move his exercise level up a notch and I will now start to add jogging intervals to his walk in the morning. For the next month we will gradually build up his jogging (trotting on lead) until we are back up to the normal distance for our weekly conditioning protocol (3 - 4 miles). After one month (12 weeks post surgery/mid February), Ringo should be ready to begin slow galloping! The boy is well on his way back to complete function and we can't thank Dr. B enough for his skill in repairing Ringo so he can be active and pain free once again!
Click Here to see a video of Ringo seven weeks post his surgery!
**12/30/2009 Ringo update!**

Ringo received a great Christmas present this year! He is finally allowed (under supervision) out of the pen in the living room to start moving about the house! No rambunctious playing, twisting or turning yet, but he can get on the furniture carefully and is REALLY enjoying getting back into being a full fledged member of the house again. Dr. B rechecked him yesterday (12/29/2009) and is very happy with how he is doing and how the hock feels. We will continue our rehab, which is walking several times a day. His main, morning walk is up to 1.25 miles, most of which is on groomed dirt, an oval around a tract of undeveloped, but maintained section of land just to the south east of our home. In the evening we walk another .75 of a mile, mostly on dirt. The leg is gradually building back up and he is getting closer and closer to full, even weight bearing with each day. We are looking forward to a wonderful New Year with the boy as Dr. B feels that by twelve weeks post surgery, Ringo will be ready for light running (canter) as long as he keeps progessing on schedule.
**12/18/2009 Ringo update!**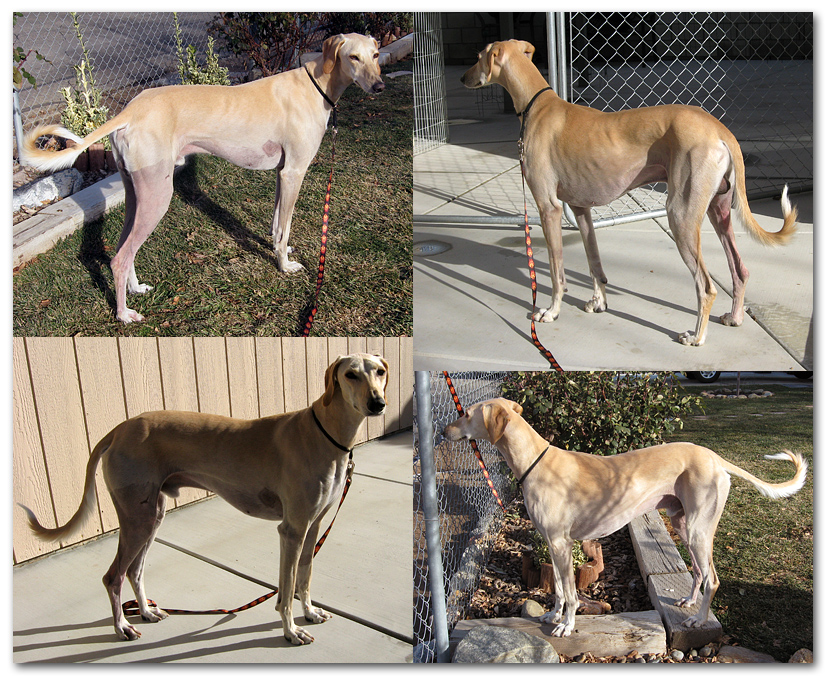 (12/18/2009) It is a beautiful, unusually warm day here, so I took the opportunity to try to take some more photos of Ringo. It has been four weeks since his surgery! We are seeing improvement each day and you can see, looking at these photos, that he is putting more weight on the leg and standing more evenly than he was just two days ago (see below)! He is REALLY enjoying getting out on the short walks around a block or two and moving about the yard more freely (still on lead).
**12/16/2009 Ringo update!**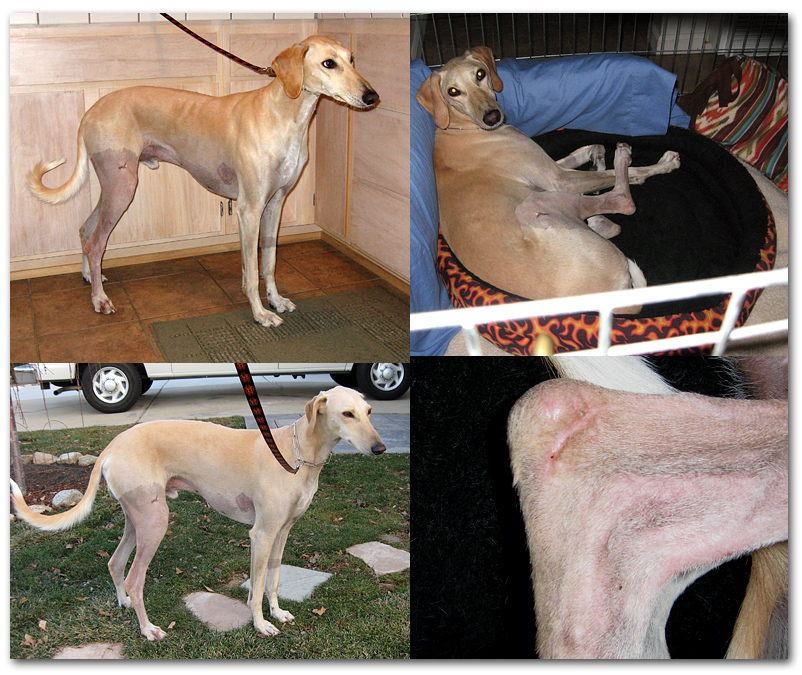 On 12/12/2009, Dr. Borostyankoi removed Ringo's heavy bandaging. Since he had already been in a splint for four weeks prior to his surgery, and lame and confined for two months prior to that, Dr. B felt it was time for him to start to use the joint and build up all of the supporting and surrounding tissues. With the expected shrinkage of the scar tissue at the surgical site (lateral) he didn't want to risk the medial (inside) of the sheath from being pulled in it's thin, atrophied, condition.
In the photos above, you can see while he is not completely weight bearing on the leg, he is using it and the progress has been good and rapid. In the photo of the lateral view of the hock, you can see the incision and where the sheath was repaired. One can also see the boy at rest in his "condo", which he has become rather fond of with his bed, pillows and toys (of course!).
Today (12/16/2009), Ringo went to see Dr. B for a recheck and received a very good progress report! Dr. B is very happy with how well Ringo is coming along, just five days after the removal of the bandage. Ringo is weight bearing and walking well on the leg and has finally been cleared to actually leave the yard to go on short walks! This is very welcome for a boy who has been confined for so long. Now, we are beginning the rehab process in earnest!
**12/4/2009 Ringo update!**
Ringo returned to the VCA All Care facility on the 4th for his two week recheck and bandage change. He also got his staples out. Dr. B reports everything looks good, incision is healed nicely and the tendon is firmly in place. Ringo will return in one week, on the 11th, for the third bandage change. At 28 days it is likely that this bandage will come off and Ringo will be slowly introduced to rehab as long as everything keeps healing on schedule as it has been. Meanwhile, he continues his pen and crate confinement and is only allowed out on lead to relieve himself. Poor guy is really starting to get pent up energy after almost FIVE months of confinement. We will make it, though!
Ringo on the mend!!

(11/28/2009) Here is Ringo dealing with his pen confinement. Yesterday he went back to VCA All Care in Fountain Valley and Dr. Robert Rooks DVM, MS, DACVS, DABVP examined him and took care of his first bandage change. Dr. Rooks assures us that all looks well and the tendon is stable in its groove over the fibular tarsal bone. Ringo will return to VCA All Care in one week for his next bandage change and his staples will be ready to be removed. Quite a bit more healing time is needed for the sheath that holds the superficial digital flexor tendon in place. Once it is fully healed our boy can begin his road into rehab!

(Yes, that is a freezer ziplock on his foot. We have some snow and rain here and it must stay dry!)
**Ringo is home again!!**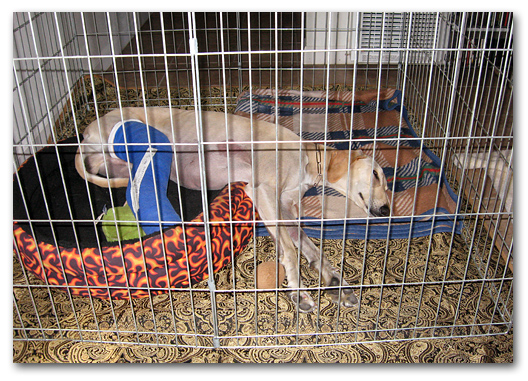 (11/22/2009) Ringo is back home again! He will have to be strictly confined for the next four weeks and only allowed leash walks to relieve himself, but he WILL be on the solid road to recovery!
**FLASH!!! New Ringo News!!!**
(11/21/2009) Dr. Frank Borostyankoi DVM DACVS ("Dr. B") of VCA All Care Animal Referral Center has completed surgery on Ringo this morning! Final diagnosis and repair involved (description from "Care of the Racing Greyhound, a Guide for Trainers, Breeders and Veterinarians"):
"Avulsion of Superficial Digital Flexor Tendon - The superfical digital flexor tendon is one the three tendons which, together, comprise the Achilles tendon. The tendons arise from the three muscles of the calf region. The tendon of the inner and outer muscles (medial and lateral gastrocnemius) are inserted onto the top of the fibular tarsal bone (tuber calcaneus=point of hock). The remaining (third) tendon arises from the superficial digital flexor muscle. It follows the other two tendons to the tuber calcaneus, but, instead of attaching to this point, continues over the back of the hock where it divides into four separate tendons. These attach to the upper section of the middle toe bone (phalanx 2) of each digit.
With overflexion of the hock and abnormal rotational forces that may result from the trauma of bumping other Greyhounds, the fibrous tissue that holds the superficial digital flexor tendon in the correct position over the top of the fibular tarsal bone is torn. The tendon is then avulsed or displaced to the inside (medial) of the fibular tarsal bone...
Clinical signs - There is obvious lameness with a reluctance to bear weight on the limb. The superficial digital flexor tendon can be seen to be displaced to the inside of the fibular tarsal bone. Radiographs should be taken to rule out other injuries to the hock bones.
Treatment - Surgical repair is most effective. This entails replacing the tendon back into the groove over the tuber calcaneus (tarsal bone) and suturing the sheath surrounding the tendon to the torn fibrous tissue, ligaments and the periosteum covering of the bone..."
This is what Dr. B has done for Ringo and now we can finally see healing, the end to his pain and his recovery happily in sight! We will be bringing our boy home tomorrow (11/22). Both Dr. Rooks and Dr. B say this in an injury that can be difficult to diagnose in the early stages. While we are sad that it has been so long into this process, using various treatment options, before finding the true nature and remedy for this injury, we are most thankful it has happened and we celebrate Ringo's future!
Ringo's injury: The early history...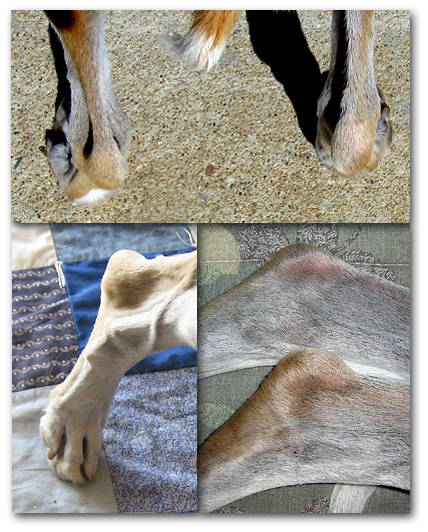 On August 8th, 2009, Ringo (Santana Hello, Goodbye at RFR) sustained an injury to his right hock. Diagnosis was partial tearing where the Achilles tendon attaches to the hock (bursa). We had hiked up on our mountain trails in the morning and he'd been fine, but several hours post the hike, he was on three legs and very lame. The swelling appeared within the following eight to forty-eight hours after the hike.
Over the next two months we visited two of our favoite ortho specialists, Dr. Diane Craig of Veterinary Surgical Specialists in Tustin, CA and Dr. Teg Sidhu of At The Oaks Pet Hospital in Bakersfield, CA. Both agreed this was an injury caused by hyperflexing the joint which is not hard to imagine with Ringo, since we often refer to him as "Gecko Boy". He scales cliffs so steep you feel he is going to fall off of them backwards! Most likely some ground gave away out from under the leg on one of his numerous ascents, causing a sudden need for support that he wasn't prepared for.
First we visited with Dr. Craig and she explained that the surgical prognosis for this type of injury is poor. Dr. Sidhu later agreed to this. The first approach to healing the injury was rest and anti-inflammation medication. From early August to early October we tried to no avail to get this stubborn injury healed. Ringo would improve while on the medication, but as soon as he was removed from it, the swelling and pain would return.

He was a very good "patient", however any slight wrong movement would cause him to be back up on three legs. Sometimes those "stingers" would only last a minute or two, but overall it became apparent that he wasn't healing or wasn't healing nearly as well as we hoped for. Thoughts of Ringo never being able to run again became more and more of a reality as the days wore on.
In a conversation with friend, Charlotte Wrather (who raises and trains Thoroughbred race horses, along with coursing Salukis), she told me about the veterinary medical advances in stem cell therapy and sent me the link for Vet-Stem Regenerative Veterinary Medicine. Searching their database of certified practitioners I found both Dr. Craig and, more locally, Dr. Sidhu as licensed to do the stem cell therapy! Our excitement grew as this seemed like the chance for our boy to heal and, perhaps run again. On October 8th, I took Ringo to see Dr. Sidhu and inquired about the Stem Cell therapy and after examination, he said that Ringo would indeed, be a good candidate!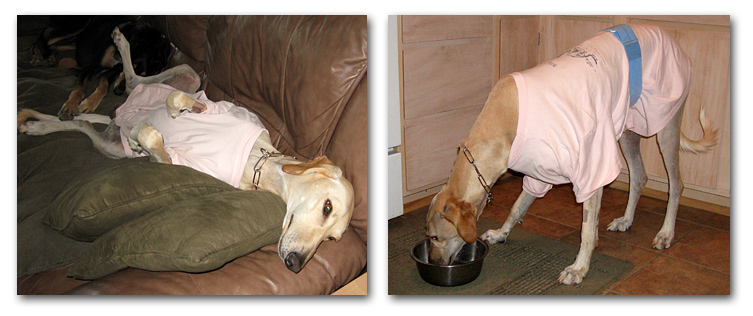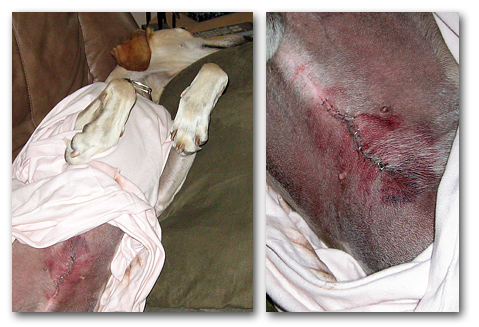 On Monday, October 19th, Ringo underwent the fat harvest procedure. The sample was sent overnight to Vet-Stem and returned as Ringo's own stem cells, ready for injection into the injury site by Wednesday, October 21st. It was Ringo's fourth birthday and we are hoping and praying this will be the best gift we could ever give him!
After the stem cell injections to his hock, Ringo returns home to begin the long road to healing and rehabilitation. This is compounded by the fact that he has already been confined for over two months, poor boy! He will be in the cast for six weeks, then likely into a soft wrap for at least another three weeks. This is all bearable as now we have the hope the stem cells will "do their thing" and promote the tissue growth this injury needs to complete the healing process.

We've had some difficulties with the fat harvest site. The incision is in a tough area to try to heal, especially on a male dog as part of it runs right up where the umbilical cord was at (belly button) and the skin there is very thin and fine. The challange is how to keep the dog away from it and from removing the staples! Ringo, like most sighthounds, is very good at removing one of those dreaded e-collars, so we employed the use of t-shirts, belts (made from two of my elbows straps that Vicky Clarke gave me!), gauze pads and tape, pins and plenty of Bitter Apple.
When we reached the six day mark on the incision and staples, Ringo finally managed to get to them and remove half of them, requiring a return trip to Dr. Sidhu on Monday, October 26th, to replace them. We made it another seven days and during the night, our dear boy ripped open the t-shirt, gauze, tape and belt and tore out ALL of the staples. Luckily, most had healed, but he still needed to return to Dr. Sidhu the following day (November3rd) to check the open area (about an inch and a half) and to have his cast changed.

(11/5/2009) We employed the use of a kennel muzzle and we have had it on him successfully for almost three days since the last set of sutures were applied. (He received five sutures to close the balance of the incision, vs staples and another round of antibiotics.) It didn't take long to train him to the muzzle and now we can leave the bandaging, t-shirt and belt off so the incision receives more exposure to air and circulation. We think we might finally have this incision on the final road to recovery so we can focus completely on the hock!

| | |
| --- | --- |
| | (11/6/2009) Here is the boy now quite well adjusted to having to wear the muzzle! It is going great now and the incision and sutures look super. By this time next week, we should be able to remove them and this part of the treatment will be done! I have noticed today that he is bearing more weight on the leg/cast. Before he would walk on it, but if he wanted to trot, he would go up on three legs. Today, he is using it about 60% of the time he is trotting. It has been two weeks and two days since the stem cell injections. Are the cells working, or is this cast just more comfortable? Time will tell... |

(11/19/2009) In the past month since the stem injections, Ringo had been doing very well. The incision is finally 99% healed and the muzzle and t-shirt are gone. However, on Monday 11/16/2009 we had a very bad thing happen with Ringo (or so we thought). He was in the small front yard by himself to relieve himself and he decided to unlock some of his months long pent up energy. He went crazy, racing around, but only for a few moments before I caught him. It was enough that when I did, he went back up on three legs. UGH!!! So, the following morning we went back to Dr. Sidhu and he removed the cast and wrap and we found substantial swelling at the hock. Sob!!

Dr. Sidhu had another orthopedic veterinarian, Dr. Rooks, due to visit with him on Thursday, the 19th, so he asked for us to bring Ringo back to be examined. What has now been found is the superficial digital flexor tendon is slipping in and out of the "groove" at the top of the fibular tarsal bone ("point of hock") and this needs to be surgically repaired, so now we are on to more treatment for this poor boy! The surgery will involve positioning the tendon back in it's "track" and securing it surgically in the groove by repairing the reputured soft tissue "sheath" that holds it in place. Ringo leaves for VCA All-Care in Fountain Valley tomorrow (11/20) morning and Dr. Frank Borostyankoi DVM DACVS (known to his clients as "Dr. B") will do Ringo's surgical repair the following morning. Our boy is scheduled to come home the next morning to really begin his full healing and rehab process!