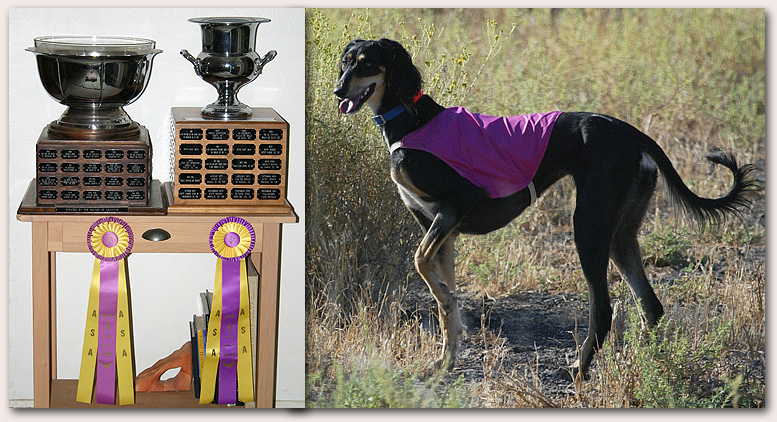 Zelia had a short, but sweet coursing season in 2006. She ran in only two hunts, winning both cups! The first being the ASA Ishtan Cup, which she shares with "Shadow" (owned by C Wrather and J Gonzalez) as we could not get the runoff done in time. The second is the highly coveted ASA Christmas Cup. Zelia won this runoff in a spectacular duel with C Comroe and S Simpson's "Rebel". An injury precluded Zelia from further competition in the season, but she has certainly proven the little girl can get the job done. The Christmas Cup (left) and Ishtan Cup (right), two of the American Saluki Association's oldest perpetual coursing trophies originating in the 1960's. Zelia's name is engraved on plaques which are affixed to each trophy. What an honor for our hard running girl to win two cups in one season!
(Zelia photo by Herb Wells)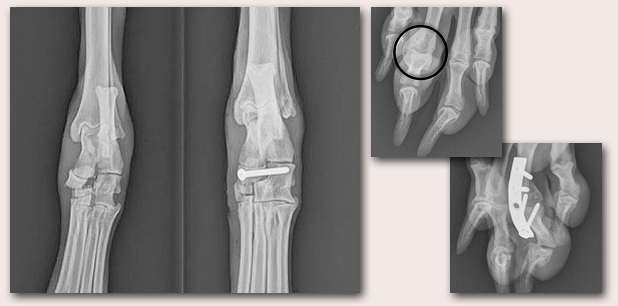 In January of 2007, Zelia suffered a dislocation and several fractures to her left hock. Dr. Diane Craig of Veterinary Surgical Specialists in Tustin, CA did the surgery to repair the damage. As Zelia was going through rehab, it was Dr. Craig who pushed me to push Zelia once she knew the healing was complete to the joint. Scary stuff to begin running her again post this injury and surgery! Sure enough, Dr. Craig was right and Zelia did return to a high performance level and enjoys coursing today. She was entered in three hunts during the 2007/2008 coursing season and placed in the ribbons in all three. There's no stopping this bionic babe!! Our profound thank you to Dr. Craig for ensuring that Zelia still runs!!
Dr. Teg Sidhu of At The Oaks Veterinary Clinic in Bakersfield, CA did the toe fuse surgery in July of 2008 on Zelia's left, rear middle toe. This is the toe (P1/P2 joint) was was originally dislocated in December of 2005. It healed via closed reduction and held up until a fluke mis-step over a rock planter in our own front yard late June of 2008. Then it was time for Dr. Sidhu to clean up and fuse the joint and the result has been wonderful. The immobility in the one joint doesn't hinder Zelia's abilities on hares at all and now, running as a veteran, she is in top shape! Thank you Dr. Sidhu for your skill in keeping Zelia going strong!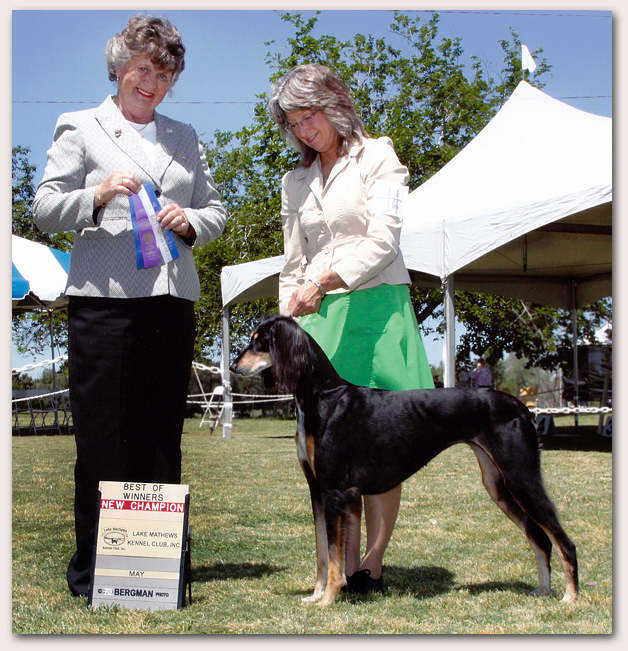 Zelia finished her AKC Championship on May 1st, 2010 under judge Karin B Ashe at the Lake Mathews Kennel Club show by winning Winners Bitch and Best of Winners at the age of seven and a half years. Her late age of completing her title was no fault of hers, but due to my schedule as I am usually showing client's dogs at the shows. Zelia got her rare opportunities to be shown whenever I wasn't hired and she certainly made the best of her few outings!
**Zelia wins Best in Specialty Show!!**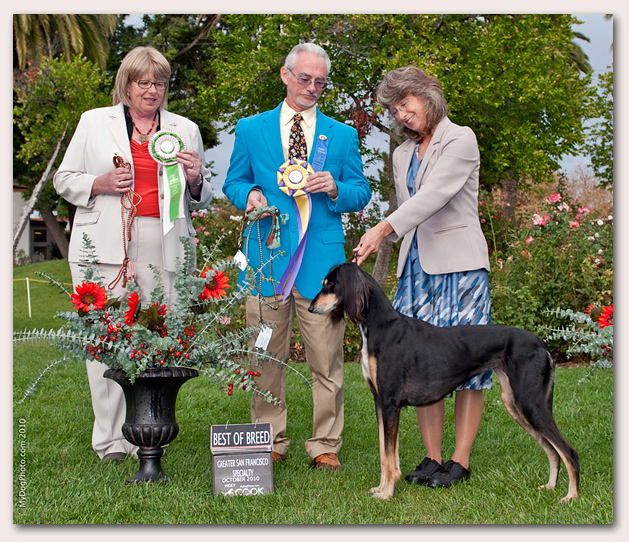 (10/23/2010) WOW, what a day for Zelia at the Saluki Club of Greater San Francisco Specialty Show! First, in the morning, she won Best in Veteran Sweepstakes under breeder/judge Catherine Comroe (Doubletime Salukis). If we weren't flying high enough from that fine win under a fellow open field coursing enthusiast, later in the day she won her Veteran Bitch class, then suprised us with a flawless performance (if you know Zelia and her antics, this was a huge surprise!) and went on to win Best in Specialty Show under another breeder/judge Mr. William Flynn (Silvershadow Salukis) over an entry of 106!!!
Then, as extra icing on the cake, Mr. Flynn found and appreciated Zelia's daughter, Ch. Uziduzit Second Amendment CC, CM (Zoey) for an Award of Merit win...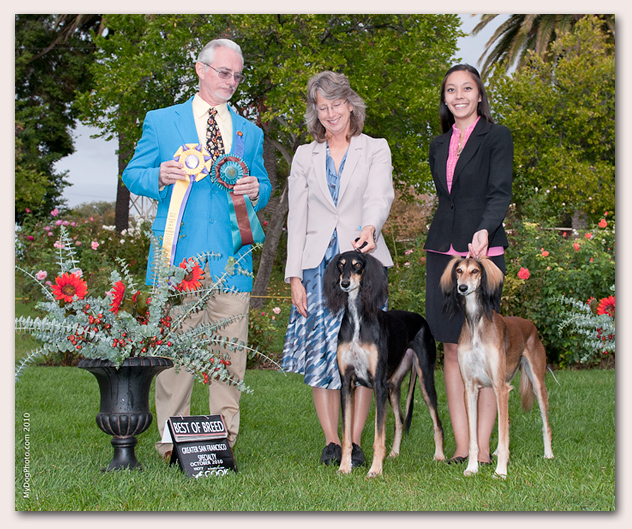 What a great day for both mother and daughter! Our profound thanks to both Catherine Comroe and William Flynn for finding our little girls from the field and appreciating their qualities! As always, Zoey was handled by her owner, Lauren Chen and Zelia was handled (and kept on the ground) by myself.
(Photos by Cook Phodography)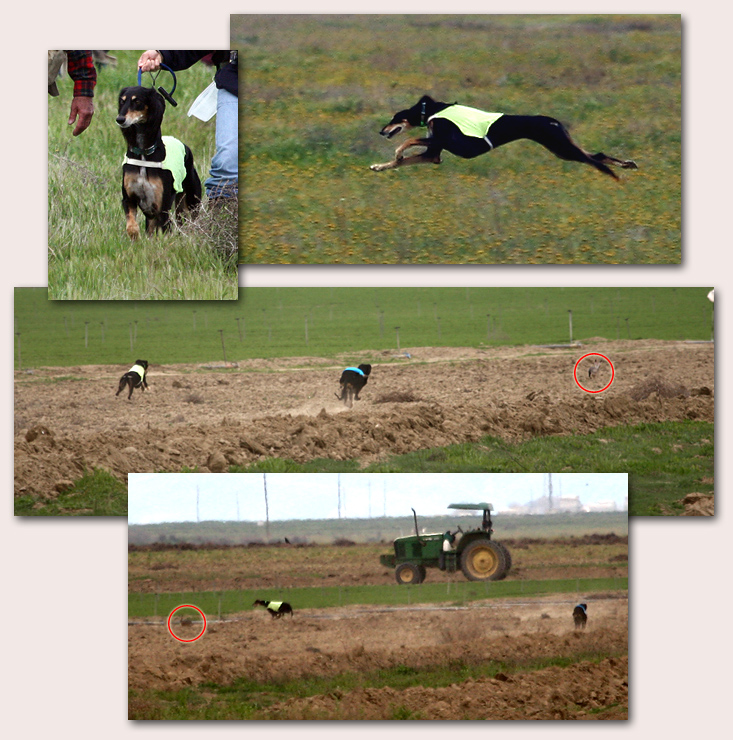 On March 6th, 2011 Zelia had a great day at the American Saluki Association Archives Hunt for Veterans! Well, maybe too great a day as she sighted a hare off in the distance and slipped her lead and enjoyed her own non-official course before she ran the first of her two hunt courses (silly girl!). None the less, she finished in a tie for second place with a super second round course (pictured above) where she and "Koochi" (in blue) took their hare (you can see him in the red circles in the photos) out across rigorous, rough plow. Way to go to the ol' gals! Zelia, you still know how to get 'er done and we are proud of you! All of the veterans ran excellent courses on the day and all are a testament to their breeding programs and to their owners for keeping them in top condition.
(All photos above by Herb Wells)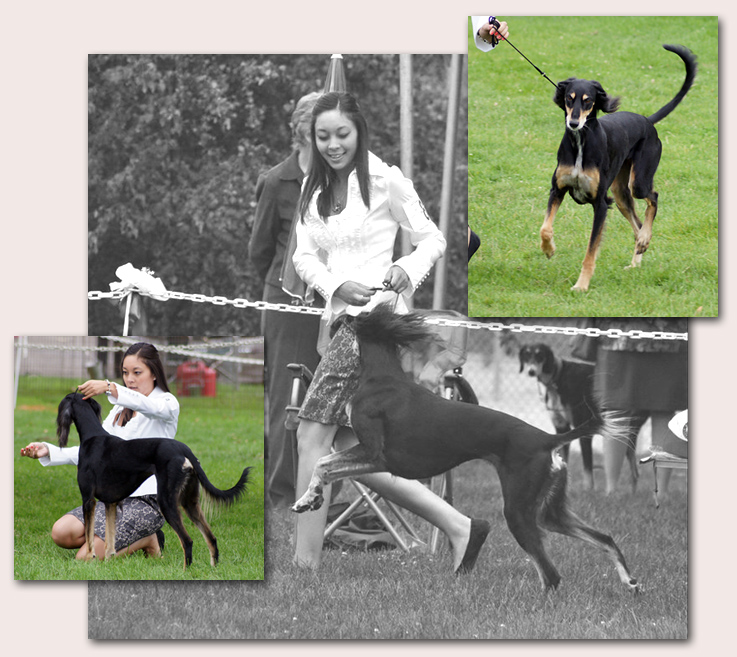 Zelia is pictured above during one of her typical performances in the ring in July, 2011, Lompoc, California. The Queen of the Cartwheel challenged one of her most ardent admirers, Lauren Chen, on the morning during the Veteran Sweepstakes class. Since Lauren is accustomed to handling Zelia's ever-exuberant daughter, Zoey, she was up to the task of getting Zoey's mom around the ring. We cannot thank Lauren enough for giving us these fabulous memories of Zelia!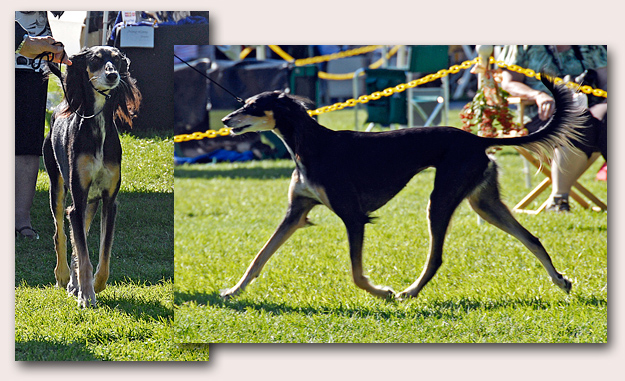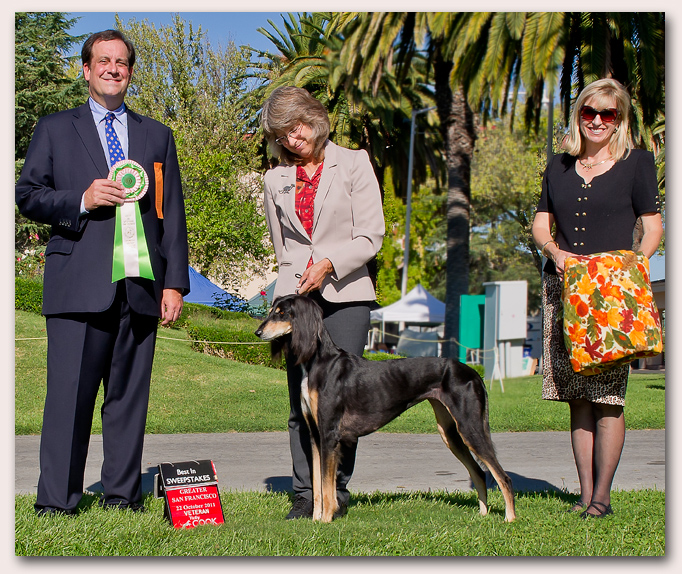 On October 22nd 2011 Zelia went to the Saluki Club of Greater San Francisco Specialty Show and repeated her Best in Veteran's Sweepstakes win from last year, this time winning the award under breeder/judge Jeff Lipps (Windrush Salukis)!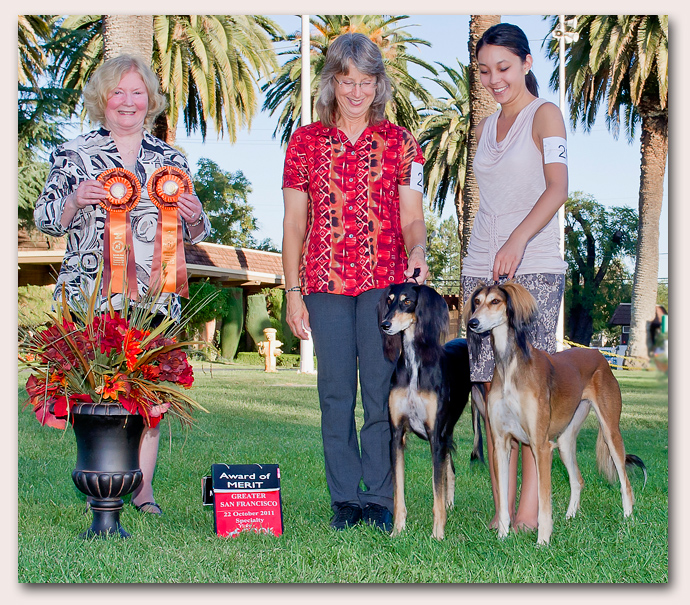 Later in the day, she won her regular 9 - 11 year Veteran Bitch class and went on to win an Award of Merit, along with her daughter Ch. Uziduzit Second Amendment CC, CM under judge Marianne Klinkowski! Another great Mother/Daughter winning day!
(Top photos by Vicky Clarke, win photos by Vicky Cook, Cook Phodography)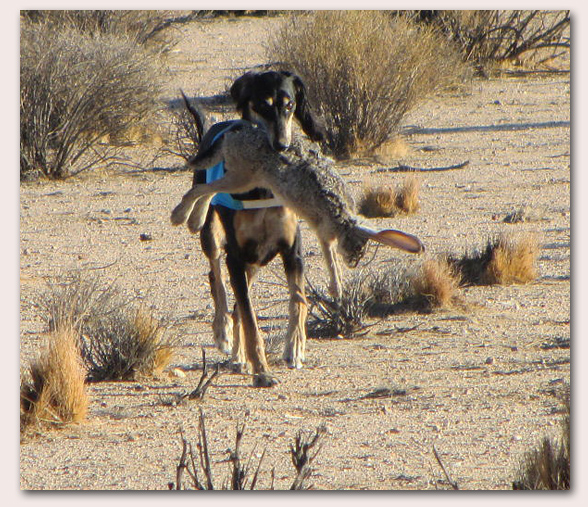 Zelia is pictured above out in the Mojave desert in October, 2012. She and the boys (Nova and Ringo) caught this hare and Zelia brought it in for them all to enjoy the tailgate breakfast. She lived to run hares and did so right up until she turned 13 years old. She helped school Tiflah and Ringo's two pups, Caz and Sweetie, as youngsters and she never had her eyesight waver in her later years. She is one of the finest coursing Salukis I've ever had the joy of sharing time in the field with.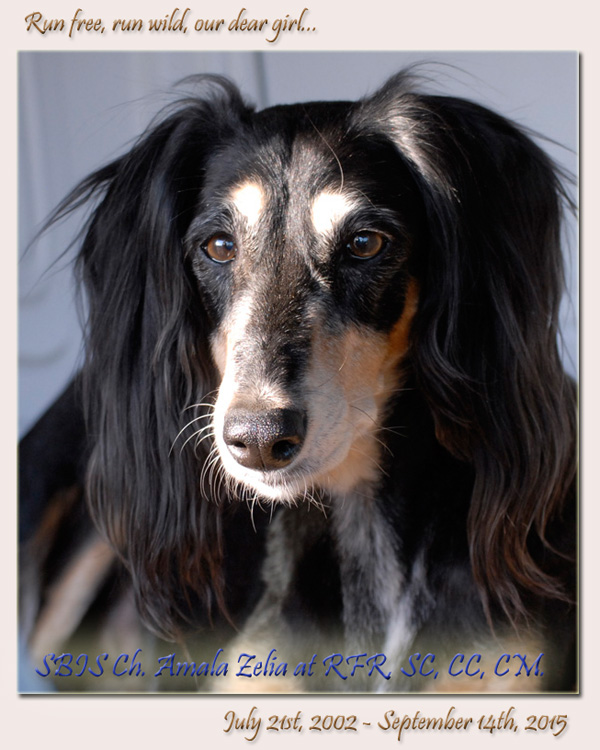 Zelia lived a long and full life, only slowing down in the last few months. Pathology reveiled osteosarcoma in and on her heart causing
pericardial effusion. We know something will eventually take our beloved hounds from us and we were blessed with having Zelia share our lives for over 13 years. Her legacy lives on through her daughter, Zoey and her children sired by Santana Hey Uziduzit Jude, CC, CM, GCW.
Our profound thanks to Vicky Clarke (Uziduzit) and Lauren Chen (HawksView Salukis) for ensuring Zelia's influence would
continue with this fine litter. Meanwhile, we will forever miss Zelia in our lives until we meet again.