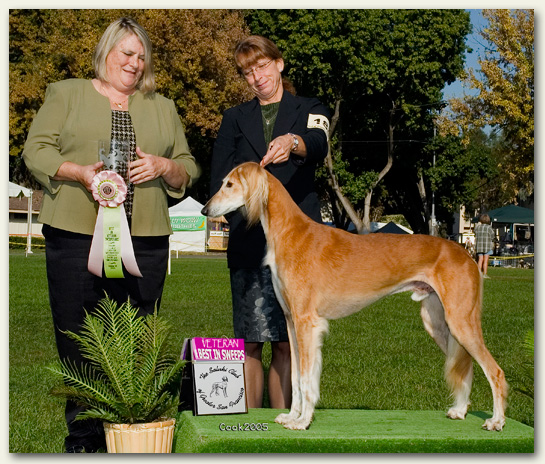 Sky is pictured at 8 years of age winning Best in Veteran Sweepstakes at the Saluki Club of Greater San Francisco, October 22, 2005 (Cynthia Noah ~ "Omen"). Earlier in the year at Lompoc, he won Best in Veteran Sweepstakes at the San Angeles Saluki Club (Mary Jane Helder ~ "Shalom") handled by Lauren Chen. Sky stills loves the showring and has always been a joy to take in the ring.
(Photo by Vicky Cook)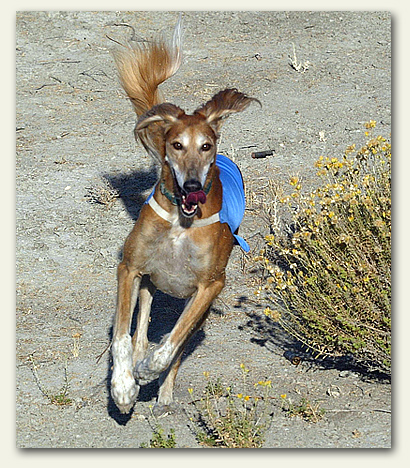 Ch. Moshire RFR Red Sky CC, CM was always the "main man" of the house. He was born on May 6th, 1997 and left us on November 2nd, 2011. He left the same way he entered this world, peacefully and naturally in my arms and will remain forever in our hearts. Sky was sired by TSH Lakota (brother to Chris Mason's TSH No Fear LaVonne CC, CM) out of Ch. Blu-Nile Unkhanditional Love (A "Khan" daughter and 1997 ASA Brood Bitch Trophy winner), He was the 2002 and 2007 ASA Cirrus Cup winner for sire who's get accumulated the most Open Field points in the season.
(Photo by Herb Wells)
Height: 26"
Weight: 57.7 lbs
OFA Cardiac normal SL-CA7/28M/C-t
OFA Thyroid normal SL-TH5/19M
AKC DNA Profile: V46227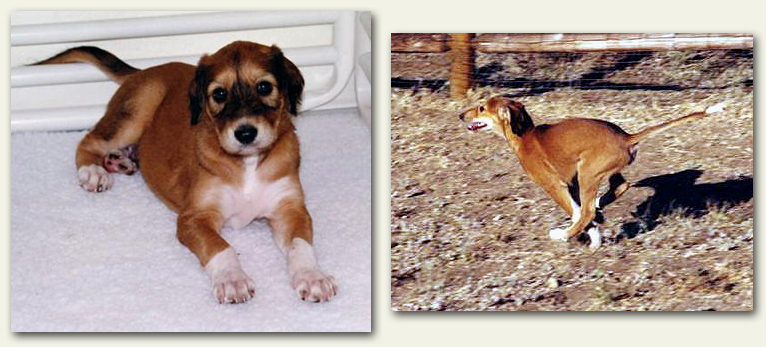 Sky (left) at four weeks of age. I knew he was "my" boy from the very beginning, and so did he. This strong and sturdy litter of three was up on their legs and escaping their box when they were two and a half weeks old! Their birth weights were 23 and 24 ounces for the boys and Rose weighed 18 ounces. They were very solid and stout and born with an ample amount of desirable genetic muscle mass. Sky (right) was already testing his legs and enjoying every minute of it up on the ranch acreage when he was nine weeks of age. The threesome would spend every waking hour running!! The rest of the time, they slept and ate. The altitude, fresh air and open spaces were the perfect way to raise top notch coursing pups!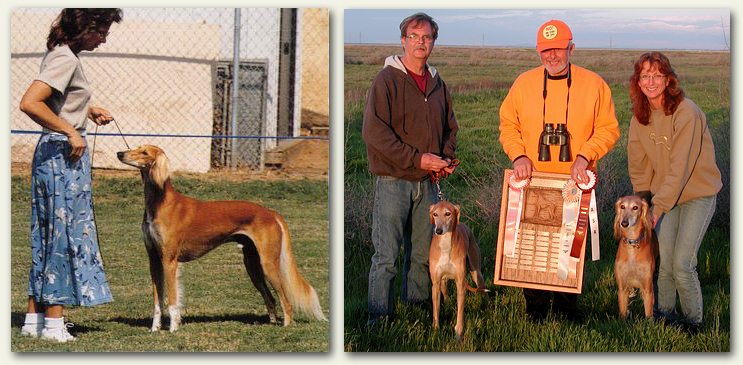 Sky finished his AKC conformation title with ease at 17 months of age with four majors and two Best of Breeds over top specials. He was Best in Puppy Sweepstakes at the 1998 Puget Sound Saluki Club Specialty (Marian Alexander ~ "Shamsir") and Western Hound (Kathleen Waller ~ "Walkirk"). He won Best in Futurity (left) at the San Angeles Saluki Club in 1997 (Monica Stoner ~ "Sacre Tyana") and 1998 (Victoria Cook ~ "Santana"). (Photo by Tom Stoner) On the right, Sky is pictured with Bernie Betlach's "Kalil" winning the 2006 ASA Archives Plaque hunt judged by long time Saluki breeder and coursing enthusiast, George Bell ~ "Bel S'mbran".
(Photo by Bill Lewis)
Sky has been a phenomenally sound running dog. Out of the ribbons in only one hunt during his career, Sky won the Saluki Breed Stake at the 2000 Grand Course. Run in very limited competitive coursing events (four or less hunts per season), Sky earned over 450 NOFCA points and qualified for the Grand Course six times.

Sky was an easy going dog and extremely pleasant to live with. He was very social with all breeds of dogs, got along well with people and children of all ages and he passes these desirable personality traits on to the majority of his offspring. I have been truly blessed to have bred and kept Sky as my companion, show dog and hunting partner. As often as the phrase "Once in a lifetime dog" is used, he most certainly was.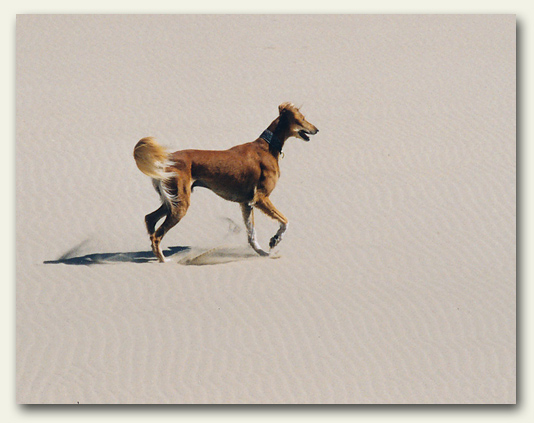 Sky is pictured above at two and a half years of age on the Oregon dunes where we would visit my folks yearly when they lived in Florence. The beaches of the central state coast and nearby forest trails were great places to do pre-coursing season conditioning and the dogs loved chasing the gulls along the tide when down by the water. The dunes were the best conditioning though, as the sand is deep and incredibly hard to walk or run through.
(5/6/2009) Sky turns 12! Click HERE to open his birthday card!
(5/6/2010) Sky turns 13! Click HERE to open his birthday card and see recent photos of him!
(5/6/2011) Sky turns 14! Click HERE to open his birthday card and see recent photos of him!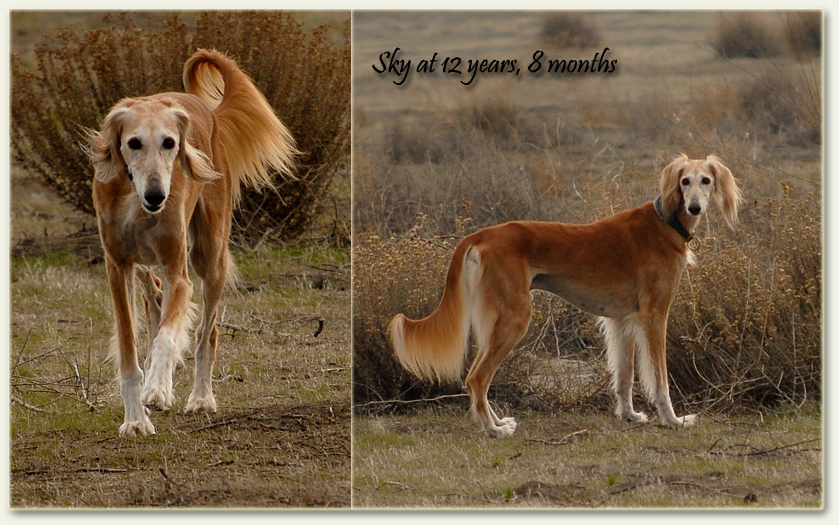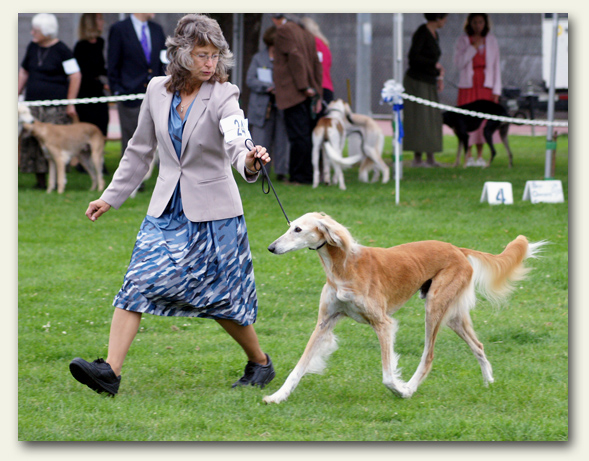 Sky is pictured above while in the Veteran Sweepstakes competition at the San Angeles Saluki Club Specialty show held in Lompoc, California in July of 2010. He was thirteen years old and enjoyed his moment in the ring. He won his class this day under breeder/judge Lea Ann Broseus (Silverlea Salukis).