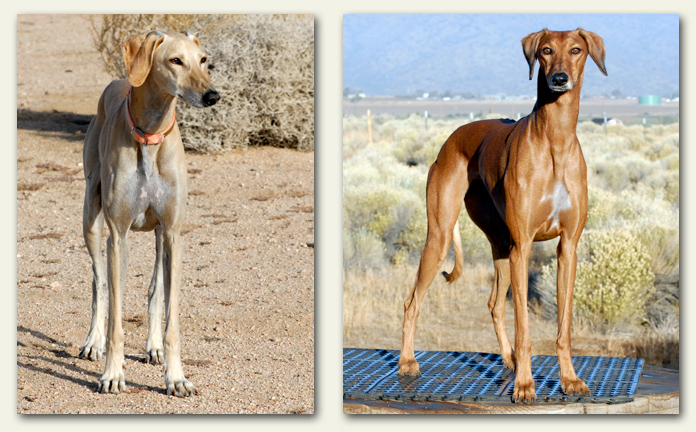 Our Ch. Yamadan RFR Tiflah Al Hadiya, SC, CBC was bred to Santana Hello, Goodbye at RFR CC, CM. Their puppies arrived in
healthy form with quick delivery on the 4th of January, 2015. Two males, one tri and one sabled red/fawn are both smooth. The three girls are feathered tri and two smooth sabled red/fawns.
The red/fawn sabled smooth boy (Moshire RFR Rock You Like A Hurricane) has gone to live with Kourosh and Deanna Partow of Chugiak,
Alaska. Zeeba shares his home with his new "mom", Princess Leah, an English Pointer lady. He also has numerous playmates, two Australian Shepherds and a sled team pack! As icing on the cake, Zeeba has a very special, new best friend, ten year old Alex Partow.
There will be many activities for Zeeba as he matures and he's already gone to watch his first sled race!
Maddie (Moshire RFR Love Her Madly), one of the two sabled girls, now lives with Rob Miller, Kyle King and Red Sea, their five year old Saluki of desert descent! They live in beautiful Flagstaff, Arizona and will spend much time on the trails hiking and in the fields coursing hares.
The tri feathered girl, Tiffany (Moshire RFR Breakfast At Tiffany's) awaits her trip to Finland to join Marika Vartiainen and her family! She will have her own six year old human (Meri) to play with, along with their two Salukis, Aston and Sarek and their Whippet, Hose. There will be lots of family fun in store for Tiffany along with lure trials and racing events hopeful for the future.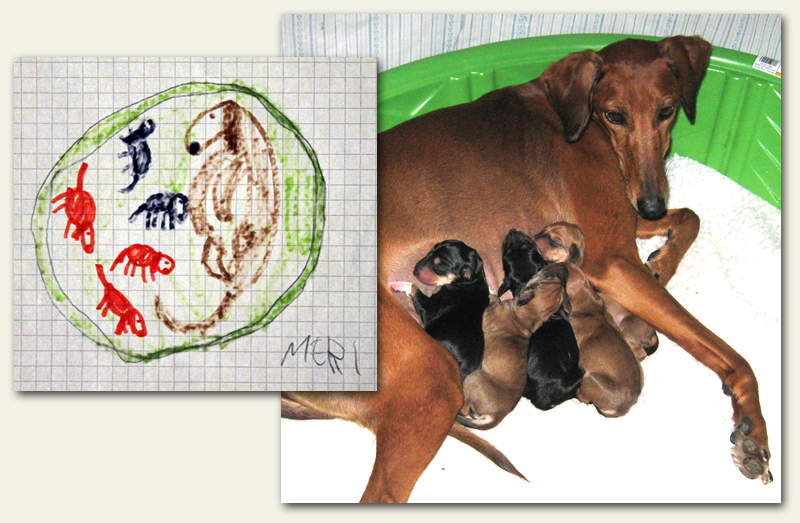 You can see how well Meri looked at the photos of Tiflah with her pups and her surroundings when she created her artwork!
The tri smooth boy, Caz (Moshire RFR Rock The Casbah) and sabled, red girl, Sweetie (Moshire RFR Sweet Emotion) are remaining here as our family companions who will grow up chasing hares, trained by their elders and mother. Stay tuned for their very own pages and updates on the litter as they grow up and enjoy their lives with their new families!
Click HERE to see Ringo and Tiflah's puppies at five weeks of age!
Click HERE to see the puppies at six weeks of age!
Click HERE to see the puppies at eight weeks of age.
Click HERE to see the puppies at ten weeks of age up on their first adventure on our property!
Click HERE to see the puppies at 4 1/2 months out in the Mojave Desert!
Click HERE to see the puppies at six months of age!
Click HERE to see the pedigree for the litter.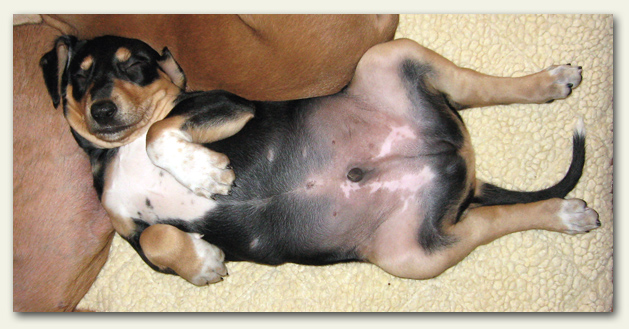 Stay tuned for pupdates!!!