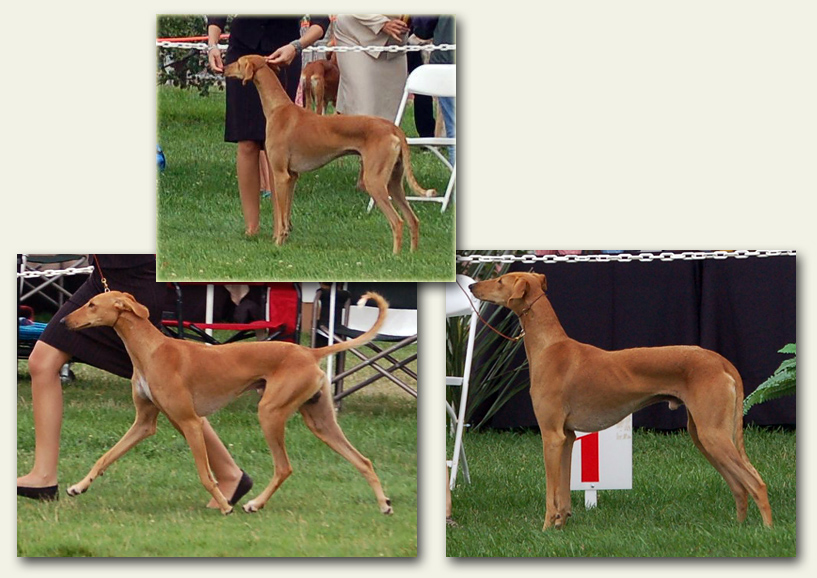 Above is Abaqero Kineahora Ducati while in the ring at the Lompoc Valley Kennel Club show on 7/31/2011. He is sixteen months of age in these photos and won his 12 - 18 month dog class this day under breeder/judge George Bell (Bel S'Mbran). We are very pleased with how nicely Ducati and his brother, Dhabi, are maturing! Ducati is owned and loved by Frank and Anne Vigneri.
(Photos by Karen Chen)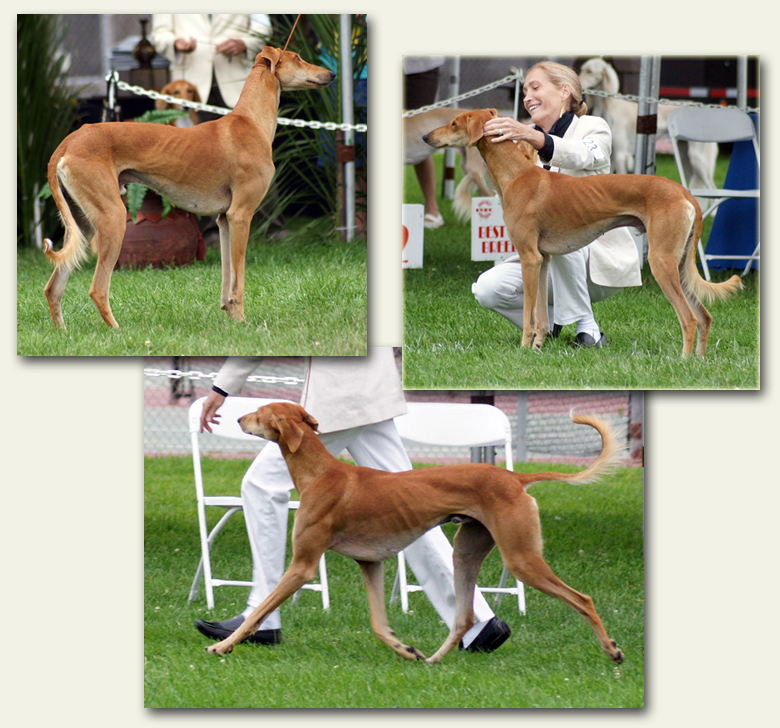 Here is Abaqero Kineahora Dhabi at sixteen months of age enjoying himself in the show ring while in Lompoc, end of July 2011. He, too, is growing up to be a fine young man with a strong build and a fabulous temperament. Frances Zeller looks forward to a lot of fun in the ring and field with this guy!
(Photos by James Lonero)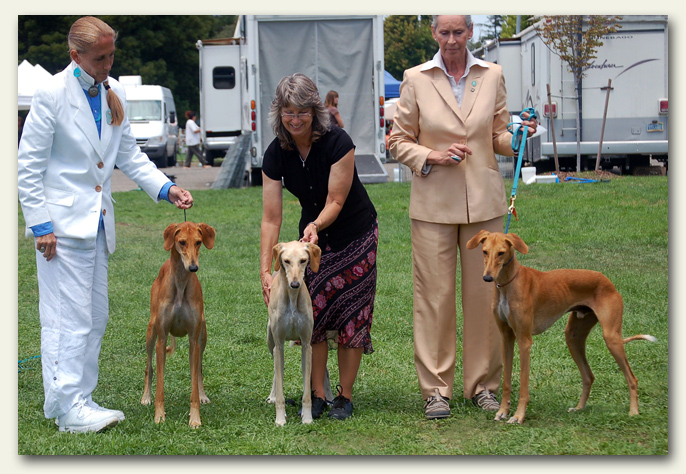 Pictured left to right are Dhabi, Ringo and Ducati. This was the first time Ringo has been with both of his sons. It was a joy seeing him with them! Frances Zeller has Dhabi and Anne Vigneri is pictured with Ducati. Stay tuned for some more new photos of Dhabi coming soon!
(Photo by Lois Kincaid)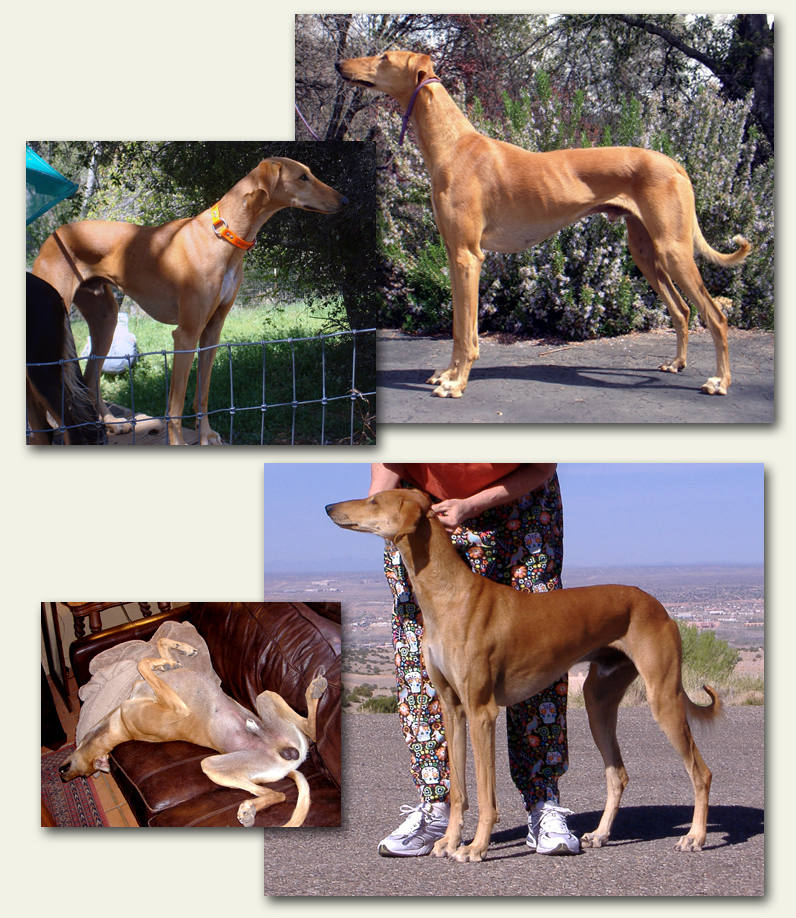 On March 26th, 2012 Ducati (top) and Dhabi (bottom) turned two years of age! These outgoing, energenic and friendly (if not silly) guys are maturing very nicely and keep their breeder/owners on their toes and always amused. Both of the boys are getting their feet wet chasing hares and we look forward to seeing them in the ring and field this year and in the furture!
(Photos of Ducati by Anne Vigneri and of Dhabi by Hugh Pohle)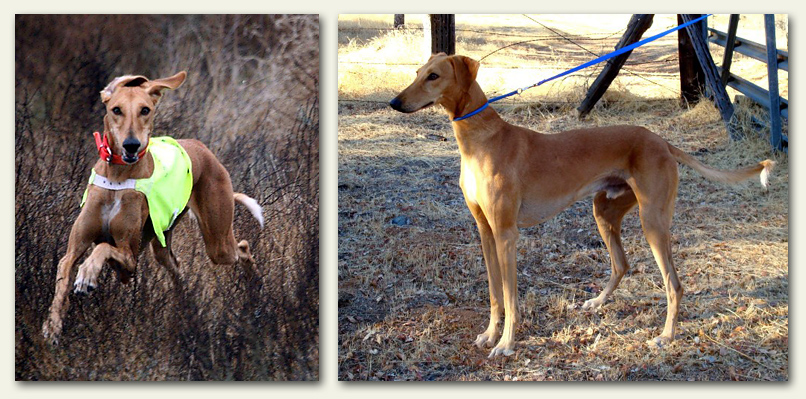 Ducati moved back to California with his family early last year and was able to participate in a few TCC hunts over the 2011/2012 season landing him in the #5 spot for Salukis. Not bad for such a young boy's first season! He is pictured above on the left out in the field (Photo by Herb Wells) and on the right at two and half years of age at his home in Mariposa, California. While he hasn't been out to shows or hunts in awhile due to his family's business commitments, he does certainly enjoy his life in the mountains taking hikes, running on the property and in the Vigneri home!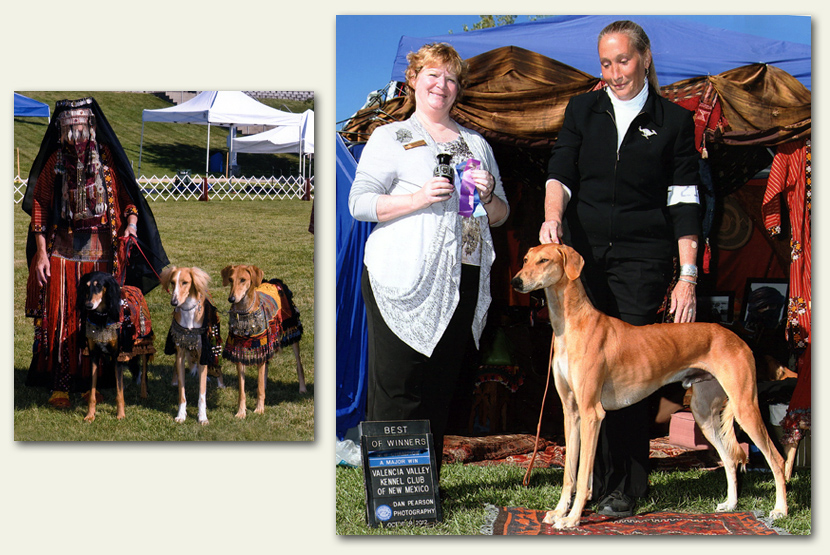 Dhabi has had a fun and busy 2012! He ventured to the SCOA National in June and got dressed up for the costume class. He's been to a few shows and now has three major wins and only needs two single points for his conformation championship. He is now spending time out in the field, on the lure and on hares and enjoying learning all about coursing. Most of the time he's busy being the resident clown at Frances and Hugh's house and he seems to always keep them guessing what he'll be into or getting up on next!
We are very pleased with how Ringo's sons are maturing and especially thankful for the wonderful, loving homes they live in.
Thank you Anne, Frank, Frances and Hugh!!