(4/18/2011) The coursing season is over and it is time for the hounds to return to the trails. This morning Ringo and Nova get to go. This is Nova's first real bit of running since he strained a gracilis muscle over two months ago. Ringo is once again "The Comeback Kid" as he was bitten by a rattlesnake only one week ago...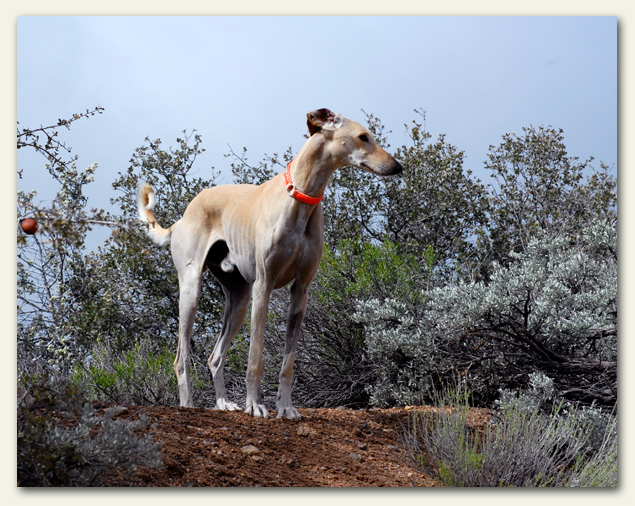 Pictured above is Ringo overlooking one of his many kingdoms.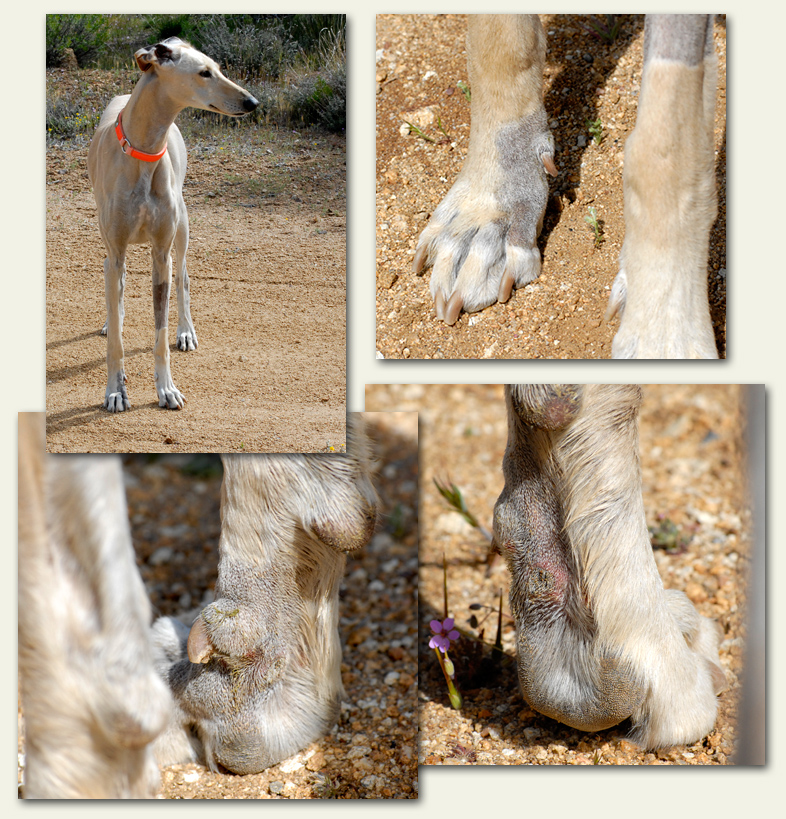 Ringo was bitten exactly one week ago. He was treated with anti-venin, IV fluids, antibiotics and pain medications. He was at the emergency clinic just over 24 hours. The first several days were pretty rough for him with a lot of pain. Thank goodness for pain medications and modern veterinary science. Ringo is our first snake bite victim in 40 years.
Our profound thanks go to Dr. Katherine Ratliff DVM and the fine staff of Animal Emergency & Urgent Care of Bakersfield, CA!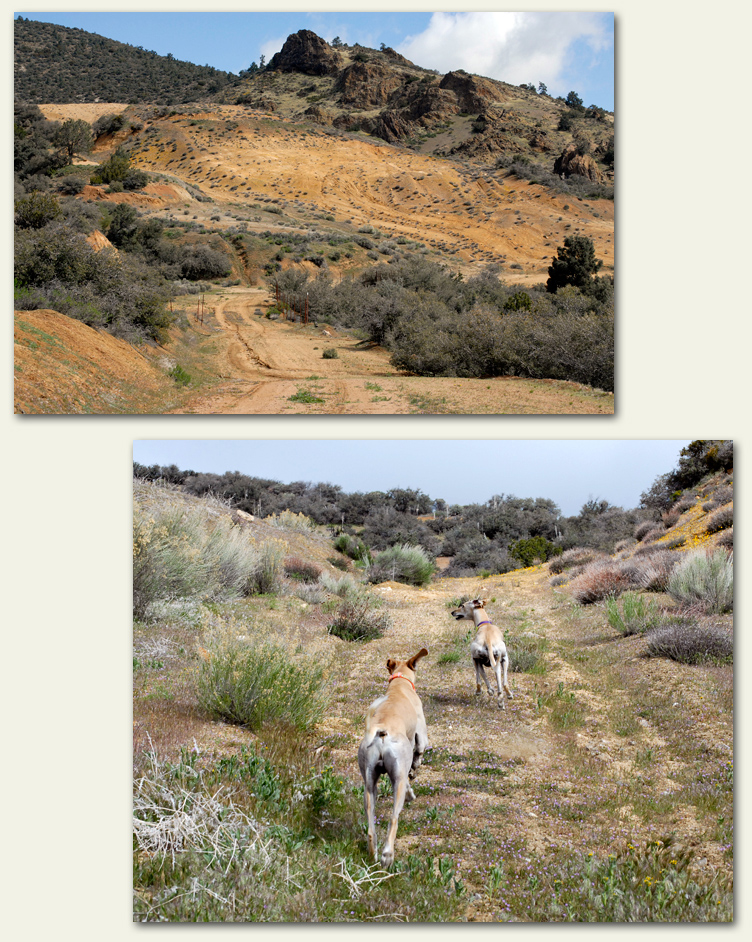 Nova (front) and Ringo charge up one of the many hills off the trails in the canyon. The photo above is where they are at, an old (but sometimes still used) section of decomposed granite that is used to maintain some of the area roads. Excellent for building lots of muscle and great feet.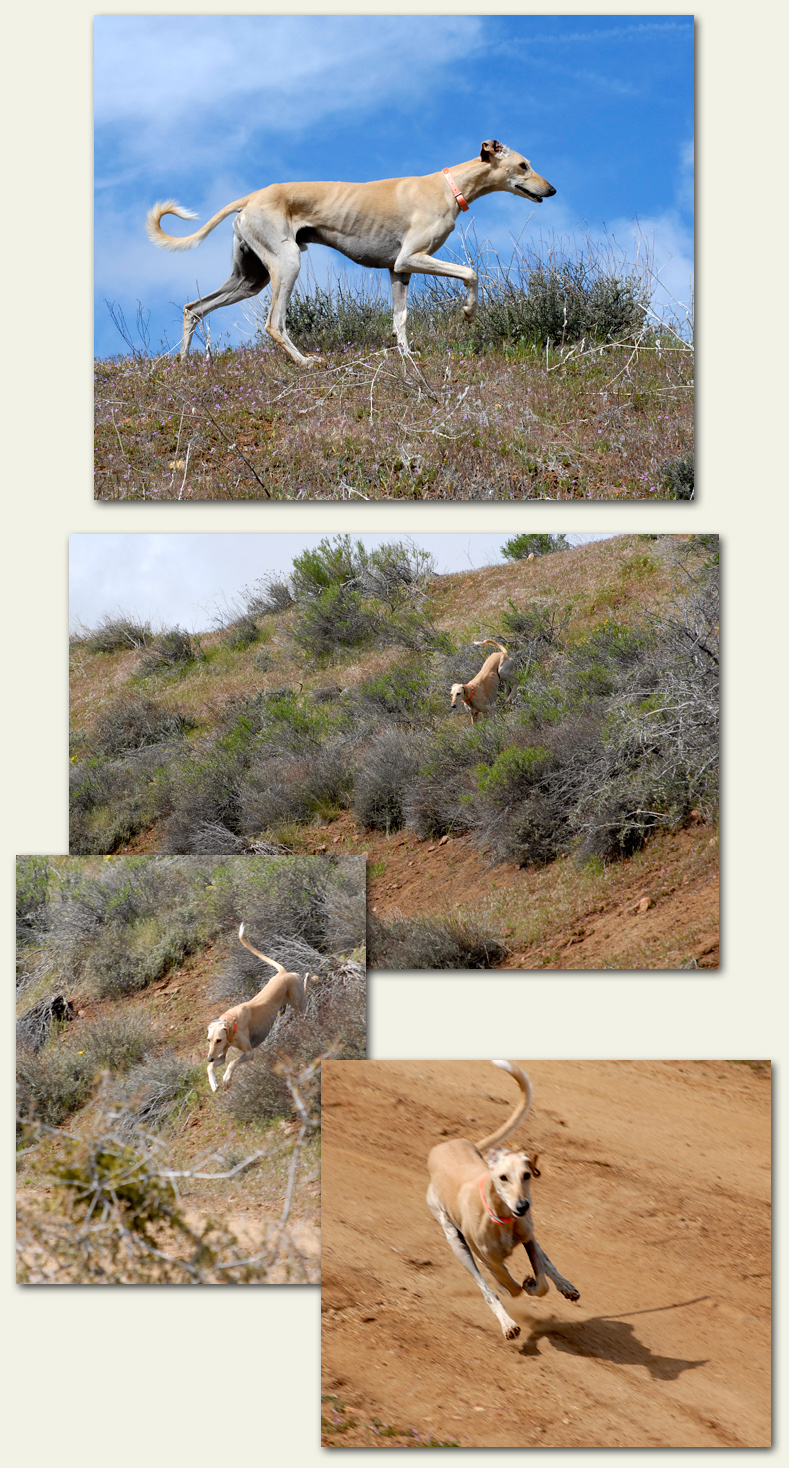 Ah, our Ringo, he loves to run up and down hills. This isn't one of his steeper climbs and descents, but it gives an idea of his joy in "off roading". In the bottom photo, he is displaying why you don't want too much width between the front legs. Per the standard "Chest: Deep and moderately narrow." In the double suspension gallop, the front legs must pass in-between the hind legs in the coupled phase. In order for the hind legs to track properly and allow the front legs to pass in-between, per the standard: "Hindquarters: Strong, hip bones set well apart and stifle moderately bent, hocks low to the ground, showing galloping and jumping power." One really does appreciate what our breed standard does say once you spend time watching the hounds in action.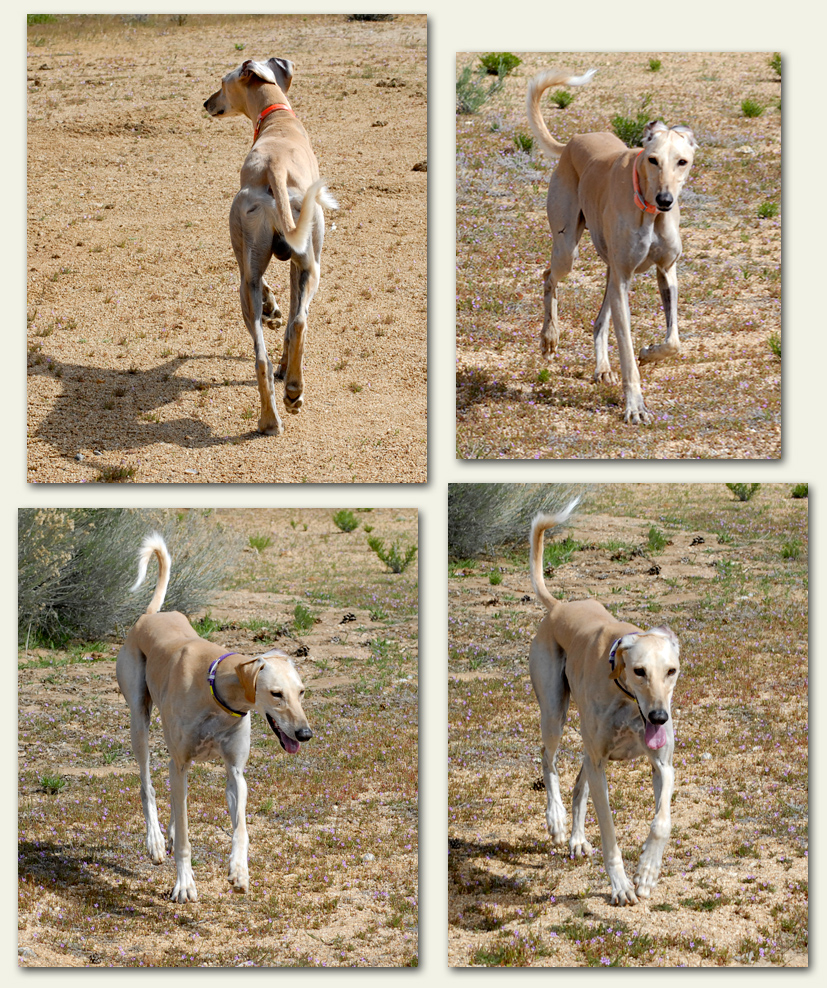 Ringo (top) and Nova (bottom) while moving about freely at a trot on the trails. In studying the photos, one will see the clean movement of both fore and hind legs. No wasted motion, no wasted energy. While many dogs do run very well with much more "play" in their fore and aft action at a trot, a good general rule is: The cleaner the movement = the less wasted energy. These are the dogs that will be able to hunt all day long and still bring hares back at the end of the day.
Here's to a beautiful springtime!