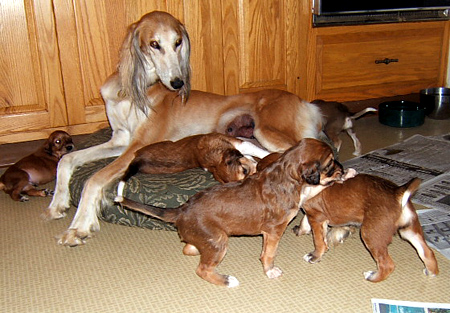 MBISS DC. Timaru Victoria's Secret, CC, CM, SC, FCh, CD is the dam of the Brabyn's Timaru "Wild" litter, whelped May 18th, 2005. Autumn finished at the SCOA national specialty in Lexington KY in an entry of over 460 Salukis. She has won two specialties (one from the Veteran's class) and two Group 1st. She earned all four performance titles in the same year. "Autumn" finished her CD with six qualifying scores, including two specialty High in Trials and was the winner of the ASA Rancho Gabriel and Chamois trophies for excellence in obedience performance. Autumn is noted for her outstanding movement, balance and type.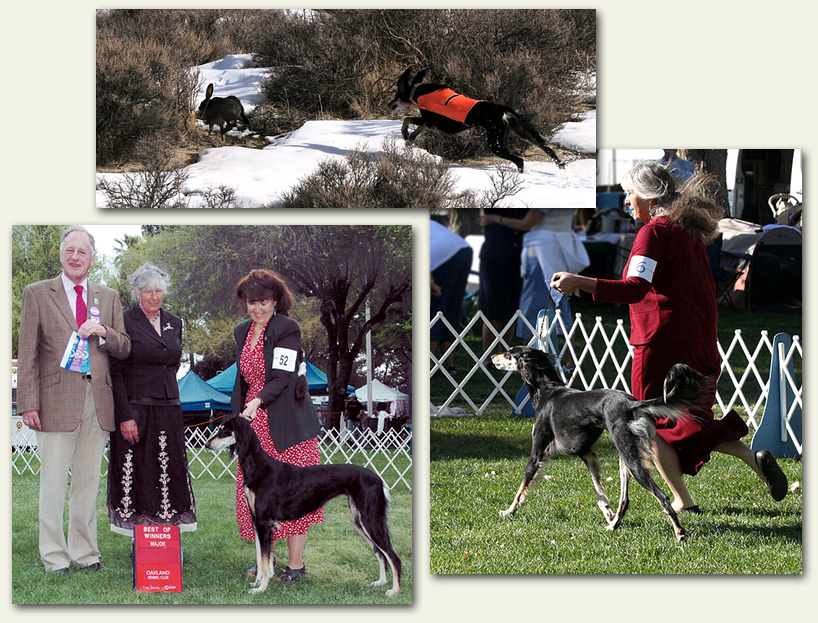 Ch. Timaru Wild Abandon, CC, CM is owned by Jan Dawson of Chilcoot CA and Lesley Brabyn. Summer has proven herself a very versatile saluki by obtaining her bench title, along with her Coursing Championship and Courser of Merit titles. As a yearling in 2006/2007, she qualified for the Grand Course and tied for 2nd place at the Saluki Breed hunt. The following season, she co-owned the ASA Christmas Cup and the ASA Mia Cup and completed both her Coursing Championship and Courser of Merit titles. Summer finished the 2006/2007 NOFCA season as the #10 Hound and #5 Saluki. She is pictured above, lower left, winning Winners Bitch for a major under breeder/judge Mr. Nick Bryce-Smith (UK) at the Oakland KC show April 2007 shown by Lesley. On the lower right, she is pictured with Jan in the ring enroute to a Best of Breed win. Summer finished her AKC bench championship in style with three California majors.
Above, Summer bearing down on a hare while enjoying her favorite pastime, coursing!
(Photos, top by Jan Dawson, bottom left by Tom Bruni and right by Gary Ellis)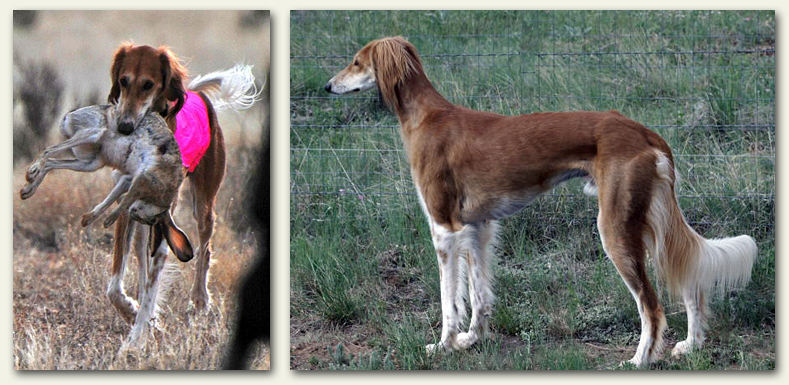 Timaru Wild Ride, CC, CM, NACC, NACM, CBC is "Harley". Harley shares the wonderful homes of Jean Warner and Joel Scheinberg (Las Vegas NM) and Vicky Clarke (Unionville NV). Harley enjoyed his novice season in the field by earning 104 points towards his CC and CM, which included winning the ASA Fatimeh Cup. He also won the Whitetail Invitational in March 2007 and went on to win the Front Range Challenge in October of the same year. Harley repeated his Fatimeh Cup win in 2007 and earned both his Coursing Champion and Courser of Merit titles at two and a half years of age.
Harley's second season in the field was more than outstanding. He placed in or won eight out of nine hunts which include winning the ASA Fatimeh Cup and the Saluki Breed Hunt at the Grand Course, where he also went on to place 6th overall in the mixed final. He finished out the 2007/2008 NOFCA season as the #3 Saluki, #6 Hound and was the SWCC High Scoring NM hound. Harley finished his NACA titles by winning first place both days at the 2009 Whitetail Invitational!
After being sidelined with a broken toe for the early part of the 2009/2010 season, he is back and his first weekend out in January yielded back to back hunt wins, including earning his third ASA Fatimeh Cup! He's quite a consistent performer and a tribute to his pedigree.
Harley has now earned both his breed and mixed 500 point awards, plus finished his CBC (The Coursing Conservancy) Breed Championship! Quite an accomplishment for a New Mexico hound and Harley now owns titles from all three Open Field Coursing organizations and joins housemate and half sister Ch. Owl Ridge RFR Angel Fire CC, CM, CBC, NACC in this honor!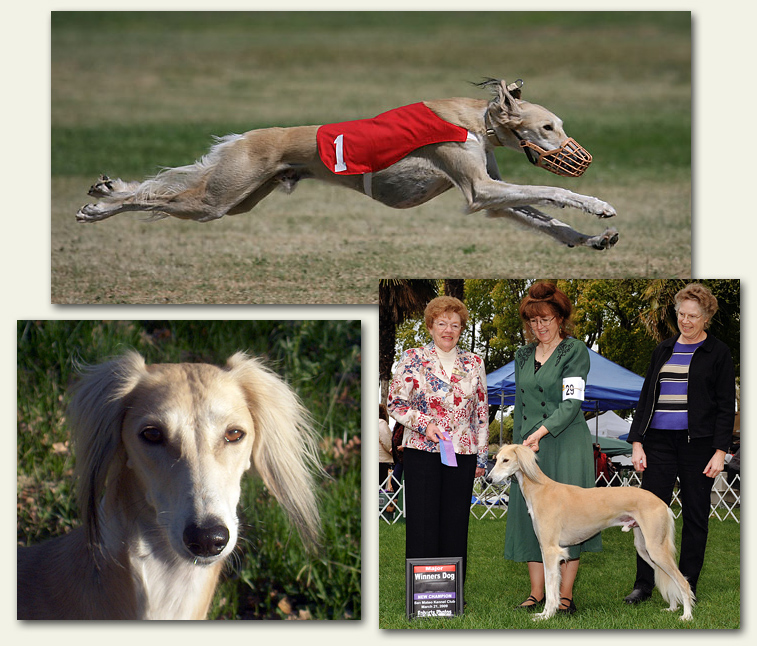 DC. Timaru Wild Acclaim, SC, SGRC3, SOR, RN, CGC, ORC lives in Redding CA with Margaret Smith and loves to show and race! "Mocha" is an AKC bench champion and has earned three LGRA racing titles (GRC, SGRC and SGRC2). Recently, at eight and a half years of age, he completed his AKC lure coursing title. Mocha was the # 2 Saluki in LGRA National Breed Standings for 2009, # 1 for 2010 and # 8 All breed. He was also # 1 Saluki in the NOTRA stats for 2011. To add to this boy's well rounded resume, he completed his Rally Novice title on June 5th, 2011, is also a Canine Good Citizen and recently became an Oval Racing Champion. He is a fantastic all around hound and is loved and cherished at home, in the ring and on the field.
Mocha is pictured on the lower right on 3/21/2009 at the San Mateo Kennel Club show finishing his AKC Championship. He was handled by his breeder, Lesley Brabyn for this major win under judge Audrey Sutton. On the right is his owner, Margaret Smith.
What a great day and a great photo!
(Photo, top, by Dave Mills Photography, show photo by Roberts Photos and head study by Margaret Smith)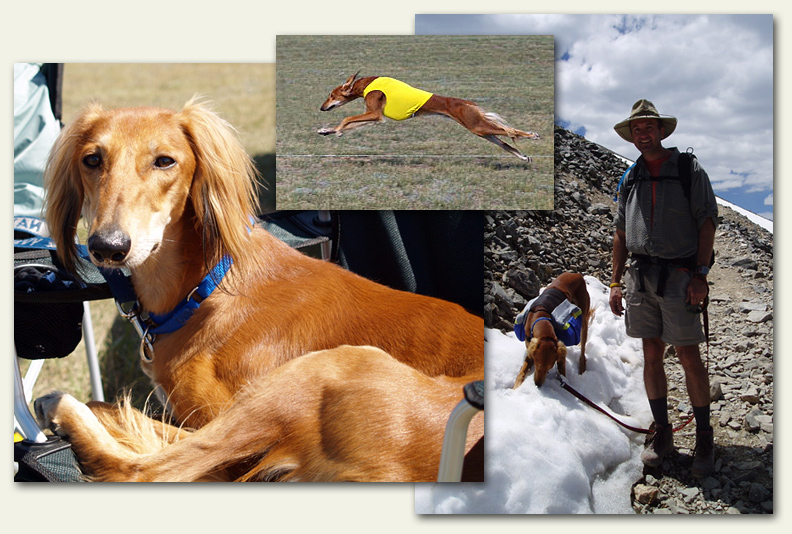 Timaru Wild Flame, known to his family as "Blaze", lives in Colorado Springs CO with Peter and Ann Sauve. Blaze enjoys all the family activities and even wears his own backpack! Blaze is now enjoying lure coursing and is a Best in Field winner!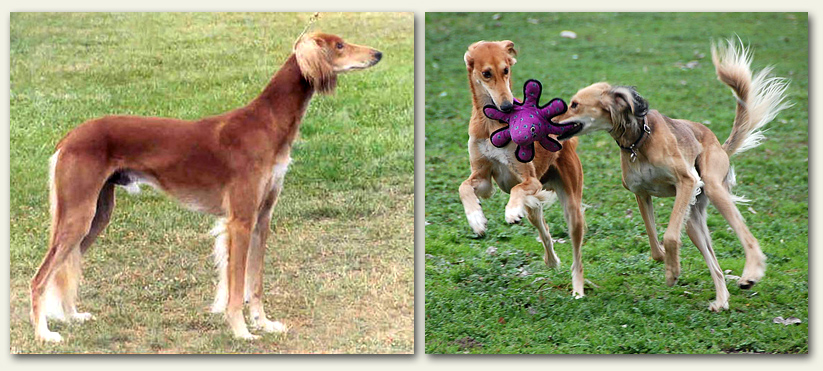 Timaru Wild Rumour, JC is owned and loved by Jim and Linda Griffin of Oakdale CA. "Rumour" is the resident head man in the Griffin's household. He shares his home with "Aria", "Pearl", "Rider", and youngster "Malik", who he loves to spend the days playing tug-o-war with! Recently, as a veteran, Rumour has found a joy in chasing the petroleum hare and has earned his JC. Way to go ol' boy!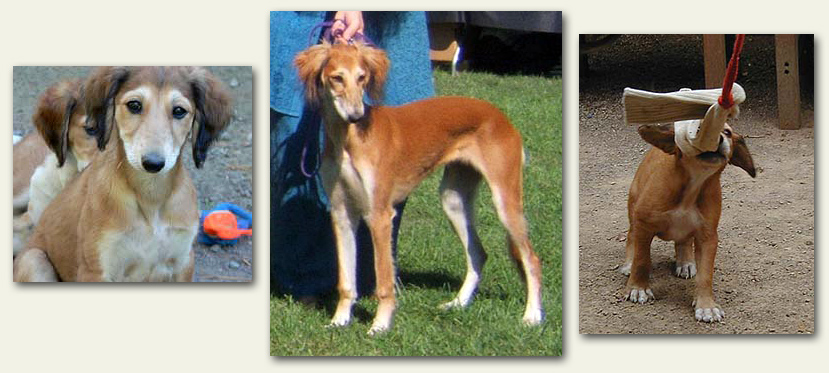 Timaru Wild Thing is owned and loved by Sally Monaghan of San Francisco, CA. "Sophia" is the charming and elegant darling of the household and enjoys life on California's north coast. Stay tuned as we are hoping for some new photos of Sophia!